As Kelowna International Airport (YLW) celebrates its 75th anniversary this year, it is also celebrating many exciting milestones and developments, several of which occurred over the past couple of months.  

KF Centre for Excellence Opens

On August 30, 2022, the 60,000 sq. ft. state-of-the-art KF Centre for Excellence, located at YLW, held its grand opening. The Centre, which is shaped like a classic airplane, is the world's first mass-timber building. Inside, visitors can discover the history of aviation in the Okanagan through interactive exhibits and see legendary aircraft up close. The building's upper-level conference facilities will accommodate large groups, while its executive boardroom can seat up to 20 people.

Air Terminal Building (ATB) Expansion Project Preparation Begins
In mid-September, work started to prepare for YLW's Air Terminal Building (ATB) Expansion Project, including roadwork and lane closures in front of the terminal building. Throughout the duration of construction, waiting along the front curb will not be permitted and all curbside metered parking in front of the terminal building will be removed. Guests can still drop off and pick-up in front of the facility, but parking will be restricted to the short- and long-term parking lots. Guests are encouraged to visit ylw.kelowna.ca/construction prior to coming to YLW for construction updates and to give themselves additional time to get to the terminal building. 
The ATB Expansion Project is planned to begin in 2023, subject to funding, and will increase the security screening area, reducing the time it takes to clear security, and expand the Departures Lounge to improve connections to aircraft gates and increase food and beverage options. Over the next decade, YLW will invest over $270 million in upgrades to airport infrastructure to ensure the continued growth of air service and to help bolster the regional economy. 

New Hotel Development Announced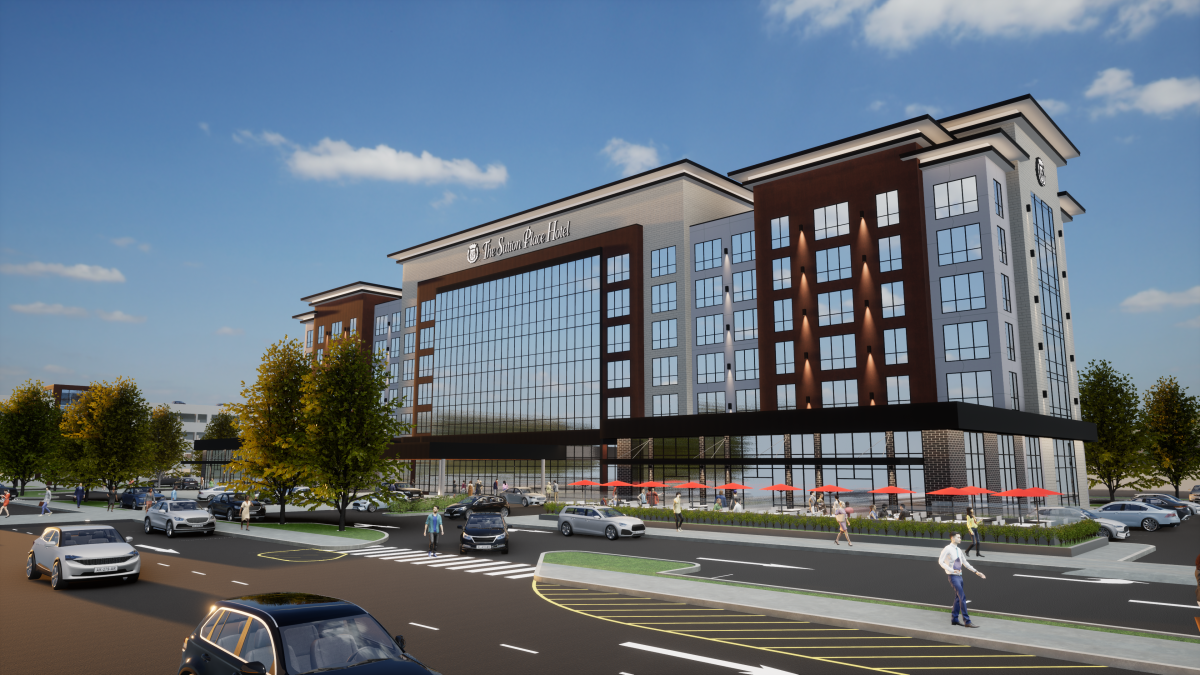 Rendering of The Sutton Place Hotel Kelowna
At the end of September, YLW and The Sutton Place Hotels, a luxury hotel brand owned and operated by BC-based Northland Properties Corporation, announced development plans for a new luxury hotel adjacent to the airport's terminal building.
 "The Sutton Place Hotels are known for delivering exceptional guest experience," says Sam Samaddar, Kelowna Airport Director.  "Their reputation will allow The Sutton Place Hotel Kelowna at YLW to promote the Okanagan as a premiere destination."
Design and development approval work will commence this year, with construction starting as early as Q4 2023. The Sutton Place Hotel Kelowna is anticipated to be open in 2026 and will be the brand's fourth property in Canada and Northland Properties' fourth hotel in the Okanagan Valley.  

YLW Scholarship Fund Established
In celebration of its 75th anniversary and in recognition of the ongoing support the Okanagan community has shown, YLW is establishing a scholarship fund to support aviation and aerospace students in the Okanagan region. by removing financial barriers associated with required training and education. Stay tuned to the YLW website for further information on the scholarship fund. 

Airport Passenger Numbers Continue to Increase
As of August 2022, there has been a 184% increase in passenger numbers year-over-year, with a total of 1,096,495 passengers through YLW in the first eight months of the year. 
Additional information is available on the Facts & Statistics page of the YLW website.