We want to recognize and celebrate some of the award wins and highlight notable news from our local tourism industry that occurred over the past few months.

Award Wins

Lake Country Chamber of Commerce 2022 Business Excellence Awards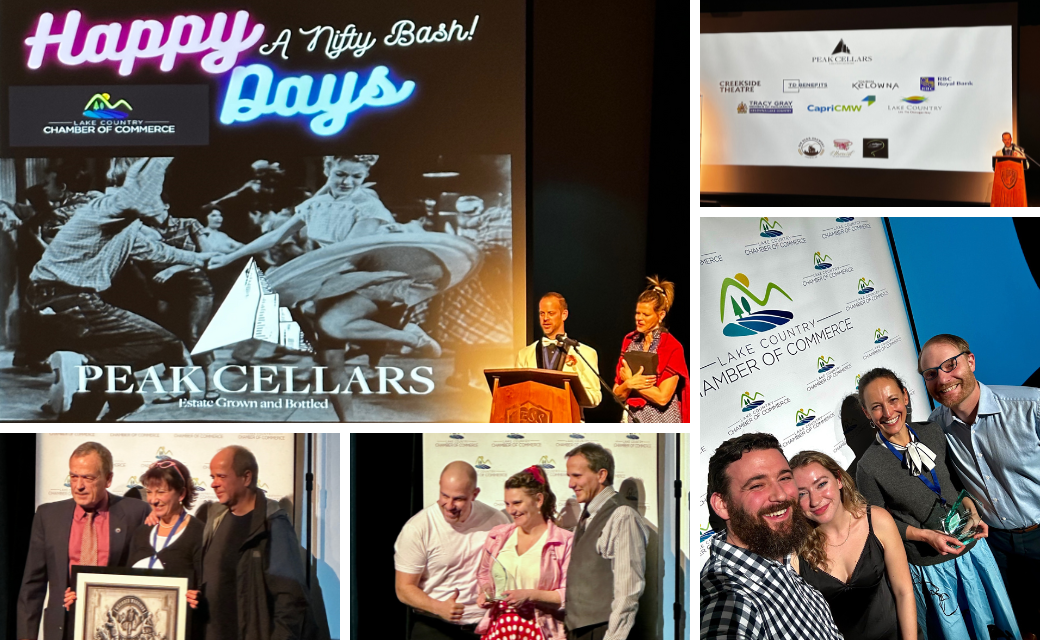 Pictured (bottom row, left to right): Peter and Jennifer Madsen accepting their award; Gambell Family Farms accepting their award; Tourism Kelowna team members, Chris Lewis and Jamie Pescod, with Angelique and Jesse Slade Shantz, founders of Rose Hill Orchard.
The Lake Country Chamber of Commerce handed out its 2022 Business Excellence Awards, which were presented by Peak Cellars, on Friday, February 11.
Tourism Kelowna was proud to sponsor the Tourism Excellence Awards, which Chris Lewis, Director of Destination Development, and Jamie Pescod, Community Specialist, presented to this year's deserving recipient, Rose Hill Orchard.

We extend our congratulations to the other nominees in the category, Beach Bum Tours and Gatzke Farm, as well as to Tourism Kelowna Member, Gambell Family Farm, who won the Farmgate award, and to one of our suppliers, Lake Country Compost, who took home the Environmental & Sustainability Leadership award.

Peter and Jennifer Madsen, owners of Oyama Zipline Adventure Park, were also recognized for their Wounded Warriors Day fundraising event, which raises funds for Wounded Warriors Canada, a national mental health service provider for military personnel, veterans, and first responders, as well as their families.

For a complete list of winners, visit the Lake Country Chamber Facebook page.

Greater Westside Board of Trade Key Business Awards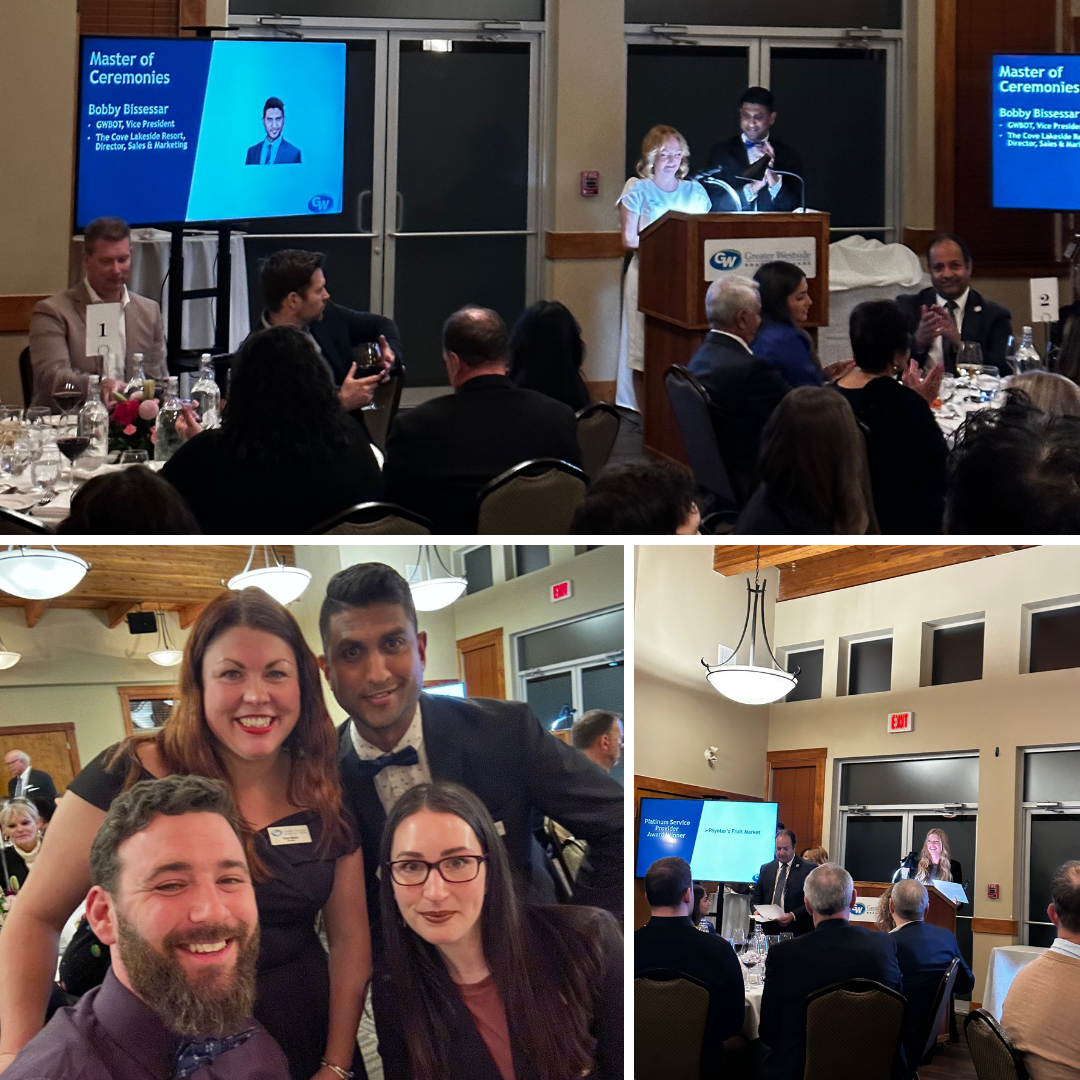 Pictured (from top, clockwise): Greater Westside Board of Trade Board President, Amber Hall, and Vice President, Bobby Bissessar; YLW Airport Director, Sam Samaddar, presenting the Platinum Service Provide Award to Jennay Oliver, Owner & Operator of Paynter's Fruit Market; Chris Lewis (Tourism Kelowna), Tory Braun (Okanagan Young Professionals Collective), Bobby Bissessar (Cove Lakeside Resort), and Eva Weston (Central Okanagan Economic Development Commission)
On February 23, the Greater Westside Board of Trade hosted their 2022/23 Key Business Awards during a dinner ceremony at the Cove Lakeside Resort. Two Tourism Kelowna Members took home awards at the ceremony.
We also want to recognize the other finalists in the Tourism & Hospitality Award category, Mt. Boucherie Estate Winery, Shannon Lake Golf Course, and PopUP Events, and congratulate all the other nominees and finalists.

2023 Canadian Spirits Awards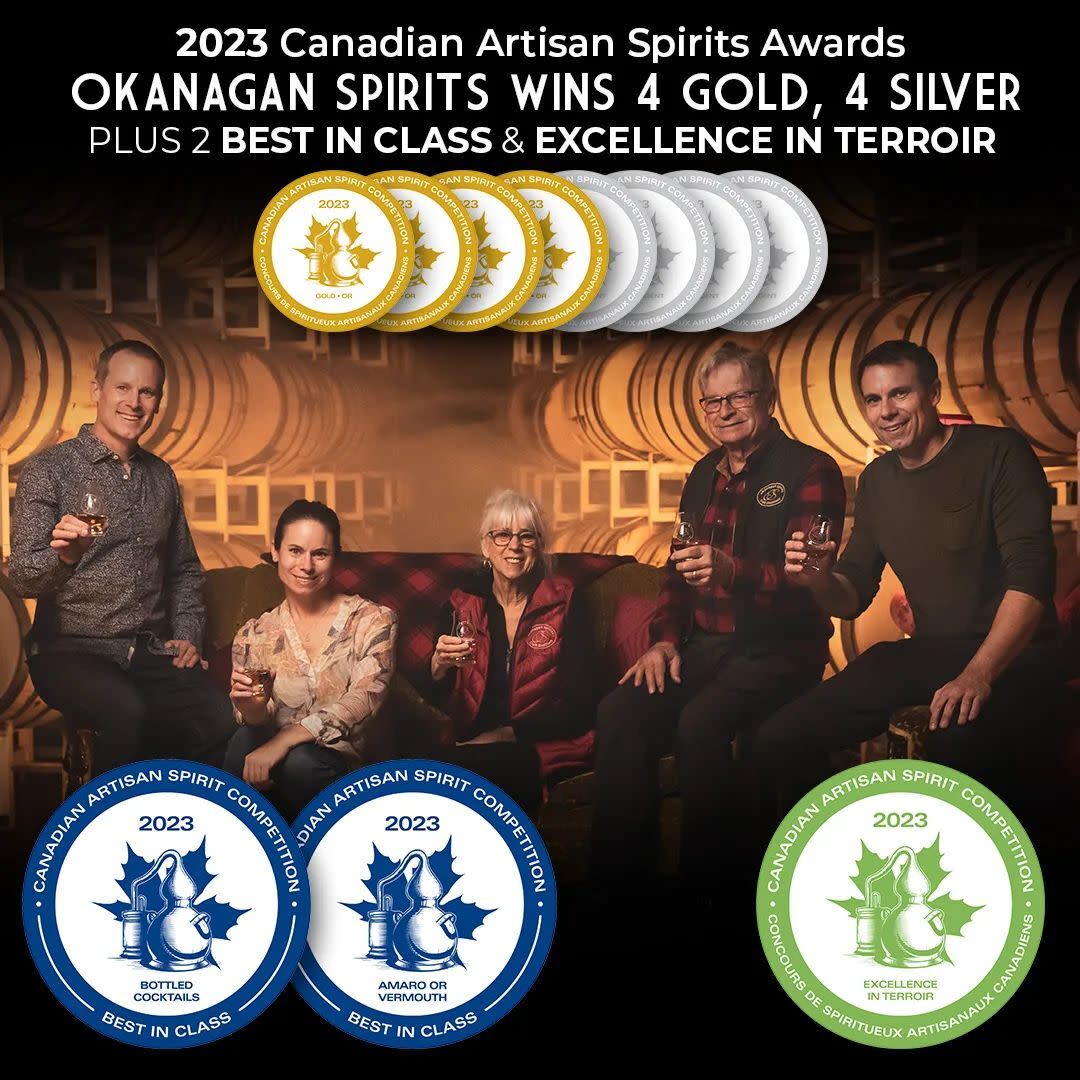 Okanagan Spirits Craft Distillery took home several awards at the 2023 Canadian Artisan Spirits Awards, presented by Artisan Distillers Canada, including four Gold Medals, four Silver Medals, two Best in Class, and one Excellence in Terroir. The complete list of winners is available on the Artisan Distillers Canada website. 

2023 iCARE Award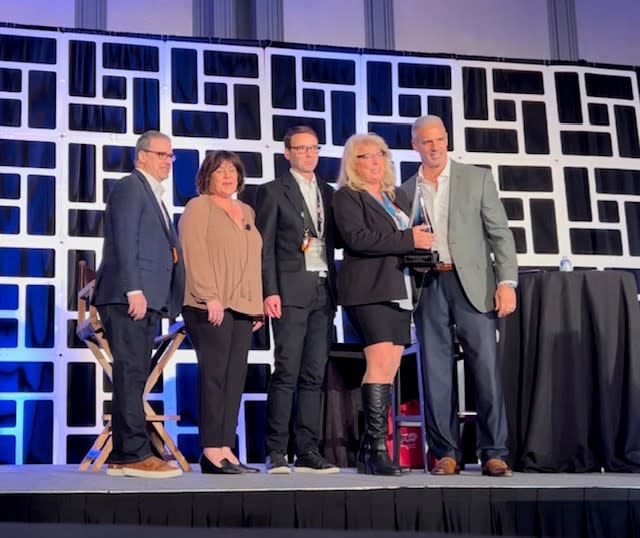 Carla Carlson, General Manager of Comfort Suites, received the 2023 iCARE (Influential, Community, Authentic, Responsible, Engaged) Award, handed out by Hotel Equities in February. The award is given out to an individual who is a leader both at their hotel and in the community, achieves results, champions positive change, and works to make the company better while also mentoring colleagues. 
Earlier in the year, Carla was also awarded the Choice Hotels Canada 2022 Sales Excellence Award at the CHC Conference. 
"Carla has promoted a stellar sales culture at her property, always going the extra mile to drive more corporate business," says Brian Leon, CEO of Choice Hotels Canada. "She is dedicated and passionate, frequently engaging with our global sales team, responding to RFPs and more. She has set a wonderful example of what is possible, and this award is a direct result of that hard work."

Notable News
Community
Industry
Ballet Kelowna is celebrating its 20th Anniversary in its 2022/23 season. The final performance for the season will occur on May 5 and 6.
Big White Ski Resort is celebrating its 60th Anniversary in 2023, 
In early January, Lakeside Eco-Sports and Meadow Vista Honey Wines partnered to launch a Snow E-Biking experience. The offering will return in winter 2023/24.
Food & Drink
Recently Opened:
Sustainability 
The Kelowna Yacht Club received a top 5-Anchor rating from Clean Marine BC, a voluntary eco-certification program of the Georgia Strait Alliance that "recognizes marinas, boatyards, and other boating facilities for their implementation of environmental best practices." 

Join us in congratulating all the award winners and recognizing all those who achieving great things and delivering exceptional experiences to visitors and locals alike!
Have an award win, achievement, or notable news to share? Email us all the details so we can include the information in our next roundup.