Arts and culture will once again take centre stage as the month-long Culture Days festivities kick off this week. This national campaign, which runs from September 24 until October 24, promotes inclusivity, awareness, participation, and engagement in arts and culture in Canadian communities. Here in Kelowna, the Rotary Centre for the Arts (RCA) is the official Culture Days hub.  
Tourism Kelowna is proud to be part of the Kelowna Culture Days Committee, which was spearheaded by the RCA in early 2019. The committee brings together representatives from various venues, arts and culture organizations and groups, and those with an active interest in arts and culture throughout the region. Monthly meetings have been taking place since the fall of 2020 to plan this year's myriad of events and activations, which are taking place throughout the downtown core. In addition to the RCA and Tourism Kelowna, some of the other organizations involved in the committee include Festivals Kelowna, Kelowna Museums, Kelowna Pride, Okanagan Regional Library, and Rebellious Unicorns; the City of Kelowna, City of West Kelowna, and the District of Lake Country are also part of the committee.  
This year, Tourism Kelowna and the RCA have partnered to proudly present the Cultural District Roving Audience Experience, which is taking place thanks to sponsorship from the Downtown Kelowna Association (DKA) and to support from Festivals Kelowna and Peak Technologies. The self-guided, outdoor experience, which will take place on Saturday, September 25, from 7-10 p.m., will see attendees make their way around downtown Kelowna's Cultural District to watch six different performances throughout the evening (or pick and choose the ones they are most interested in).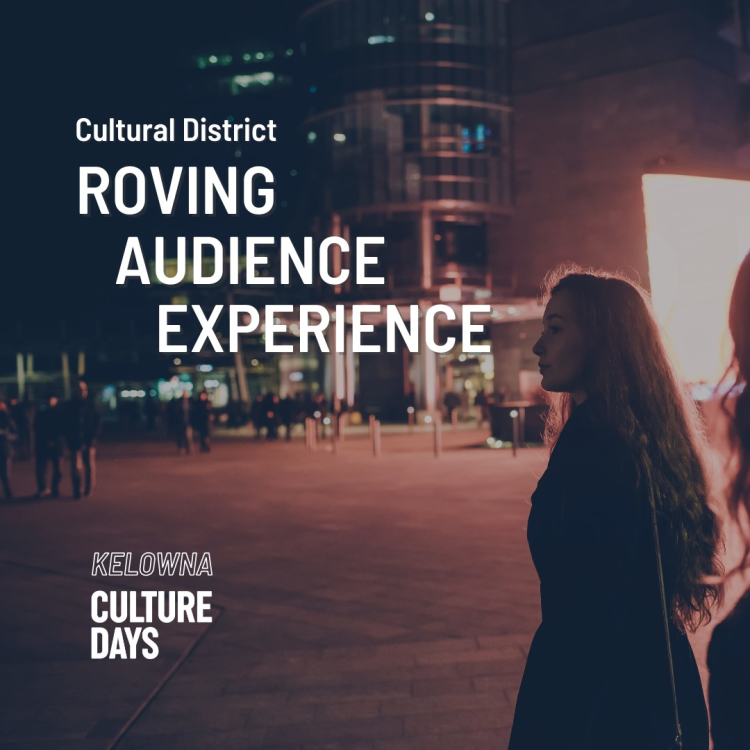 This event will feature performances from Opera Kelowna, Evolve Arts Collective, Inspired Word Cafe (IWC), Kinfolk Nation, The Isadorables, and Jazz duo, Zach Griffin & Cole Smith. Programs, which include a map, will be available at the RCA or the Kelowna Visitor Centre on the day of the event. Social distancing and mask-wearing at each checkpoint are strongly encouraged and seating is limited at most locations. A list of public washrooms is available on our website.  
Other events taking place as part of Kelowna Culture Days include:
A list of all Culture Days events in Kelowna can be found here.  
If you have questions about the Cultural District Roving Audience Experience, please contact me at sydney@tourismkelowna.com or (250) 861-1515 ext. 220.  

Header Image: Okanagan Mexican Folklore Dance Group performing at the Rotary Centre for the Arts during Culture Days 2018.