This year has been filled with many challenges, and we know that our industry has been immensely affected not only by the continuing COVID-19 pandemic but also by a season of devastating wildfires and smoke. As an organization, Tourism Kelowna wanted to spread a little joy among the amazing people that make up our industry and personally thank them for the great service they provide. 
That's where 10 Million Acts of Kindness came into play. Launched in Kelowna in the summer of 2021 by local entrepreneur, Crystal Flaman, this social movement project was aimed at inspiring kindness within our community and beyond. Small acts of kindness can go a long way and the movement's aim is to create a ripple effect in the world that can change people's lives. The concept behind this movement began in 1982 when Ann Herbert penned the phrase, "practice random kindness and senseless acts of beauty." The sentiment slowly grew and created a ripple effect of people "paying it forward." 
Over the past 10 days, as a way of expressing our gratitude to our hardworking industry colleagues, our team hand-delivered over 100 hundred gift bags to front-line staff of Tourism Kelowna stakeholders, including coffee shops, art galleries, hotels, wineries, restaurants, and many more. The gift bags included a thank you note, local products, Love for Kelowna stickers, and a card that not only explained the initiative but also encouraged them to pay it forward with their own act of kindness.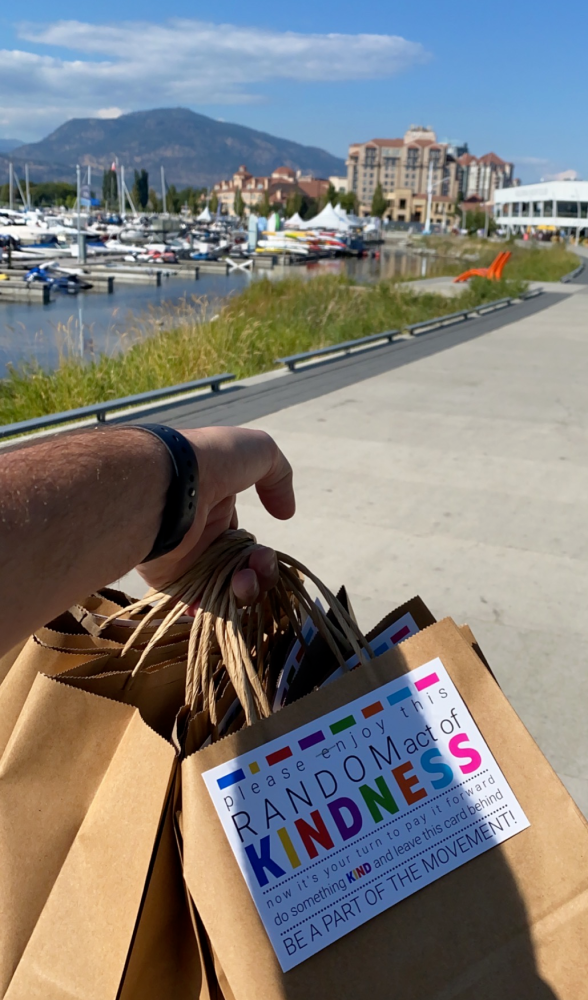 We also want to help create a ripple effect in the tourism and hospitality community—we encourage each of you to join the movement and help put a smile on someone's face. Small acts such as helping someone in need, leaving a positive review for a local business, sending a note of gratitude, or paying it forward can go a long way. #10millionactsofkindness. 
We would like to extend a special thank you to Paynter's Fruit Market and Farming Karma for supporting us with this initiative and donating products for our gift bags!