A group of mountain bikers are catching rays of sun while sitting on their bikes, resting after a good climb, and looking out at the views of Okanagan Lake sparkling on a summer afternoon. After taking in the view, they drop into a rowdy trail full of rock rolls, jumps, and berms. This is a common sight from the top of Shale Trail at Knox Mountain Park. While there are several destinations that may come to mind when thinking about mountain biking in BC, Kelowna is an underrated gem for mountain biking in the interior of British Columbia with a lot to offer. With several trail networks boasting a diverse range of terrain, stunning scenery, and a welcoming community, Kelowna should be added to everyone's list for a mountain biking destination. This article will explore some of the local trail networks and share a bit about what makes them great!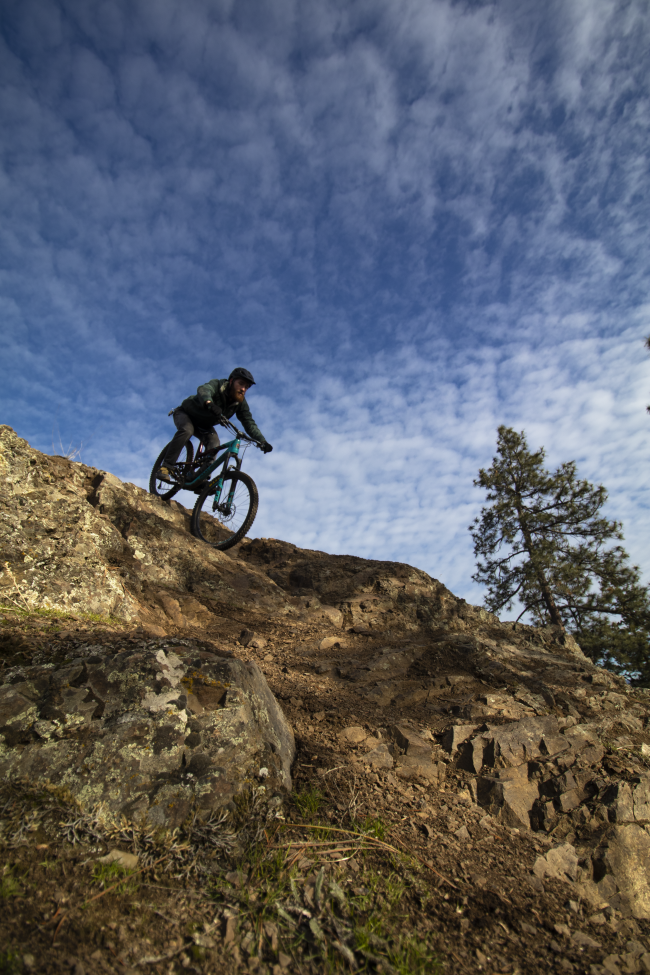 Knox Mountain Park is located on the edge of Downtown Kelowna and has a diversity of trails suitable for riders of all levels. Two of the standout trails in the park are Shale Trail and Simpson Trail. Shale Trail is rated as blue with some features that are more suitable to advanced riders. From the top of Shale Trail, riders can take in stunning views of Okanagan Lake and the city of Kelowna before dropping into the trail full of chunky rocks, berms, drops and jumps.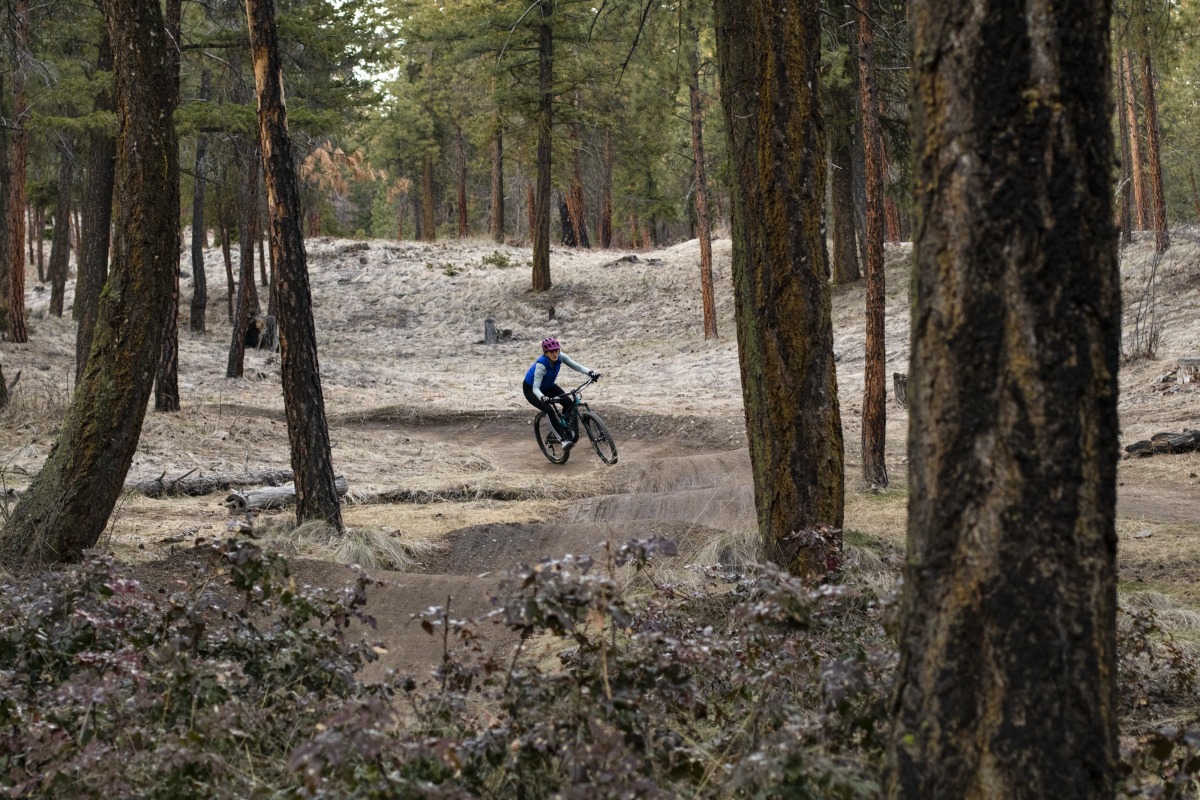 Simpson Trail is a flow trail with rollable medium-sized berms, doubles, and tables galore making it a great choice for beginner to intermediate riders. One of the best things about these trails is that they're open in the spring before many other trails in the interior, making it the best place to get an early start on the season. There is also a great selection of cross-country trails to be explored around the top of the mountain. From the bottom of the trails, bikers can ride 5 -10 minutes and find themselves in the downtown core or Kelowna's brewery district, offering a perfect transition from riding to food and drinks.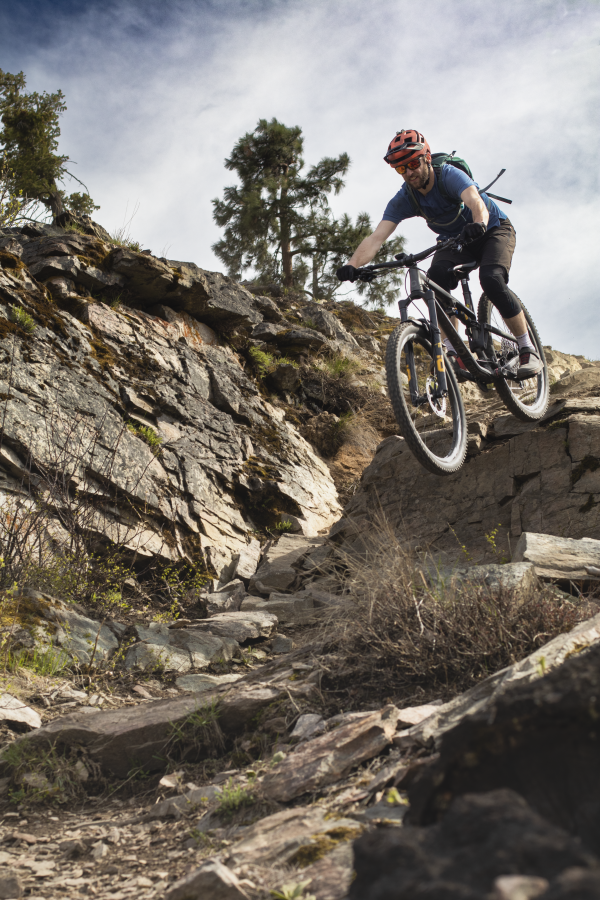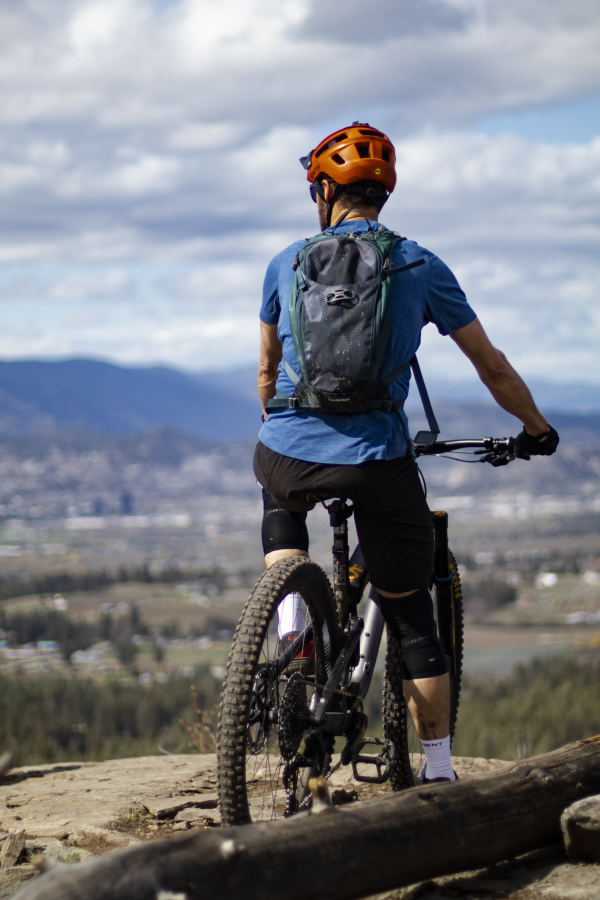 Another must-visit location for mountain biking in Kelowna is the Crawford Trail Network in Myra-Bellevue Provincial Park. The network offers a great variety of trails for everyone from beginner to advanced riders, primarily running through the recovering forest that was burnt in the 2003 Okanagan Mountain Park Fire. Riders can pedal up the Lost Lake Trail and Pink Highway trail while taking in the views over the lake and city on their way to access a large swath of trails.
Beginners will have fun connecting the trail Galloping to the trail Fairlane. One of the most popular rides for advanced riders is connecting the trails Vapour, Connector and Rocky Screech. Vapour starts in a loamy cedar forest, and transitions into epic granite rock gardens, jumps, drops, and berms that continue into Connector and Rocky Screech. Every year in the fall, MTBCO (Mountain Biking Association of the Central Okanagan) hosts the Cranksgiving Enduro at Crawford, which is a great fun-focused event for the mountain biking community to come together and enjoy the trails.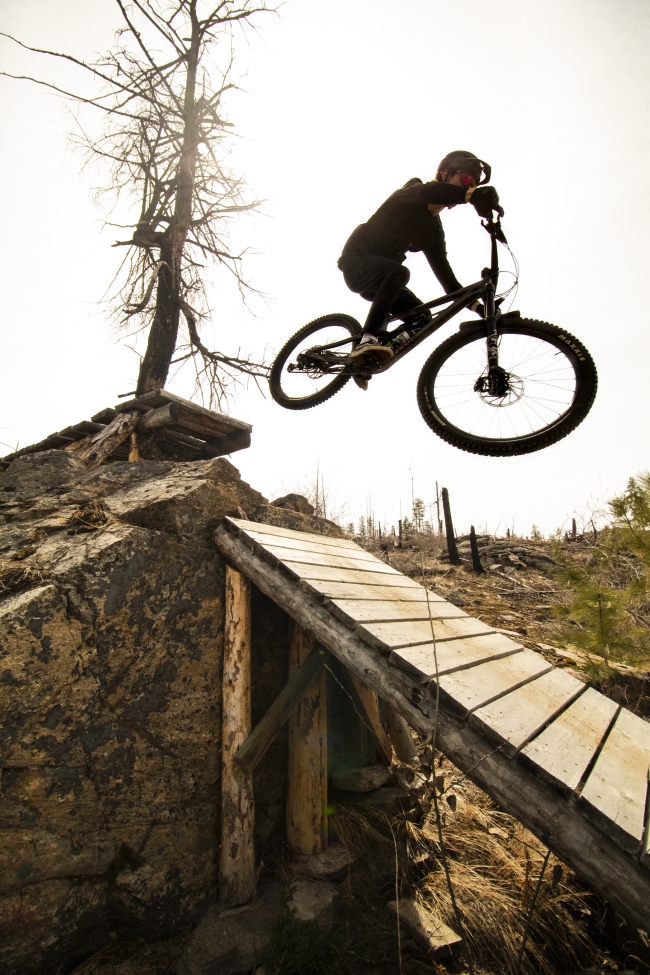 South of Crawford on the other side of a canyon is the Gillard trail network, which has a rich history in the local freeride mountain bike scene. MTBCO is currently in the process of getting Gillard sanctioned by Recreation Sites and Trails BC and they have just received approval to build a climb trail which will make it an even more accessible destination for mountain bikers. Currently, Gillard is best accessed by shuttling up the Gillard Forest Service Road.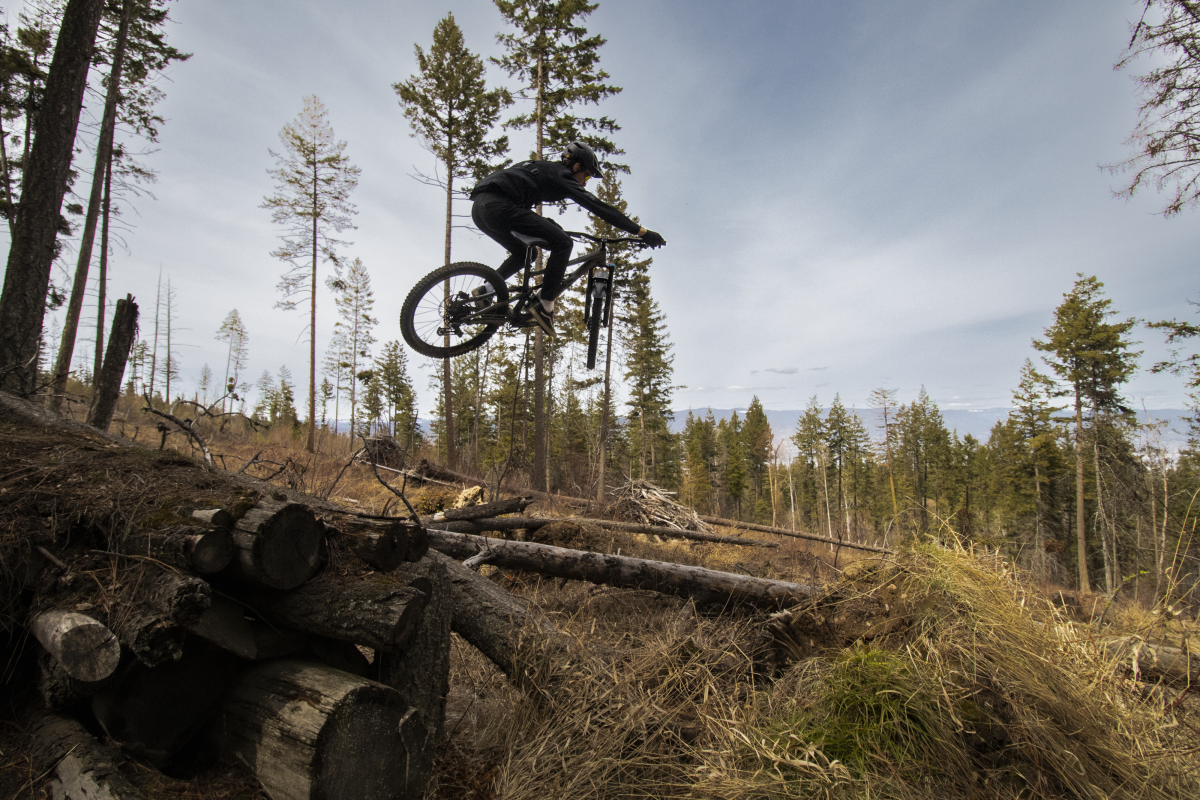 The trails at Gillard are full of technical terrain, wood stunts, and jumps, making it a great spot for advanced riders looking for a challenge. After a ride at Crawford or Gillard, it is highly recommended to stop by one of the many beaches along Lakeshore Road and cool yourself off with a swim in the lake!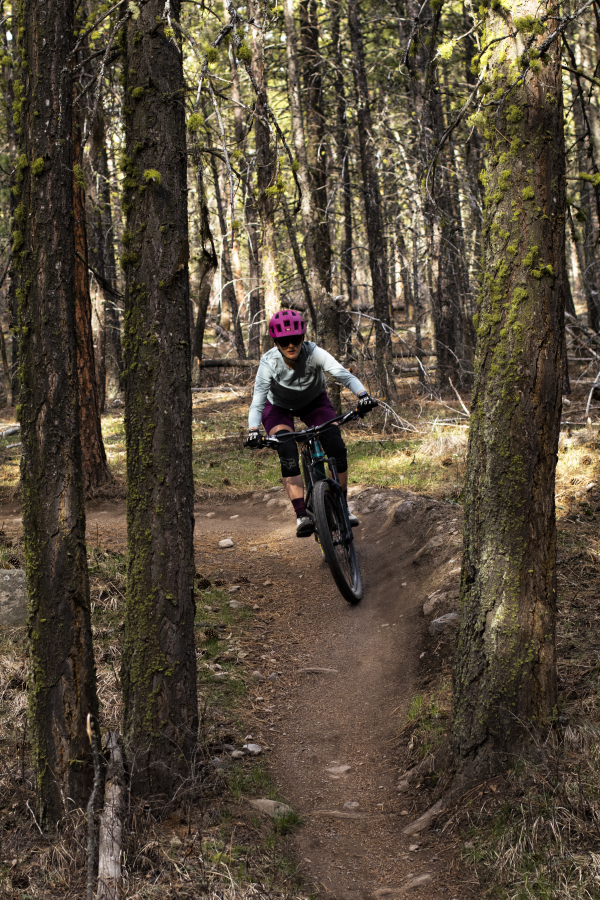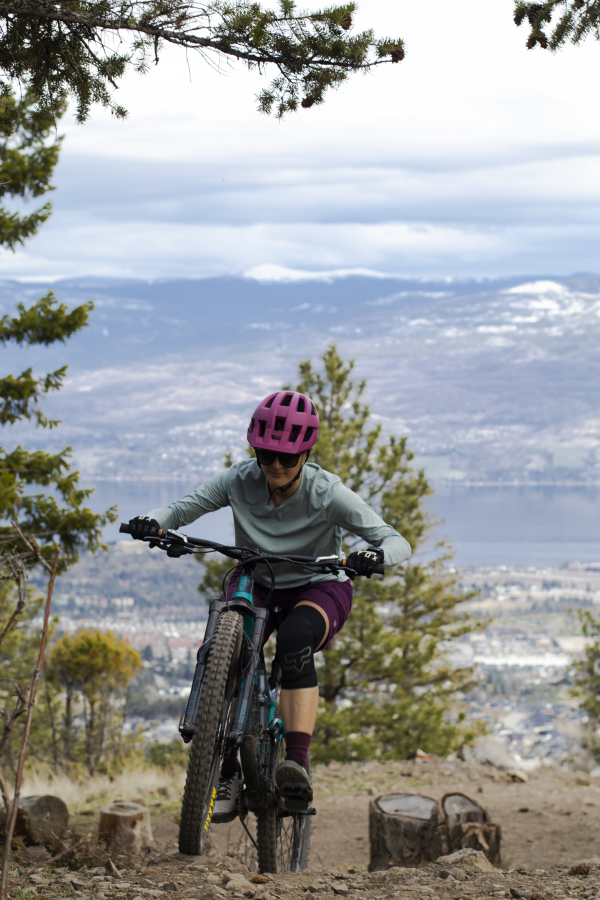 Switching focus across the lake to West Kelowna, Smith Creek is another great location for mountain biking. It is common even for bikers who aren't big fans of pedaling uphill to say that the Holy Pail Climb Trail at Smith Creek is a ton of fun with its optional challenging climb features, corners that aren't too hard but enough to keep you on your toes, and a short mid-climb descent segment appropriately named "Reward DH" on Strava.
Feel the Love is a locals' favourite for the descent and is one of the best flow trails in the region. The trail features berms, jumps, and rollers that will keep riders smiling from start to finish. Towards the end of Feel the Love, there is an optional trail called FOMO, which is recommended for beginners to avoid the more technical lower section of Feel the Love.

With its range of trails suitable for all levels, diverse terrain, beautiful scenery, and welcoming community, Kelowna is one of the most underrated destinations for mountain biking in the province! Ride Knox Mountain Park's Shale Trail or Simpson Trail and roll on down to a craft brewery for a locally-made beverage. Ride the Crawford Trail Network in Myra-Bellevue Provincial Park and enjoy its great variety of trails for beginner and advanced riders. Rip the adrenaline-inducing stunts in the Gillard Trail Network. Or travel across the bridge to Smith Creek and enjoy the flow on Feel the Love. And don't forget to check out the events hosted by MTBCO! So, pack up your bike and head to Kelowna for an unforgettable mountain biking experience. For more info on the trails, download the Trail Forks app and look at the Okanagan region, or visit Tourism Kelowna's biking page.
 
---
MTBCO is a progressive, volunteer-driven non-profit association leading sustainable and inclusive mountain biking opportunities in and around Kelowna. Please support your local mountain bike trails by buying a membership or day pass.
Friends of the South Slopes Society and West Kelowna Trail Crews, both also contribute to maintaining and building the mountain biking trails. Your support helps keep the trails running.