Kelowna's North End beer scene could be described as the epicentre of the city's craft beer boom. As craft brewing's popularity hit its peak, Kelowna's industrial centre became home to several beer destinations in just a few short years, creating a vibrant trail of small batch producers all within walking distance.

Jackknife Brewing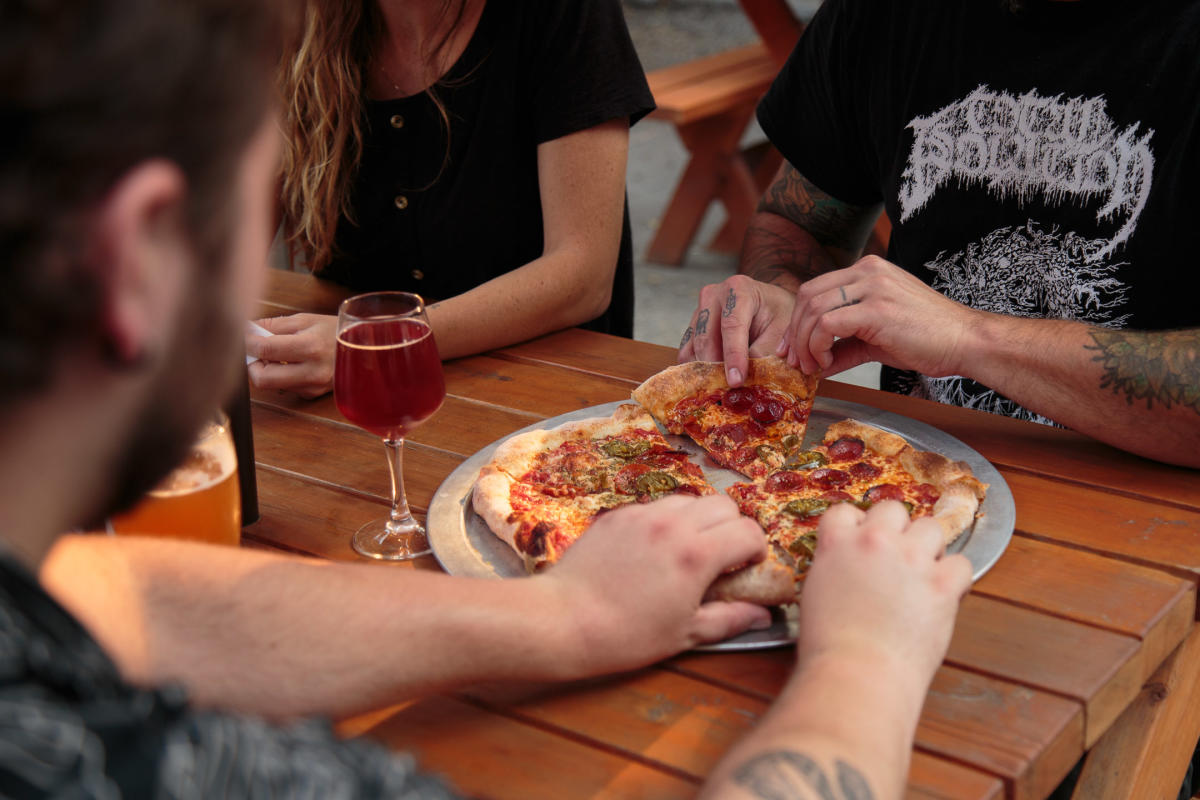 Photo credit: BC Ale Trail
Dubbed 'The Dungeon' Jackknife Brewing is a cauldron of cool. Embracing their inner weird, Jackknife prides itself on producing beers with a whole lot of character. Using Kviek to ferment the majority of their beers, Jackknife brewers lean into its Nordic influences while highlighting West Coast flavours and plenty of local ingredients to create their unique blend of brews.
Like many small batch brewers, their rotating tap list changes weekly, folks visiting the brewery are encouraged to follow @jackknifemenu on Instagram for the current week's beer and zza offerings. Recent beer drinkers may have sampled the Chai Chai My Darling, a lush profile of caramel and chocolate, with spice and vanilla aroma, made with tea from local tea house Chaibaba, or the killer collab with Main St. Brewing the Honey Butcher, a white wine barrel fermented pale ale using six different yeast strains across three barrels. Coming soon, Jackknife's beer wizards have teased their Nordic juniper lager (brewed with locally foraged juniper boughs) and an onslaught of fresh seasonal pours.
Weird beer. Classic pizza. That's Jackknife's mantra. Their classic pizza offerings can be enjoyed with a beer in house or taken to go, and check them out on Sunday for their Sunday Squares (get there early to get yours).

Kettle River Brewing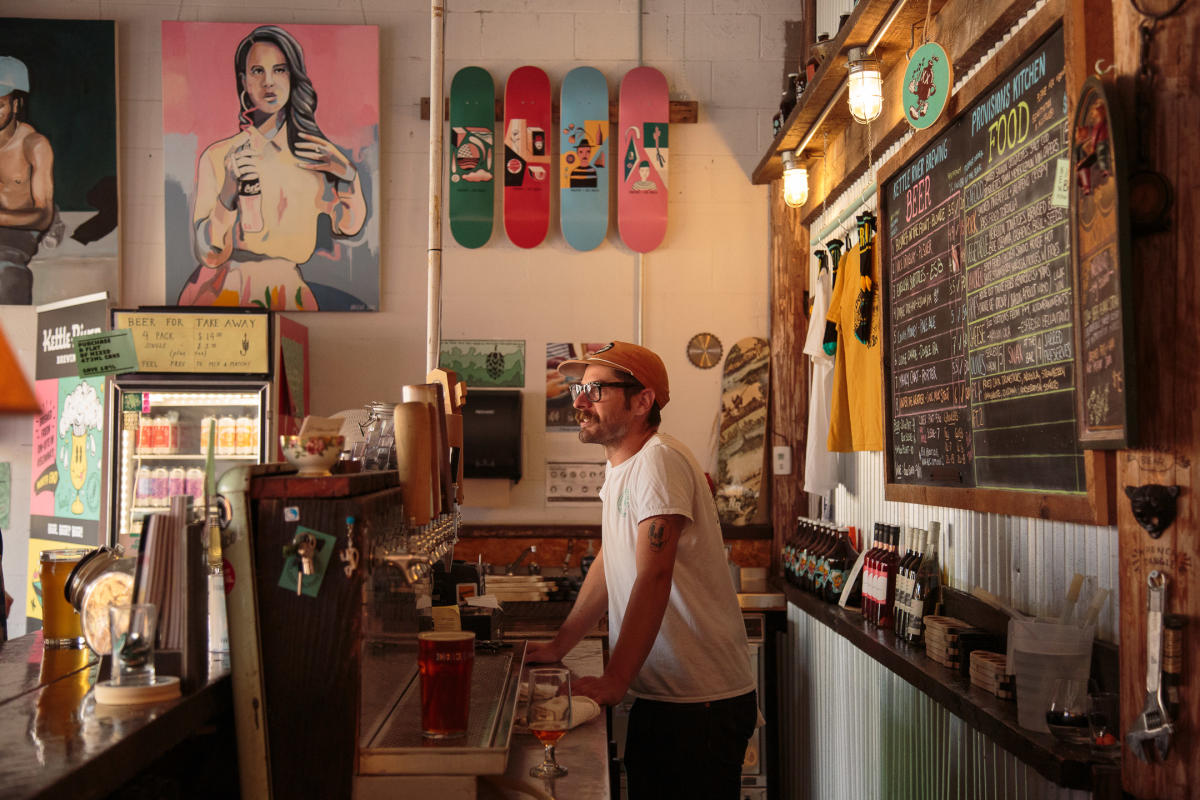 Photo credit: BC Ale Trail
Kettle River Brewing is the microbrewery that kicked off the North end's craft beer craze. Their beer garage has evolved over their six years to include an expanded patio, and in house dining from Provisions Kitchen while maintaining their homey and eclectic charm. Kettle River touts the tasting room as family friendly, the patio as dog friendly, and their staff as friendly friendly.
Brewing at Kettle River is all done on site in their 5BBL brew kit. Their small batch production allows for fresh quality beer and lots of creativity. Long time staples (and Kettle River frequenter favourites) like their Loose Canoe Double IPA and Under the Weather Chocolate Milk Stout can be found rotating more regularly or grab cans to go from the tasting room beer fridge. Feature pours reflect the season and include cool collaborations. Halloween had brewers inspired by candy serving up a Jolly rancher Sour, and coming soon Kettle River is working alongside locals Leopold's Tavern, Micro Kelowna, and Pamplemousse Jus to serve up something special.
Kettle River pours can be perfectly paired with snax and elevated pub fare from Provisions Kitchen. The creative team from CrAsian Food Truck has turned Provisions Kitchen at Kettle River into a food destination, serving up a scratch made menu which revolves to highlight the best of the season. November sees the Provisions team firing out Piri Piri chicken wings, fried brussel sprouts, and a CrAsian Food Truck style Thai burger, in addition to their always popular Weekend Big Boards.

Red Bird Brewing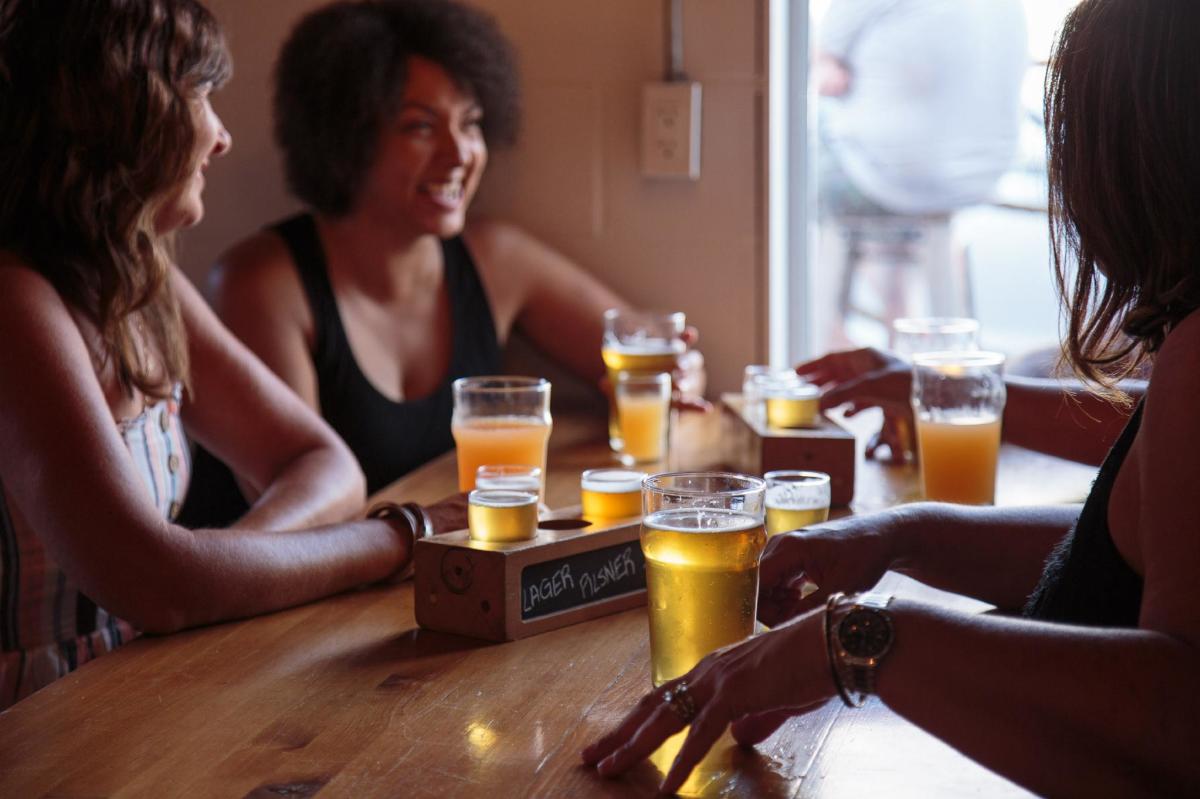 Photo credit: BC Ale Trail
Community is Red Bird Brewing's driving force. They take inspiration from the local community when titling their brews, they considered Kelowna history when naming the brewery itself, and they consider the community as a fundamental inspiration for the brewery as a whole. This has led to the growth of the brewery from a laid-back microbrew space to a booming backyard hang.
Red Bird's aim is to execute clean, delicious, drinkable beer. Brewers are collaborative about the recipe process and often conduct blind tastings before serving a new recipe or brew. Red Bird's small batch approach means there are always new brews or test batches to sample and a core lineup can be found on tap or in cans. Brewery visitors might sip their top selling Antipsipation IPA, a traditional West coast IPA serving grapefruit and citrus notes, or the Tomb Stout, a dry Irish stout with dark chocolate and roasted coffee profile perfect for dropping temps.
Italian forno pizza is the backbone of Red Bird's food offerings, firing pizza piled with fresh ingredients with apple wood from Ward Cider's local orchard. Also on offer is a selection of tacos and salads for those looking for a lighter buddy for their beer.

Rustic Reel Brewing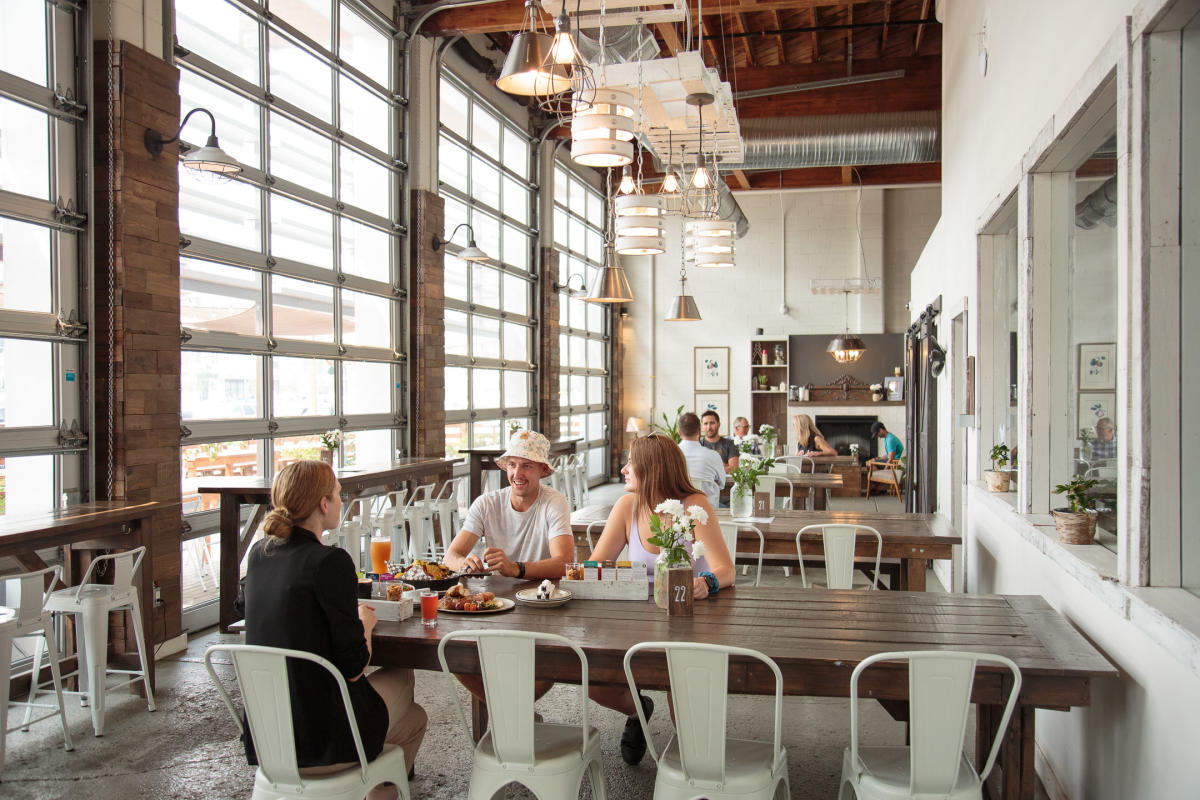 Photo credit: BC Ale Trail
Conjuring cabin vibes, and a laid-back lodge mentality, Rustic Reel Brewing is a North End retreat. Inspired by the quintessential Okanagan lifestyle Rustic Reel created a space, and beers, to match the feelings inspired by fishing, campfires, and natural surroundings.
Distilling quality beer that tastes great and evokes nostalgia for some favourite pastimes and the nature that surrounds the Okanagan is the essence of Rustic Reel's beer philosophy. Drink their Spiced Amber Ale, an aromatic spice blend with notes of orange that makes it perfect for cozying up at the fireplace. Try their easy drinking Hazy IPA on a chill Sunday with brunch. Perk up with a sleeve of Nitro Coffee Stout, brewed with fresh coffee for a silky espresso taste, perfect for staying alert while you wait to reel something in.
A visit to Rustic Reel should include beer, but doesn't have to, the brewery hosts a coffee bar throughout the week to keep guests fueled and the space serves up a full menu Tuesday through Saturday, including late night options, and an all-day Sunday brunch menu complete with a build your own Ceasar Bar. Come in for chicken wings and waffles, reel nachos, or an eggs benny flight.

Vice & Virtue Brewing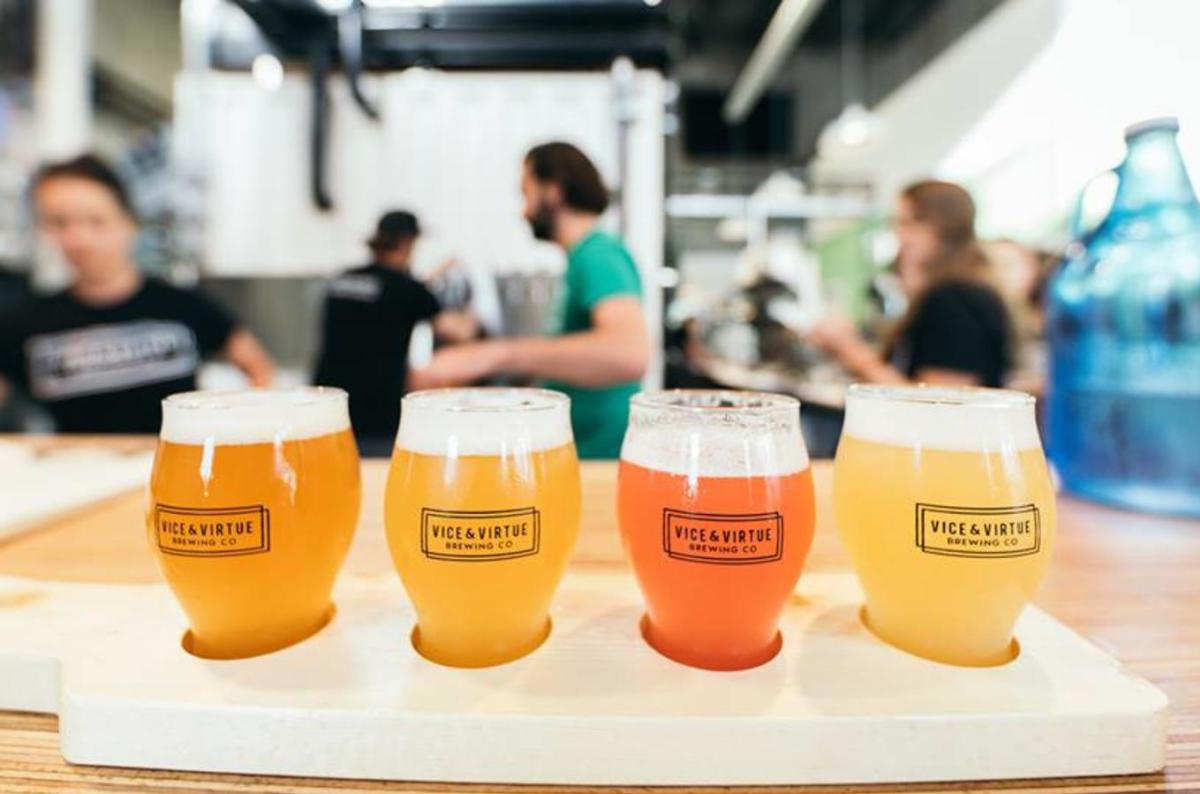 Vice & Virtue was born from the desire of a group of friends to contribute to the craft beer scene and turn their backyard brewing hobby into a hip and inviting space for all. Creativity is the leading force behind Vice & Virtue's brewery philosophy. That creativity can be seen in the brewery's inventive beers, house-made menu, and innovative labels collaborated on with local artists.
Brewed in house using locally sourced grain, Vice & Virtue produces unfiltered craft beer with a local focus. Their Raspberry Berliner Vice, titled The Love Potion, is a standout favourite for many brewery frequenters, and The Giver Pale Ale, emits stone fruit, citrus and black tea, making for an easy drinking ale that's become a classic Vice & Virtue pour. Vice & Virtue's brewer has fun with collaborations like the Good Neighbour series, this year featuring Picquette style Reisling juice from Tantalus Vineyards, and is always looking to try something new like the wildly popular Brave New World NEIPA, a boldly juicy punch of fresh orange, and tropical fruit backed up by notes of melon, mango, eucalyptus and pine.
True food lovers themselves, the team at Vice & Virtue envisioned a brewery and dining experience that was suited to one another. House cured charcuterie is the go-to for a nibble with your pint or choose one of many menu items featuring the on-site smoker; smoked mushroom gnocchi, a beef brisket burger, and pork belly burnt ends are just a few. Elevated items like the trout rillette and XO carbonara & campanelle pasta push the innovation of a brewery dining experience.

Explore the North End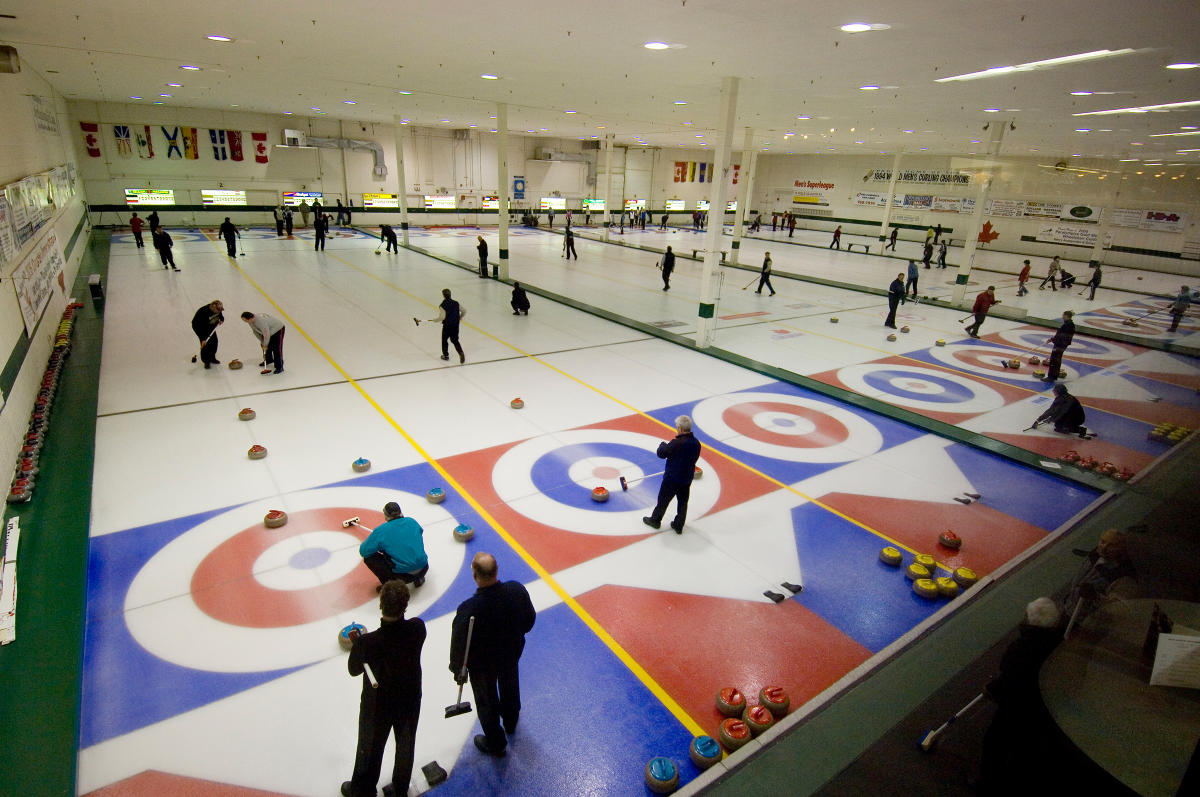 Kelowna Curling Club
Kelowna's North End breweries are located not only steps away from one another but also from an array of recreational options to check out before or after a pour. Let your true Canadian show at the Kelowna Curling Club, scale walls at the newly opened downtown location of Gneiss Climbing or check out league play at Central Sports Club. Looking to stay outdoors? Visit local favourite Knox Mountain for a hike, game of tennis, or round of disc golf or explore the Okanagan Rail Trail which is right next door to the breweries.