Do you know someone passionate about Kelowna and the Central Okanagan? Do they tell everyone they meet about the exciting and fun things to do in the area? If yes, Tourism Kelowna may have the perfect volunteer opportunity for them!
Our Community & Visitor Engagement team welcomes volunteers of all ages, offering flexible schedules, ongoing training, and opportunities to experience the best that Kelowna has to offer. As valued members of our team, Tourism Kelowna Volunteers provide welcoming and authentic service to visitors and locals while at the same time promoting area businesses, activities, and attractions in support of Kelowna's vital tourism economy.
Volunteers can work at the downtown Kelowna Visitor Centre or at our kiosk at the Kelowna International Airport. We also have volunteer opportunities to support our mobile visitor centres at events in and around Kelowna.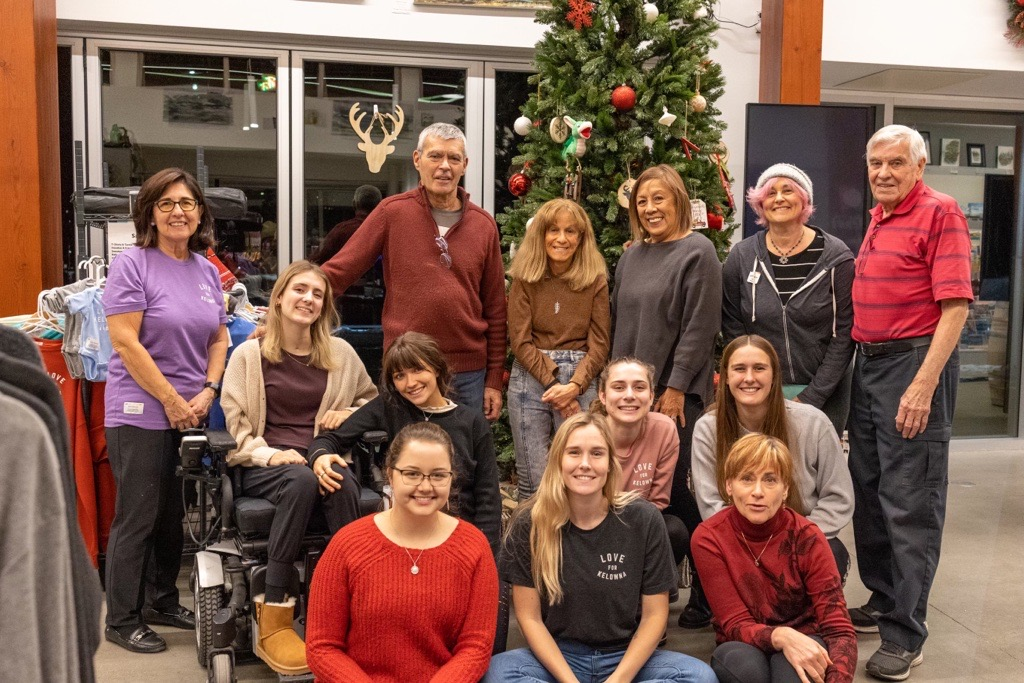 Community & Visitor Engagement Staff & Volunteers during the 2022 holiday season.

WHY VOLUNTEER WITH US?
Meet and provide service to people from around the world.
Build strong relationships with fellow volunteers and Tourism Kelowna team members. 
Participate in familiarization tours and team building to experience local activities and attractions and learn about Tourism Kelowna members.
Have a positive impact on the community through purposeful work.
We are committed to providing a fun, supportive, and rewarding volunteer environment. We create, nurture, and value meaningful connections, within our team, with visitors, and within the community. Many of our volunteers have developed lifelong friendships through their involvement with our organization. 

VOLUNTEER RESPONSIBILITIES
Community & Visitor Engagement Volunteers are responsible for welcoming guests, both visitors and locals, to our visitor centres and providing them with exceptional service. 
Qualifications for volunteering include:
Enjoyment of a customer-facing role, with previous customer service experience in a work or volunteer capacity. 
Demonstrated enthusiasm for Kelowna and the Central Okanagan, along with knowledge of the area's activities/attractions/experiences.
Enjoyment of routine tasks, including continuously greeting and providing services to guests, stocking shelves, assisting with inventory, and light cleaning duties. 
The ability to speak a second language fluently is an asset.
Proficiency with computers and website navigation is an asset.
If you know someone interested in applying, please have them fill out the Kelowna Visitor Centre Application Form or YLW Kiosk Application Form. They can also contact Denae Weighill, Volunteer & Events Coordinator, at (250) 861-1515 ext. 208 or by email at denae@tourismkelowna.com, for more details.