On July 4, the Government of Canada released its new Federal Tourism Growth Strategy, "Canada 365: Welcoming the world. Every day."
Tourism data from 2019 and lessons from the pandemic were used as a foundation for the development of the strategy. While tourism has made a strong comeback, data shows that the industry is still below 2019 levels.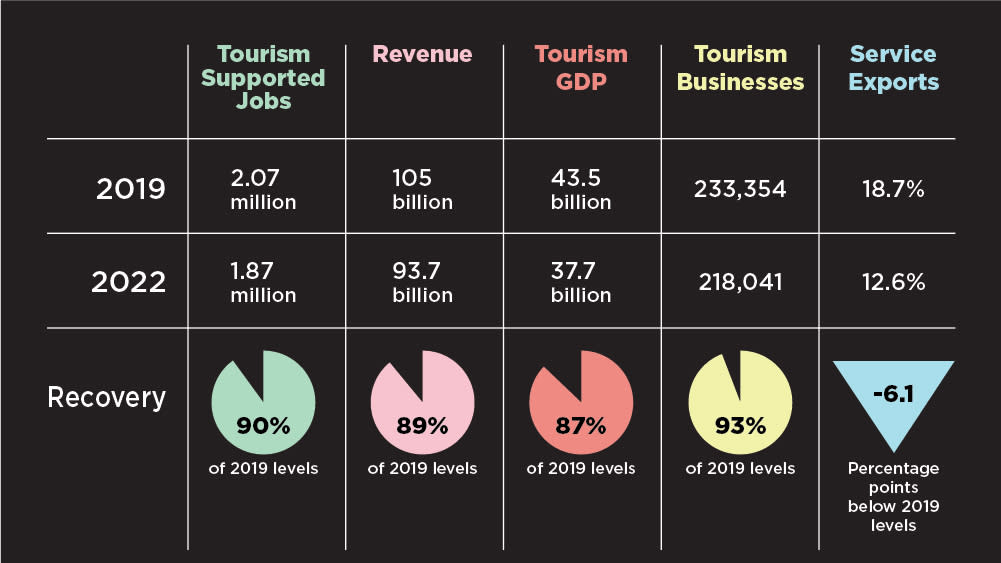 Tourism by the numbers: A cornerstone of Canada's economy. Credit: Government of Canada website
A lengthy consultation process with various industry members, including tourism businesses, destination marketing organizations, and others, was undertaken to develop the strategy. Some feedback provided through this process was to set intentions and goals, leverage Canada's reputation, improve federal coordination, rebuild the tourism workforce, improve infrastructure and access, and promote sustainability. 
This consultative process and the feedback provided shaped the final strategy, which is outlined through the following five priorities:
Investing in Canada's tourism assets
Embracing recreation and the great outdoors
Partnering to grow Indigenous tourism
Attracting more international events
Improving coordination through a federal ministerial council
Long-term growth for Canada's visitor economy is at the heart of the new strategy, with  Beth Potter, President and CEO, Tourism Industry Association of Canada, noting: "TIAC welcomes the new Federal Tourism Growth Strategy and applauds the government's recognition that tourism is a key driver of Canada's economy, creating close to two million jobs in large and small communities and being highly inclusive. We embrace the opportunity to continue working, hand-in-hand, with the Minister of Tourism, other Cabinet ministers and federal officials on the strategic path toward full industry recovery, growth and sustainability."
Destination Canada President and CEO, Marsha Walden, adds: "We welcome the launch of the new Federal Tourism Growth Strategy, which will help lay the foundations for our sector's future growth, investment and competitiveness. Along with our industry partners from coast to coast to coast, we have worked together to make united recommendations on this strategy, and we look forward to working closely with the Minister as together we transform tourism to be more competitive, successful, and resilient."
To learn more about the new strategy and the process through which it was created, visit the Government of Canada website.