If your business or organization hosts events that welcome visitors and locals, like festivals, live performances, or workshops, we encourage you to submit all the details to our online events calendar so we can assist in promoting them. The calendar is one of the most visited pages on our website and is also used to select events for promotion through our social media channels and #exploreKelowna Monthly newsletter. 
Events can be submitted through a form on our website or through the Tourism Kelowna Partner Portal for those stakeholders participating in our Base or Enhanced Programs. For program participants, events will be not only listed on the events calendar but also in the events tab on your tourismkelowna.com web listing(s), giving you additional exposure. 
If you are not participating in Tourism Kelowna's programs, you can submit your events here. For those with Partner Portal access, please follow the step-by-step instructions below to submit your events.  

Logging into the Partner Portal
To submit your event, you must log in to the Partner Portal. If you haven't done so before, follow these steps:
Go to this website: https://kelowna.extranet.simpleviewcrm.com/login
Log in with the business email address and password that was provided to you by Tourism Kelowna.
Click "Forgot Password" if you haven't logged in before or if you cannot remember your password.
Email Steve Small at steve@tourismkelowna.com if your email address is not connected to the Partner Portal.

Submitting Your Event
Once logged in, you can submit your event as follows:
Click on the "Collateral" tab on the left-hand menu, then click "Calendar of Events," then "Add Event"
Add an appropriate image to the listing

The minimum recommended image size is 1360 x 900 pixels.
Please upload images in Landscape (horizontal) orientation; Portrait (vertical) images may not display as expected.
Please make sure to upload images that do not contain text, logos, or graphics.

Input the "Event Information"

The "Event Description" is your opportunity to sell your event, so be as creative as you like.
Include as much information as possible, including an event website and contact information.
If another organization hosts the event at your venue, you can list them in the "Host Organization Listing" field. Select your own organization if you are the only host.
Select the "Primary Category" for the event from the drop-down menu. Tourism Kelowna will select other categories, as required, during the approval process.

Input the "Event Location"

Type the name of the venue into the "Venue Listing" field.
If the venue is a stakeholder with Tourism Kelowna, you can select them from the menu and the remaining address details will auto-fill.
If the venue is not listed, you must manually enter all the information.

Fill out the "Event Dates" section:

Select the event's recurrence using the tabs provided (i.e. One Day, Daily, Weekly, Monthly, Yearly).
Use the "Custom" option sparingly; most events should be able to be listed using the other options.

Select the "Community" in which the event is taking place from the drop-down menu in the "General" section.
Click on "Save" to complete the event listing.
Once you have saved the listing, it will be submitted to Tourism Kelowna for approval; the process should be completed within 72 hours, except for events submitted on the weekends. If you want to promote an event taking place within 3-5 days of submission, please email our team, and they will do their best to approve the event as quickly as possible. Your listing, which will appear as the example below, will be live on tourismkelowna.com/events within 1-2 hours of approval.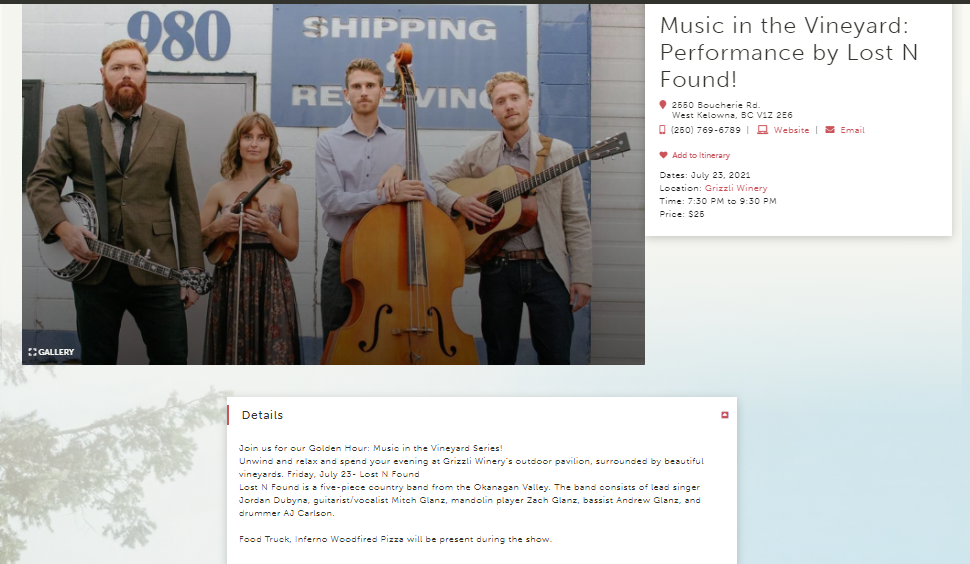 Tourism Kelowna stakeholders can monitor the status of submitted events from the list on the "Calendar of Events" page in their Partner Portal account. Once approved, event details can also be edited on this same page or the event can be deleted entirely if required.

Additional Opportunities
For larger special events, our team can add a digital event poster to one of the display screens in the Kelowna Visitor Centre. You can also request to have our mobile team onsite at your event to answer questions about Kelowna and provide ideas for additional things to do in and around the city. The Kelowna Visitor Centre is also available for rent as an event space with lower rates for non-profit organizations. 
If you want to chat more or have questions about how our team can help to promote your event, please contact Kaitlyn Ellis, Manager of Community & Visitor Engagement, at kaitlyn@tourismkelowna.com or at (250) 861-1515 ext. 220. We are excited to continue connecting visitors and residents with the numerous events taking place in our region!
If you have upcoming industry-focused events, please email marketing@tourismkelowna.com so these can be added to our Industry News Centre posts.