We are excited to announce a new advertising opportunity for Tourism Kelowna stakeholders—sponsored ad space in our #exploreKelowna Monthly newsletter.
At the beginning of 2022, our #exploreKelowna Weekly newsletter transitioned to a monthly frequency. This new format, which was introduced in February, includes some of the favourite aspects of the weekly edition, such as blog posts on things to do in Kelowna, as well as new and exciting segments that spotlight featured events and hotel packages/promotions and encourage readers to build personalized itineraries. 
Sponsored Post
In addition to these new segments, Tourism Kelowna Base Holders will also have the opportunity to include a sponsored ad in the consumer-facing monthly newsletter. Each month, a block of content will be designated for one of our Base Holders and will include the following:
One (1) Image (landscape mode) 
One (1) URL link 
Title: Max 40 characters
Body: Max 160 characters 
The #exploreKelowna Monthly newsletter has a subscribed base of 18,000 people, with an open rate of 40%. The fee for a sponsored post is $250 and there are currently ten open spots available for the remainder of the year (March through to December). 
Here is an example of a sponsored post: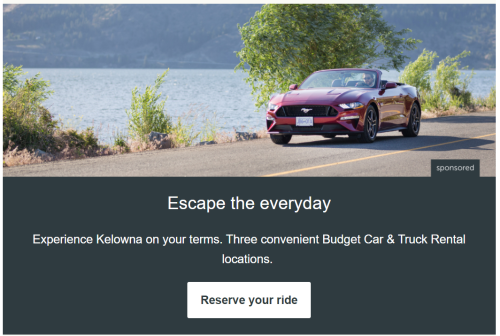 If you would like to book a sponsored post, please fill out this form and send it back with the month you would like to be included. Each business can only book one sponsored post a year.
If you have any questions, please reach out to me at sara@tourismkelowna.com