Last February, we launched a new advertising opportunity for Tourism Kelowna Members—sponsored ad space in our #exploreKelowna Monthly newsletter.
The #exploreKelowna Monthly newsletter includes content like blog posts on things to do in Kelowna and segments that spotlight featured events and hotel packages/promotions, encouraging readers to build personalized itineraries. 
Sponsored Post
Tourism Kelowna Members can include a sponsored ad in the #exploreKelowna Monthly newsletter. In each issue, a block of content will be designated for one Member and will include the following:
One (1) Image (landscape mode) 
One (1) URL link 
Title: Max 40 characters
Body: Max 160 characters 
The #exploreKelowna Monthly newsletter has a subscribed base of just over 18,000 people, with an open rate of close to 40%. The fee for a sponsored post is $250, and there are currently 10 open spots available for 2023 (March through December). 
Here is an example of a sponsored post: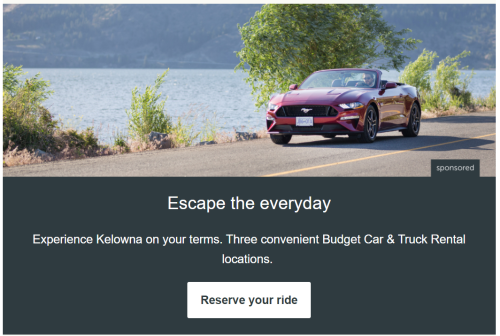 If you would like to book a sponsored post, please fill out this form and send it back with the month you would like to be included. Each business can only book one sponsored post a year.
If you have any questions, please reach out to me at sara@tourismkelowna.com