While in-person Earth Day celebrations continue to be on hold due to the pandemic, marking this day of observance is an important priority around the globe. Sustainability remains at the forefront of our team's activities and we work in partnership with our stakeholders and industry partners to uphold our sustainability pledge:
We act every day to foster the preservation and continual restoration of our land, resources, and communities.
More than 30 Tourism Kelowna stakeholders are now participating in the Biosphere Commitment Program, in turn making a commitment to the United Nation's (UN) 17 Sustainable Development Goals (SDGs). These businesses, along with the Thompson Okanagan Tourism Association (TOTA) and Tourism Kelowna, are working to strengthen the sustainable development of our destination, so it can be enjoyed by both residents and visitors for years to come.
In celebration of Earth Day, and to highlight sustainability initiatives taking place in our community, we asked some of our local tourism businesses who are part of the Biosphere Commitment Program to answer the following questions:
What does this year's global theme, Restore Our Earth™, mean to your business? 
What steps have you taken, and/or what practices do you follow, to be more sustainable and to contribute to restoration in our community? 
Why did you decide to join the Biosphere Commitment Program? How has it helped your business in its goals to be more sustainable?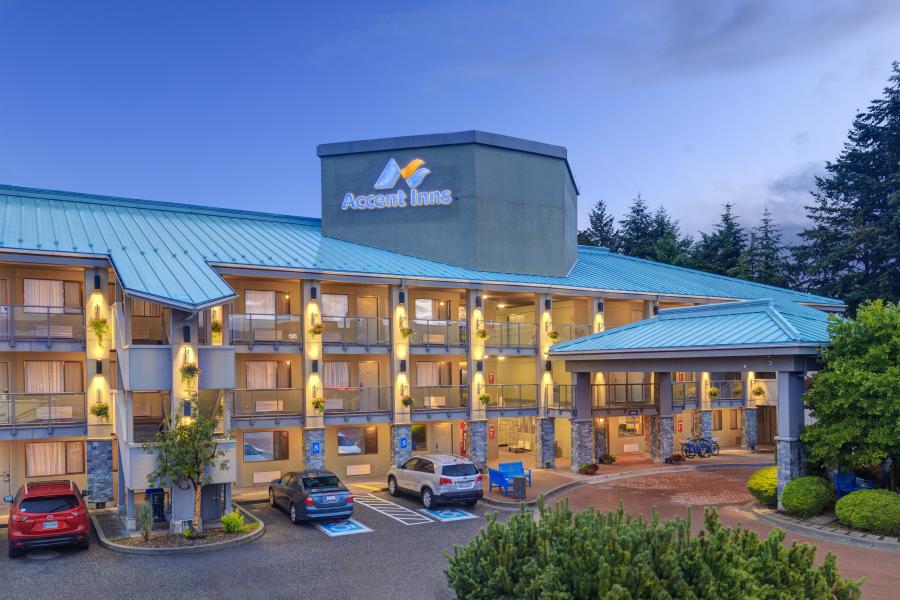 Photo Credit: Accent Inns
1. The year's theme is a great reminder to us all to be mindful of how changes in our business practices can make a huge impact. Accent Inns strives for this mindfulness every day and we have been for decades!
In 2000, we noticed how many of those mini-bottles of lotion, shampoo, and conditioner we were going through, so we made a change to wall-mounted, refillable pump dispensers. We estimate 1 million bottles have been saved through this program. We also switched from disposable coffee mugs to reusable ceramic mugs and switched from disposable cutlery to biodegradable cutlery.
 
In 2019, we partnered with Soap for Hope to donate partially used amenities and discarded room linens. In just a few years, about 16,000 pounds of linens and amenities have been donated and re-used.
 
When there were early shortages in mask availability, our creative and ingenious team started fabricating cloth masks for our staff out of recycled uniform shirts and linens. 
 
We were early adopters of electrostatic sanitizing foggers, reducing the need for disposable sanitizing wipes. 
 
This past winter, we completed comprehensive energy and waste audits of our Kelowna property so that we can be ready to implement improvements as soon as business allows.  In partnership with the BC Hotel Association, these audits are now being expanded to all of our properties so that we can learn about the areas where we can make the greatest impact in reducing our resource use and carbon footprint. This type of work makes us all feel good.
2. For us, restoration in our community means leading with love and connecting personally with people in our communities to make positive change. At Accent Inns we believe in always asking our communities, how can we help? This led to our early pandemic partnership with the United Way to offer frontline workers rooms where they could isolate themselves to keep their families safe, all completely covered by community donations. When local travel was allowed in the summer, we partnered with Variety the Children's Charity so travellers could donate 25% of the cost of their stay to Variety families that were so in need during the pandemic. This fall, we saw that Transit Drivers needed a morale boost and we spent a day handing out thank you cards with gift certificates to local coffee shops to show appreciation to these heroes that keep us moving every day. We truly want to Make Everything Better (one of our Core Values) for our communities.
3. We were really attracted by the Biosphere Commitment Program's holistic view of sustainability and we love that all of the Thompson Okanagan tourism region is getting behind it. We are proud to be part of these big community initiatives. Many of the UN's SDGs, such as Good Health and Wellbeing, Gender Equality, and Responsible Consumption and Production, speak to our company's longstanding Core Values. We've been thrilled to participate in recent Biosphere programs like Energy Audits, in partnership with GreenStep, and with support from Go2HR in working towards our Certificate of Recognition for Workplace Health & Safety. We love the leadership the Thompson Okanagan Tourism Association (TOTA) is taking in ensuring our whole region is moving the needle on this holistic view of sustainability in our region. Thank you, TOTA!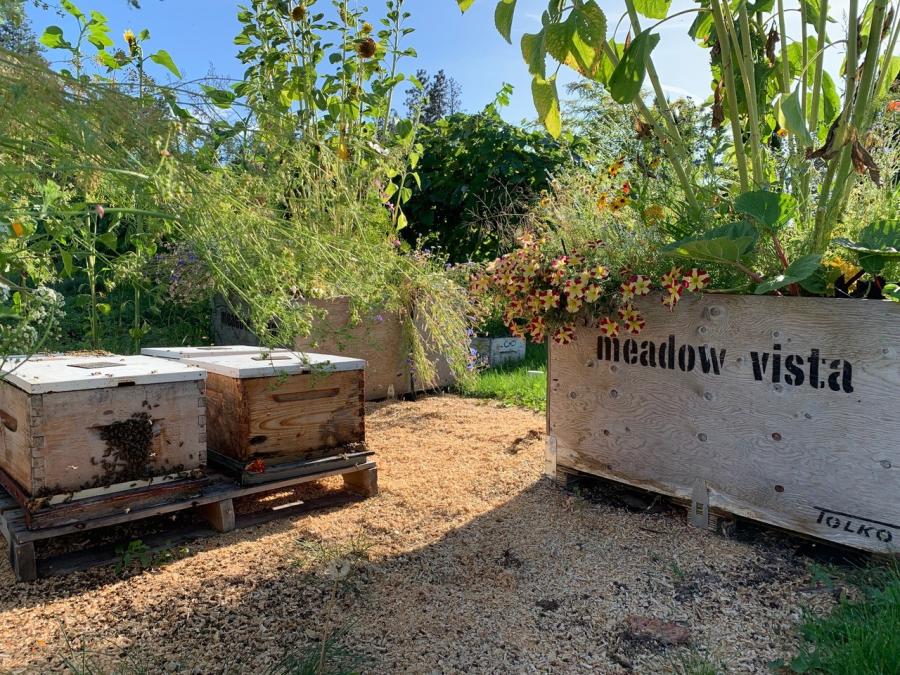 Photo Credit: Meadow Vista Honey Wines
1. This year, more than ever, the words "Restore Our Earth" are forefront to all of us. It's more difficult than ever to focus on things outside our immediate circumstances during these times of crisis. But it is important to remember that those goals are still there, our Earth and environment are always important. How much are we appreciating the outdoors as we come into a spring with so little to do safely indoors? Walks with our loved ones in nature and playing outside in our parks have never meant so much to us all. A good thing to always remember. 
2. We are excited to have made some huge strides in sustainability this year:
We painstakingly moved almost all our packaging to biodegradable bags/packaging and glass.
 
All our Bistro packaging/plating and utensils are now fully backyard compostable, and all our outdoor tasting glasses are being recycled.
 
We have found several items that can be re-used in our shop and are excited to be working with other local businesses that are sustainably focused as well. We recently started a honey program with ChickPeace Zero Waste, we partner with Little Creek Dressings, Sunshine Farms, Playgrow Dough, and, as always, use local products in all of our Meads! We are thrilled to be working with The Haskap Farm Ltd., our neighbours just up the road from us, de Simone Orchards, and many more local farms.
 
Increasing the bee population and bee education and awareness are always our focus and we continually add to our 'Pollination Project' each year, with all of our tasting fees going to these projects! 
3. We decided to join the Biosphere Program when it was first introduced in Kelowna, as we saw a similar vision to our values and goals and decided we needed to support and be a part of it immediately! We were extremely fortunate to have one of the Biosphere Commitment Program's energy analysts come and do an eco-efficiency assessment for us last fall. This was extremely helpful with accolades for programs we have in place and suggestions for increasing our eco-efficiency. We were able to introduce a full composting program, energy-saving practices, and make a green team to work on more plans for the future!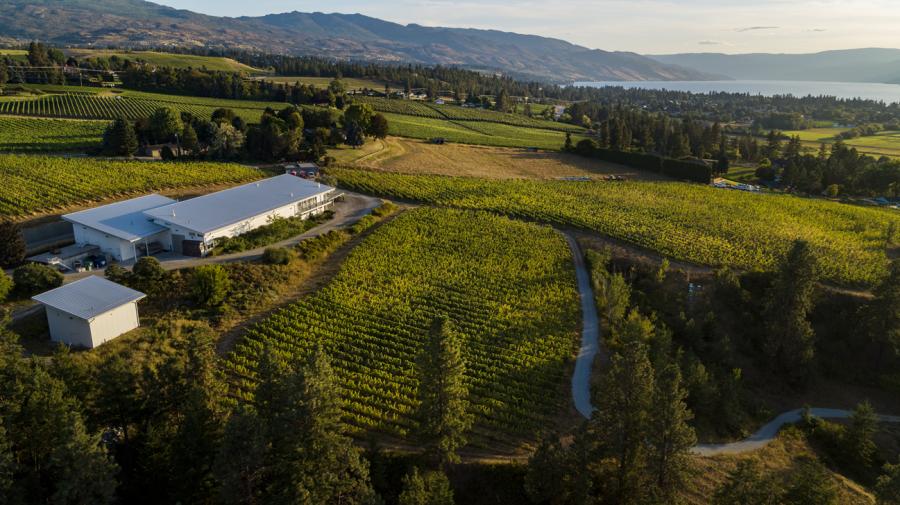 Photo Credit: Shawn Talbot Photography
1. This is such an important theme, and for us a business it embodies so much of how we aim to operate sustainably as a farm, as a production facility and as tourism destination. Our goal is to practice thoughtful and responsible land stewardship and that means regularly checking in with our practices. Restoration takes innovation and improvement in these practices and engagement from our employees, which we are very fortunate to have.
2. Sustainability has always been important to us, and its ethos guides how we farm the land, how we make the wine, and even how we sell it. Our focus in the vineyard is on regenerative farming practices: preserving and enhancing the biodiversity, soil, and the ecosystem of the land we farm as naturally as possible. From there, we look at our production methods. We are constantly and critically looking at where we can improve: where is our glass produced or how do we handle our grape waste? These values then trickle down into how we share our wines and the guest experience. All three pillars are equally important to us and most recently we've started the rigorous Sustainable Winegrowers BC certification process, which examines this critical integration of sustainability in business. It is a great opportunity to assess how we are doing and what more can we do.
Some other measures we are proud of:
BC's first and only LEED-certified winery, operating our own wastewater treatment plant (non-reliant on municipal or private waste disposal).
 
Salmon-Safe Certified farm, by the Fraser Basin Council (2019).
 
Preservation of a 10-acre natural, dry land forest in the centre of the vineyard, in partnership with the Okanagan Similkameen Stewardship Society.
 
Vineyard beehive partnership with Arlo's Honey Farm.
 
Founding member of Sustainable Winegrowers BC.
 
Biosphere-committed business (Responsible Tourism Institute).
3. As a farm and winemaking facility, we have always been very focused on our practices that directly affect the land that we are farming but as we grew, we wanted to take a more critical look at the public-facing pillar of our business – our tasting room and wine shop. We were drawn to the program mostly because it looked at the eco-efficiency of our business, such as our energy and water use. But more importantly, it dove into the human resources and labour make-up of our team, opening up discussions for us about hiring practices, work/life balance (especially in COVID times), occupational safety, and diversity. It has been a valuable tool for our business so far and we are excited to dive into more of the training opportunities and resources available with Biosphere.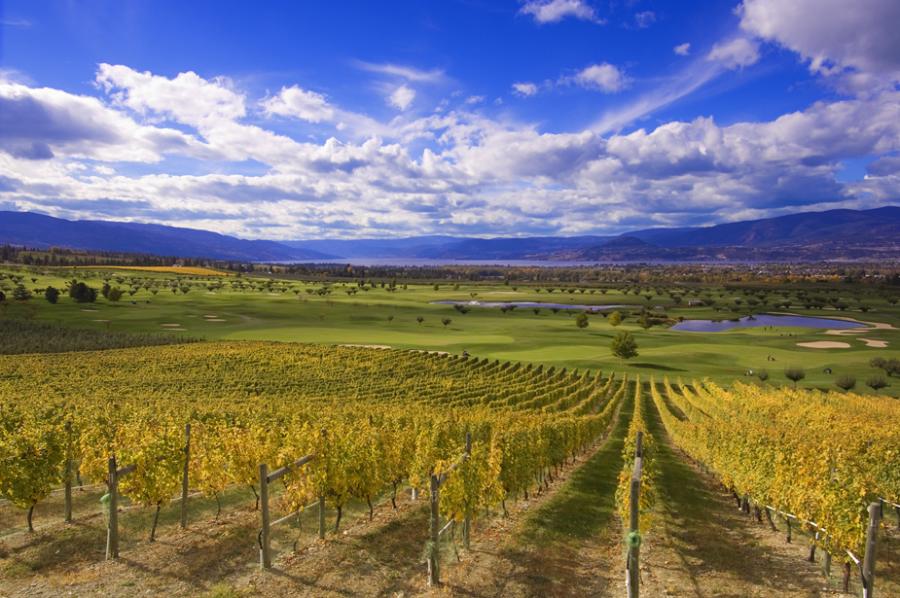 Photo Credit: Brian Sprout
1. The Harvest Golf Club sits on 251 acres of land that is fully manicured, with specialized grass, and orchards and vineyards surrounding it, with no houses in the area. This year's theme is meaningful to our business because we live and breathe it daily, with our botany, arboriculture, and other sustainable practices.
2. We certainly take great pride in the work we do and follow practices to the highest standard so the environment remains healthy. We put lots of product into the ground so we use the most organic options we can to create an environment that is the most sustainable.
3. One of our members saw firsthand that the practices we had in place were at the highest level of sustainability, so he encouraged us to be part of the Biosphere program. The Harvest Golf Club wants to be part of the community and we believe that what we are doing aligns with the program very well.
For more information about the Biosphere Commitment Program, contact Jennifer Horsnell at jennifer@tourismkelowna.com or (250) 861-1515 ext. 205.