With over 300 kilometres of designated bike lanes, and parks with wide multi-use pathways and challenging single-track trails, Kelowna is a cyclist's paradise. In fact, proximity to mountain biking is one of the reasons my fat tire-obsessed husband wanted to move here.
Four years later, we've discovered the city's flat family-friendly pathways, the Okanagan Rail Trail that connects Kelowna to Vernon (please note a small section between Kelowna International Airport and Lake Country is closed), and swooping road rides that pair well with wine touring. It's not hyperbole to say that Kelowna really does have a bike ride for everyone! Here are a few ways to experience our slice of the valley on two wheels.

Family-friendly flat trails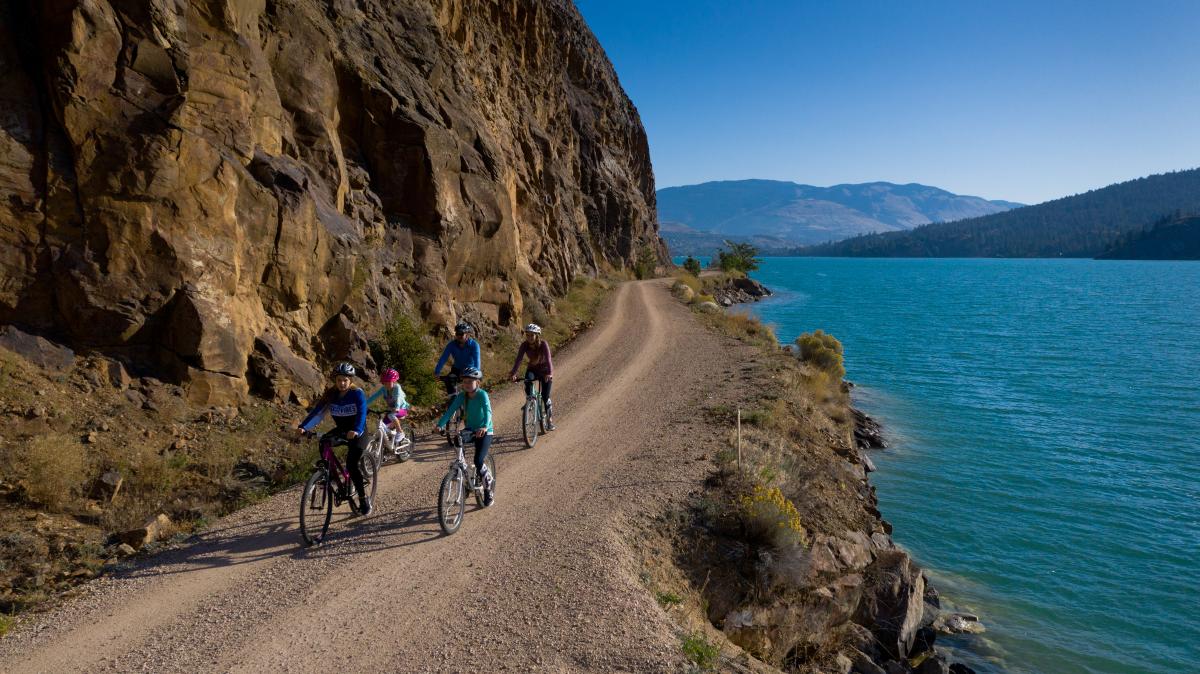 Okanagan Rail Trail - Kalamalka Lake
Myra Canyon trestles: Suspended 915 metres above Kelowna and clinging to the side of a steep cliff, the Kettle Valley Rail Trail curves dramatically around Myra Canyon, passing over 18 train trestles and through two tunnels as families cycle the 12-km (one way) stretch of this packed gravel trail with flat wooden trestles. Its two-percent grade is an easy pedal for little legs, and it's wide enough to accommodate tots being pulled in a bike trailer. There are also two covered shelters and ample benches along the trail to stop for a snack and appreciate views of Okanagan Lake and the surrounding mountains.
Mission Creek Greenway: The shady 16.5 kms of trails that parallel Mission Creek provide a cool respite for cycling on hot summer days. This family-favourite packed gravel pathway system connects parks, playgrounds, interpretive viewing areas, rest spots with picnic tables, and washrooms. Along the waterway, there are multiple opportunities for wildlife viewing, especially feathered friends such as red-winged blackbirds, ducks, and eagles. Popular family rides include Mission Creek Regional Park to KLO Road and back, and the loop between the traffic circles off Casorso Rd. down to Gordon Dr. and back past the Mission Dog Park and H2O Centre.
Okanagan Rail Trail: Cycling the entire length of this new 50-km trail that connects Kelowna to Vernon sounds like a pipe dream for families. But don't let its length discourage you from checking out smaller sections with the kids, such as Carney Pond by UBCO to look for birdlife, or Kekuli Bay Provincial Park to ogle the views of Kalamalka Lake from the playground. The Wood Lake loop in Lake Country is also attainable for parents who don't mind pulling a bike trailer or attaching a tag-along bike to their own two wheels (to let kids just enjoy the ride). If you choose this loop, stop half way at the Oyama Peninsula beach for a swim and a hamburger at the OKF Grill.

Longer road bike routes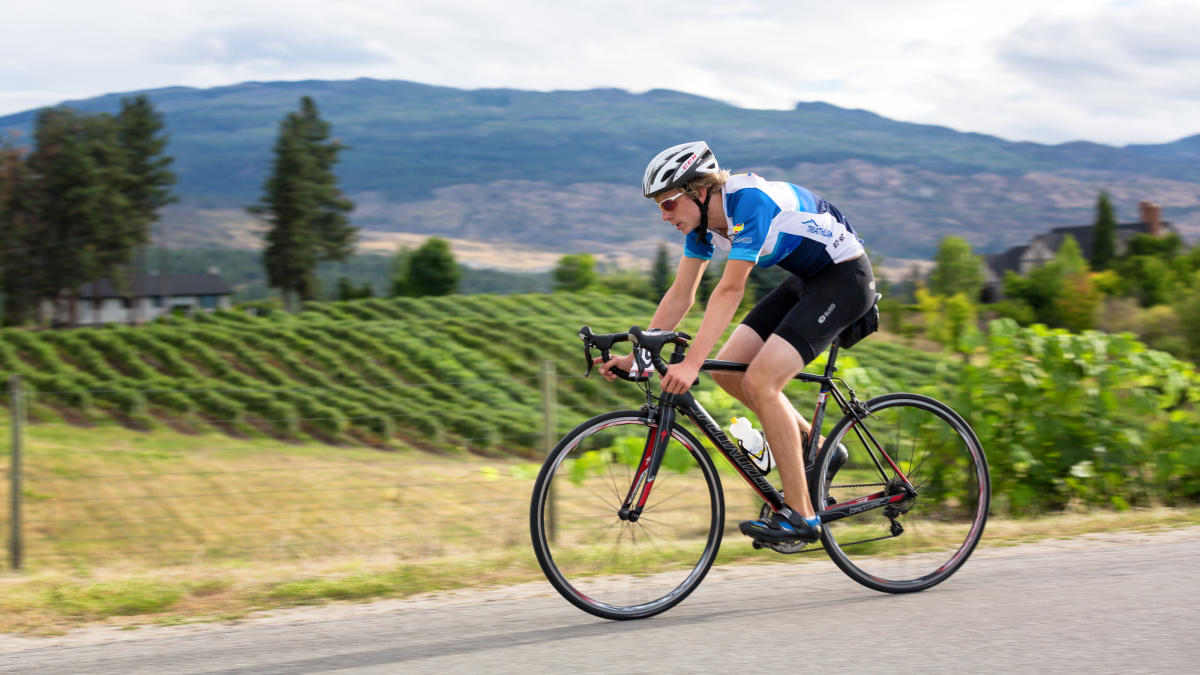 Lakeshore Road: You'd be forgiven for thinking there was a road race happening in Kelowna every summer day judging from the number of peloton packs cycling this scenic stretch in south Kelowna. The Lakeshore route incudes winding turns and beach and vineyard views, and passes by two craft breweries and a few wineries in case you work up a thirst. Starting from Gyro Beach in Pandosy, it's 11 kms to get to Bertram Creek Regional Park, though you can carry on another few clicks to Okanagan Mountain Provincial Park before the road peters out.  
Southeast Bench: Though it's just a total distance of 14 kms, this fun loop includes a lot of ups and downs so you may want to consider an e-bike to save your legs. Starting at Mission Creek Golf Club or thereabouts, pedal southwest on Benvoulin to Casorso (keep taking the second road at the circles), then cycle up Casorso until it turns into Bedford Rd. Turn left on Saucier, then another left on Spiers Rd., which swoops downhill in a series of vertigo-inducing spirals until you connect back with KLO Road (a left returns you to the golf club). You'll pedal past orchards, vineyards, and bucolic country scenes with horses, llamas, and plenty of old barns. What's more, this loop takes you in close proximity to a bunch of wineries including Tantalus, Priest Creek, SpearHead and The View, so plan accordingly.
Okanagan Rail Trail: If you like distance rides, this newly opened 50-kilometre recreation pathway for locals and visitors is ideal for pedaling between the valley's two largest cities. The flat, packed gravel, accessible trail passes three lakes, interpretive areas, craft breweries and a cider maker, fruit stands and food stops, and too many tempting beaches to count. Even better than the attractions and stops along the way are the views—jewel-hued lakes shimmering in the sun, and that famous Okanagan scenery of rounded bluffs and ponderosa pine forests.

Mountain biking bliss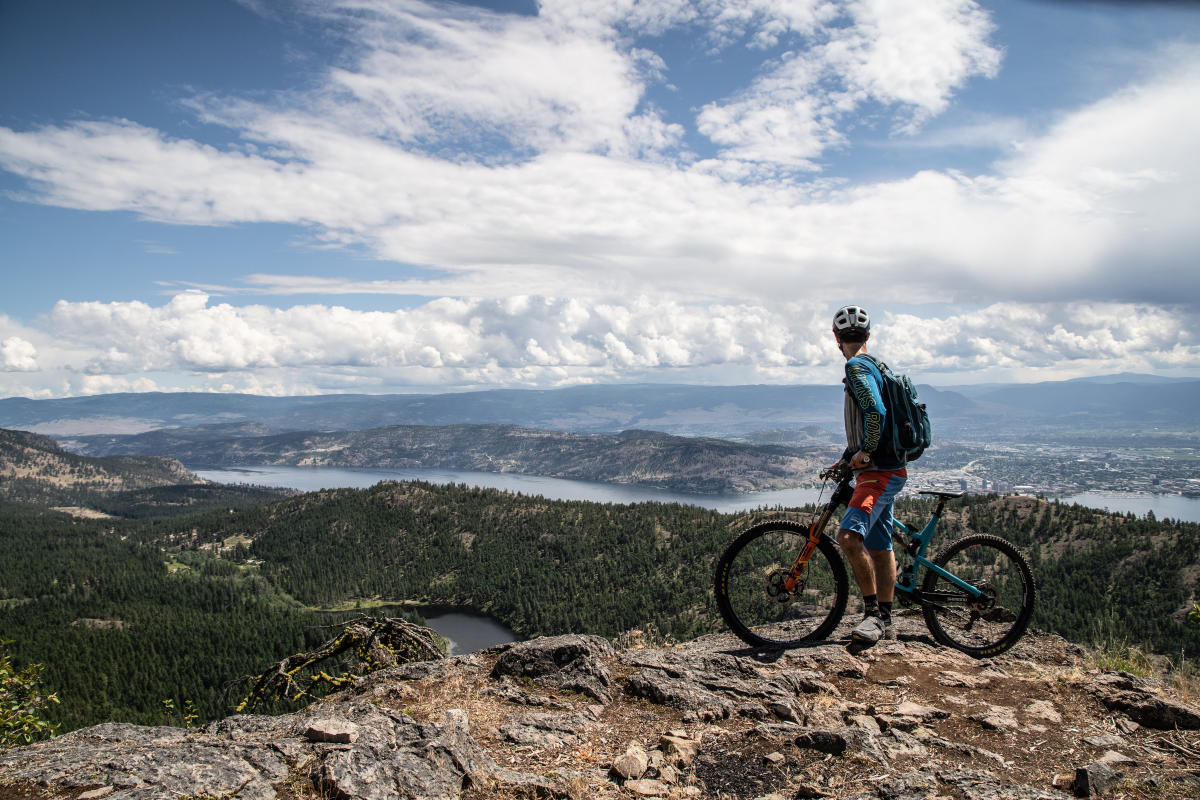 Rose Valley Regional Park
Crawford Trails: The 156 kms of multi-use cross-country trails in Myra-Bellevue Provincial Park wind past ancient rock outcrops through a desolate-but-beautiful burnt forest (thanks to a fire in 2003). There are a number of access points, with the largest parking lot located at the end of Stewart Road East. From there, climb up Lost Lake Trail, then branch off onto one of numerous trails depending on the length and difficulty level you're seeking. Pro tip: the network of 113 trails can seem like a maze to a newbie, so consider downloading an app like Trailforks to navigate Crawford successfully.
Knox Mountain Park: Just five minutes from downtown, Knox has plenty of fast, twisty descents with berms and jumps, but it also has its share of gentler, beginner trails, too, like Paul's Tomb that parallels Okanagan Lake, or the Kathleen Lake Loop sequestered in the heart of the park. What you're guaranteed from many of the trails? Bird's eye views of downtown Kelowna and Okanagan Lake.
Rose Valley: Steep, technical trails in an out-of-this-world setting lure mountain bikers to Rose Valley Regional Park in West Kelowna. After white-knuckling it on McDougall Rim or circling the reservoir on the more subdued Lake Loop, enjoy scenery including volcanic cliffs, sweeping grasslands, and dense woodlands where you might spot a deer. Pro tip: The Turkey Vulture Loop located at the north end of the park is peaceful and offers amazing views of downtown Kelowna.

Need to rent two wheels? There are a few spots around town to get outfitted with your ticket to ride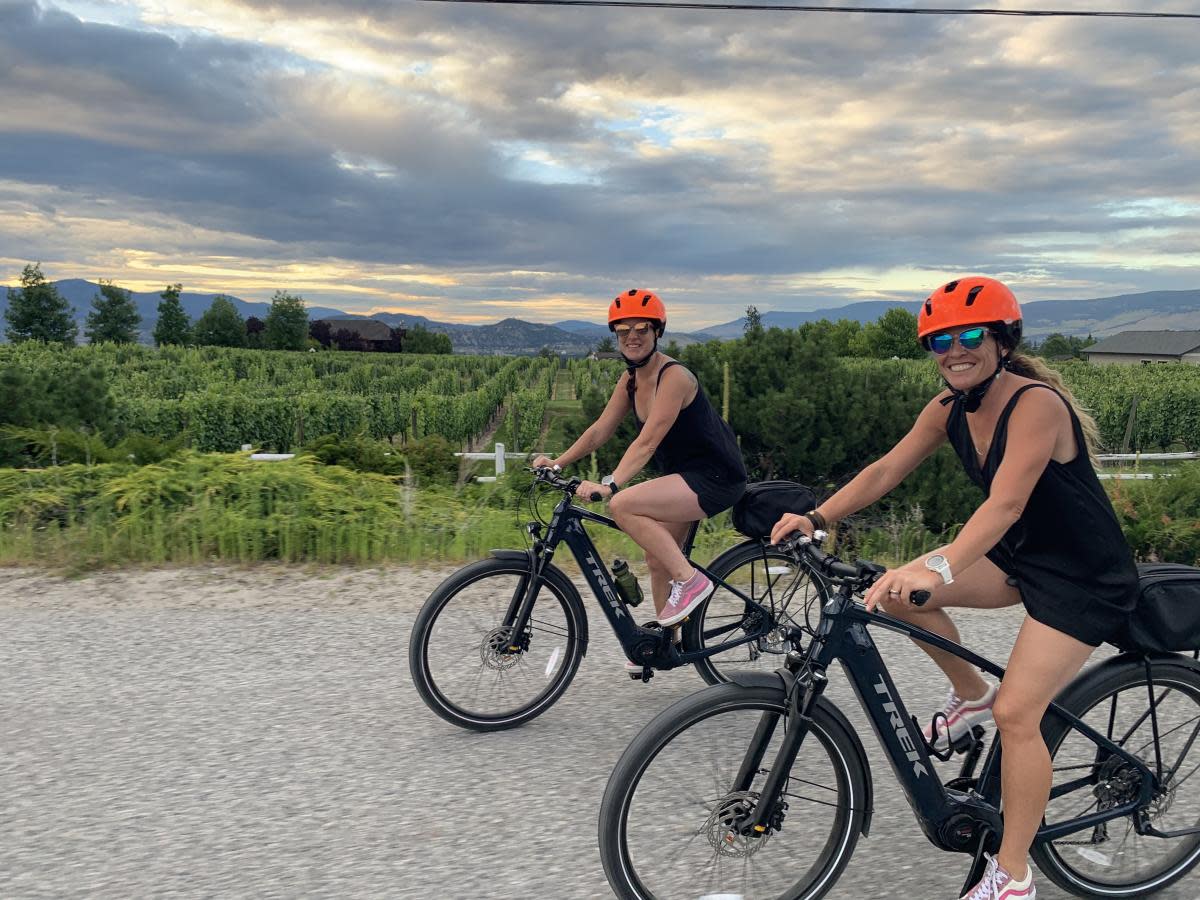 Velo Volt Bike Rentals
E-Bikes: Why exhaust yourself pedaling when electricity can help? The latest craze is to tackle Kelowna's hilly wine benches or the Okanagan Rail Trail on an e-bike. Most companies provide delivery and pick-up services. Check out Okanagan E Kruise, Pedego Oyama, Velo Volt, Lakeside Eco-Sports, and Vivid Tours for some great e-bike rental options. 
Kelowna Bike Rentals: Located at the base of Knox Mountain, this kiosk rents out mountain bikes, city bikes, in addition to adaptive bikes including trikes and handcycles.
Lakefront Sports Centre: Mountain bikes and trailers are all available from this rental shop located right on Water St. downtown.
Play it Again Sports: Daily or weekly rentals of hybrid, mountain and kids bikes are available at this shop. Plus they have new and used equipment of all kinds to get you set for your adventures. 
Myra Canyon Bike Rentals: Get your family fully equipped at the start of the Myra Canyon trestle ride with adult and kid bikes, or a trailer or tag-along bike if you prefer.