In recent years breweries have become a staple of many of Kelowna's neighbourhoods and plazas. Take, for example, the breweries the Central Okanagan Brewers Association dubs South Kelowna, Barn Owl Brewing at the Lakeshore roundabout, Shoreline Brewing at The Shore, and Copper Brewing in the Landmark District. All three sit in vibrant hubs teaming with local shopping, dining, and plenty more to explore.

Barn Owl Brewing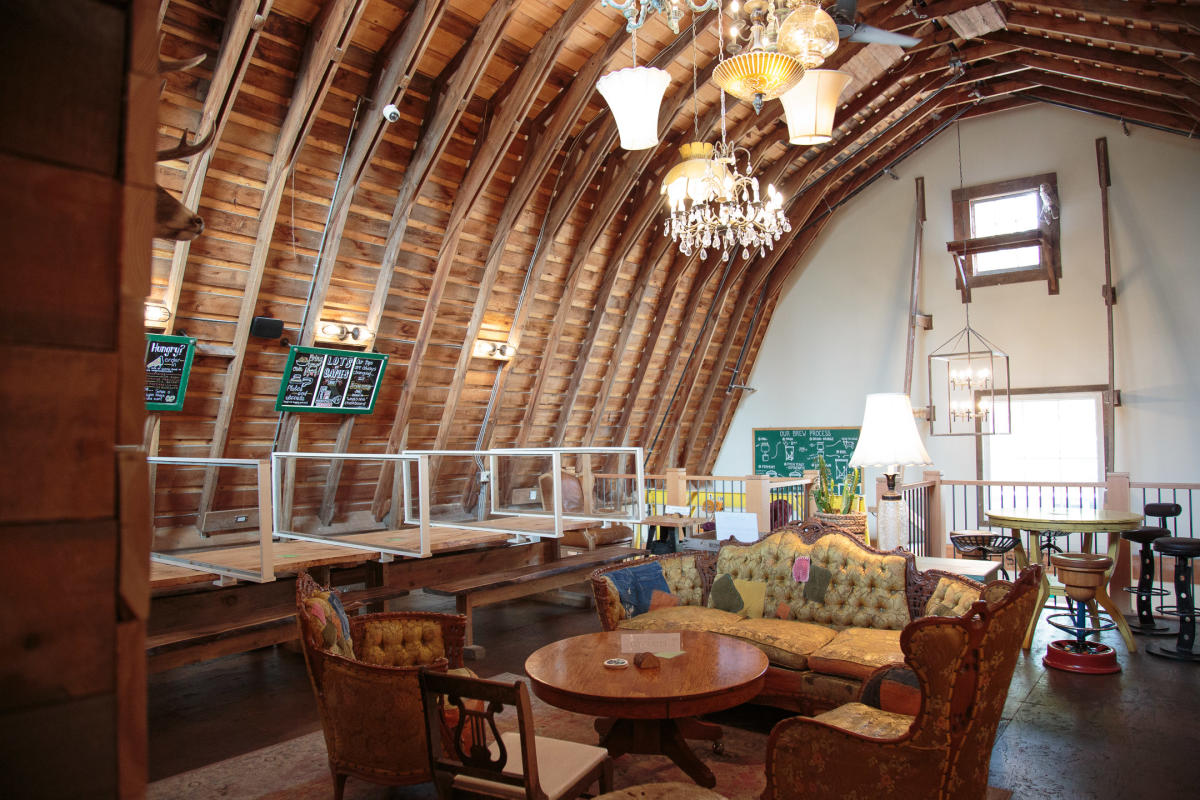 Photo credit: BC Ale Trail
Housed in the storied Surtees Barn, a once prominent dairy operation that later housed many local artists, Barn Owl Brewing is an inviting rustic space retaining much of its historic charm. Three Kelowna beer lovers saw the space as an opportunity to invest in their love of beer and create a 'local watering hole' for their neighbourhood.
These conscious crafters have employed the BREWHA system for their brewing, not only allowing for more brewing capacity in their small, restored space, but also allowing for low water and energy use throughout their process. Also, as part of its conscious approach, Barn Owl takes its spent grain to a local cattle farm to ensure a low waste footprint.
Barn Owl brewers pride themselves on variety, offering a diverse cross-section of quality beers to choose from. Their Bohemian Red Pilsner is unexpected, beautiful Czech hops, and a deep red hue will have drinkers reconsidering what they know of pilsner. Those looking for a darker pour might try the aptly named Night Owl Porter, a rich and chocolatey homage to the brewer's late nights. A nod to the brewery's location, the Mission Kriek Cherry Sour, is a dry and fruity kettle sour perfect for those wanting a tart taste. Coming Soon is Barn Owl's popular seasonal stand-out Vanilla Chestnut Ale, featuring locally harvested chestnuts cracked and roasted by the brewer themselves.
Packing a punch in a small space, Barn Owl gets creative about food offerings at the brewery. Partnering with local food trucks six days a week, find bites from Bunny Hugs Fresh Food Collective, TNT, and Little Tokyo Ramen. Guests of the brewery are also encouraged to bring in food from one of Barn Owl's neighbours such as DunnEnzies or Aomi Sushi.
Minutes away from the brewery's door, Barn Owl's location is peppered with parks and trails. Making the perfect after-flight activity walking off your brews. Visit Bellevue Creek, Johns Family Nature Conservancy Regional Park, Kuipers Peak, or Crawford Falls to take in Kelowna's spectacular natural surroundings and burn off those beer calories. Or visit them first and work up a sweat to earn a post-hike pour.

Shoreline Brewing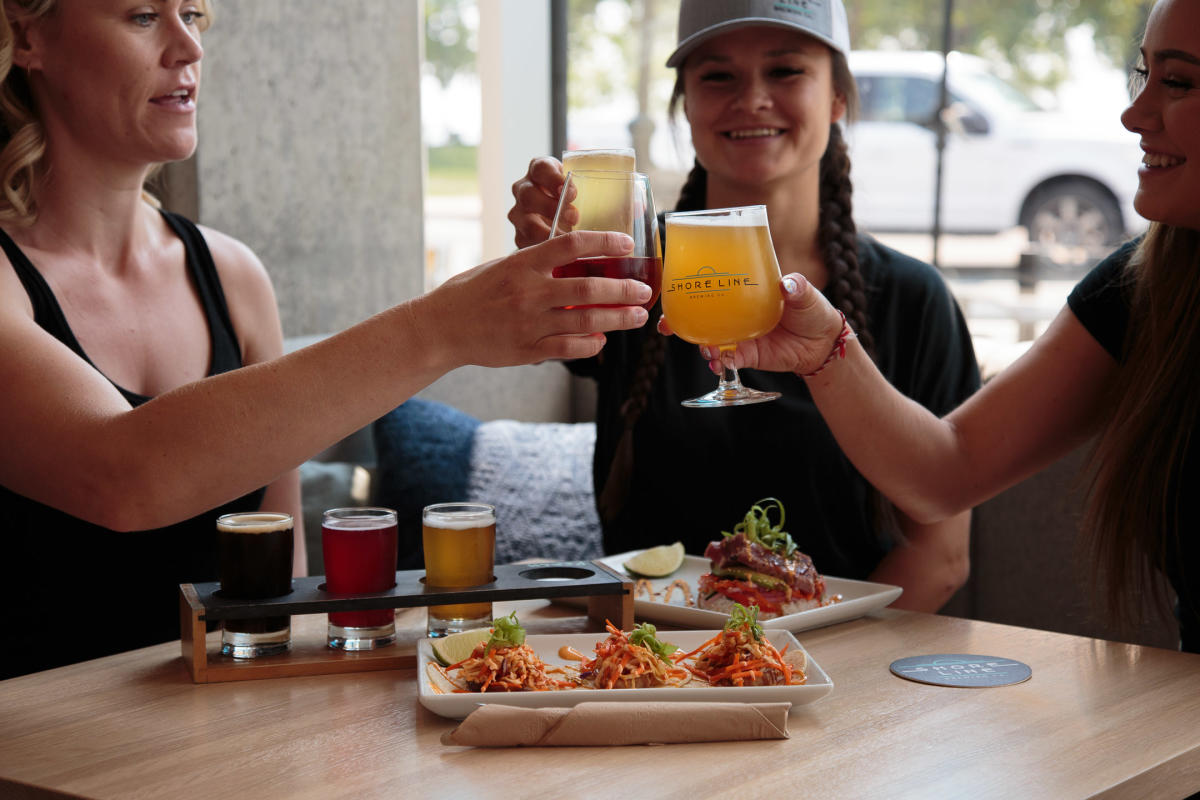 Photo credit: BC Ale Trail
Located on Lakeshore overlooking one of Kelowna's most popular summer spots, Shoreline Brewing is a laid-back lakeside beer retreat. Their modern aesthetic and quintessential Okanagan views, pair perfectly with the relaxed nature of craft brew culture.
Shoreline focuses on quality local ingredients to create approachable and easy-drinking craft beer, made in modern and classic styles. Their brewers keep a core lineup on tap, with names that give a nod to their location and surrounding landmarks such as the Wakesetter IPA, a hop-forward North West style IPA. Seasonal craft confections are regularly added to Shoreline's rotation, like their Smashing Pumpkin Ale, medium-bodied and full of soft caramel sweetness and reminiscent of pumpkin pie, the perfect October brew. An Irish-style ale, the Embers Amber Ale is smooth-flavoured and balanced with a roasted dry finish. Highlighting Okanagan cherries, their Cherry Orchard Blonde Ale has notes of cherry, stone fruit, and citrus, light with a sweet finish.
Taking the 'craft' mindset and applying it to their kitchen, Shoreline aims to create a creative twist on classic comfort favourites. Perfect beer pairings like the Stout Salted Fries and Beer Cheese Queso are ideal for sharing over a flight. Their Kelownafornia Crispy Chicken Sandwich serves up big flavour with smoked bacon, chipotle, and lime, order with a Smokeshow Hazy IPA for a cool combo. Also found on Shoreline's menu is a great array of plant-based and vegan options, like their Tempeh Power Bowl and Vegan Nachos, something for everyone.
With a lakeside location, beach activities are the obvious choice for a pre or post-brew adventure. Kelowna's mild fall weather makes kayaking and paddleboarding Okanagan Lake possible well beyond the summer heat. Those looking to stay off the water might consider grabbing a bike or scooter and taking a scenic cruise down Lakeshore or Abbott St. Perhaps the ultimate adventure, turning your Shoreline tasting into a staycation. Check in to Hotel Eldorado or Manteo at Eldorado Resort and soak up more of Kelowna's lake living.

Copper Brewing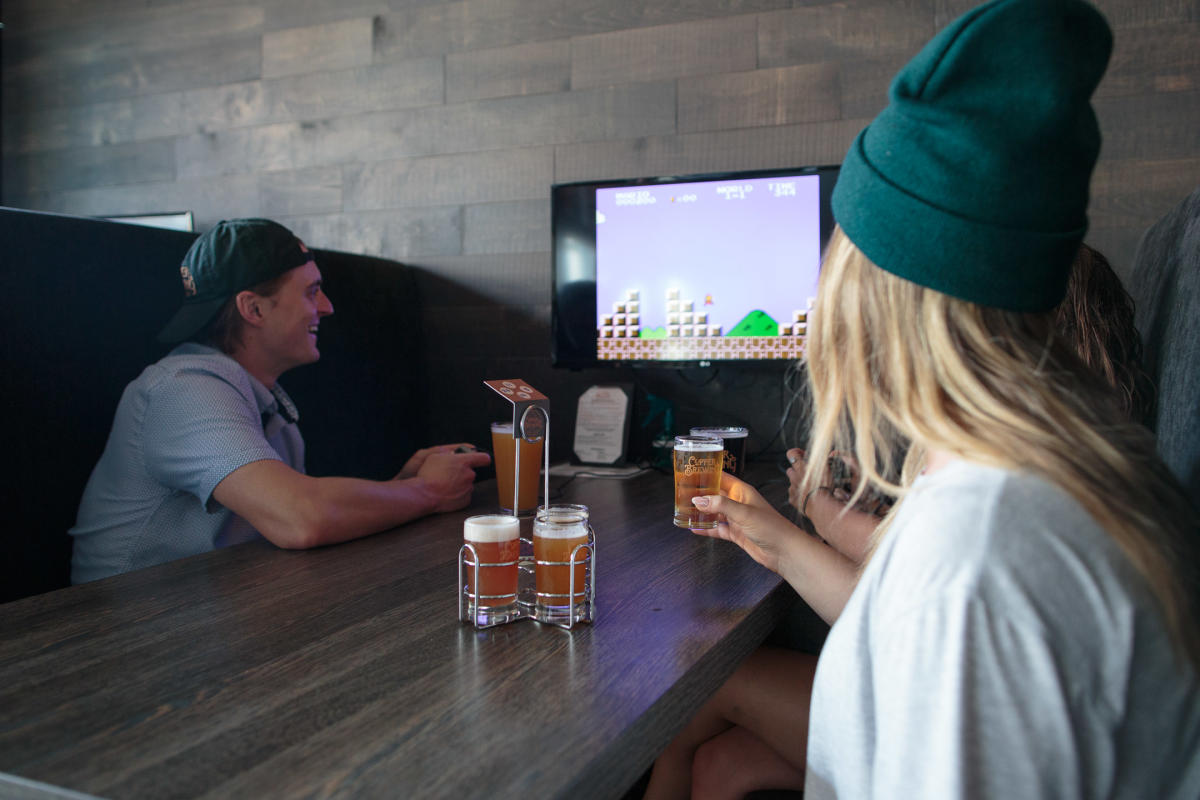 Photo credit: BC Ale Trail
Fondly referred to by many as 'Darla's living room,' Copper Brewing is a welcoming gastropub, known for its warm appeal. Copper Brewing's origins began over homebrewed beer and the desire to contribute something great to Kelowna's craft beer scene.
Copper Brewing's mission to deliver genuinely good beer can be seen in its extensive beer offerings. Their flagship pour, the Copper Lager, is a Vienna style made with traditional German hops and malts to create its copper colour and make this a beer to drink time and time again.  Toasted nuts and roasted oats are the signatures of their medium-bodied Nut Brown Ale. Their Builder's Pilsner is easy drinking, and easy to order when drinkers know that proceeds from each sleeve go to support Habitat for Humanity Okanagan. Copper Brewing kicks up its creativity with specialty and seasonal taps. Their Smores' Stout was brewed with marshmallows, graham crackers and Lindt chocolate to create the perfect blend of fall warmth and summer nostalgia.
Serving up casual pub fare, Copper Brewing delivers a menu made to be enjoyed with a brew. Their large menu offers up favourites such as wings, corn chowder, and mac and cheese, but the standouts are their smash burgers and gourmet hotdogs. The Ballpark, The Zoomie, and Ze German style burgers and hotdogs are all paired with freshly baked buns from Kelowna's Specialty Bakery. Something sweet is always a win, and Copper Brewing has just the thing, house-made donuts fried fresh to order. Copper Brewing even has four-legged visitors covered with spent grain dog biscuits, a local collaboration with Bliss Bakery!
In the heart of the Landmark District, Copper Brewing is surrounded by coffee spots, shops, and additional dining options. What could be better than turning a tasting into a tour of local flavours with stops at QB Gelato, Third Space Cafe, and Porters (brunch spot owned and operated by Copper Brewing).