Every fall, high above Kelowna, the alpine larch trees put on a spectacular golden show. For those not in the know, alpine larches are one of only a few deciduous conifers—just like broadleaf trees such as aspen or ash, their needles turn a buttery yellow and fall off in autumn. 
Larches grow best at high altitudes in cold, dry climates, so to see them in Kelowna you have to gain a lot of elevation (they thrive over 1,200 metres/4,000 feet, which is basically the Kettle Valley Rail Trail elevation). Larch season is also short—to bask in their glory you have about a two-week window in mid- to late-October when they're ablaze. Just look up toward the hills behind south Kelowna, where the KVR cuts a path through the Okanagan Highlands, and if you see yellow in place of green, it's go-time.
Here are three spots near Kelowna to take in larch madness.

The Boulderfields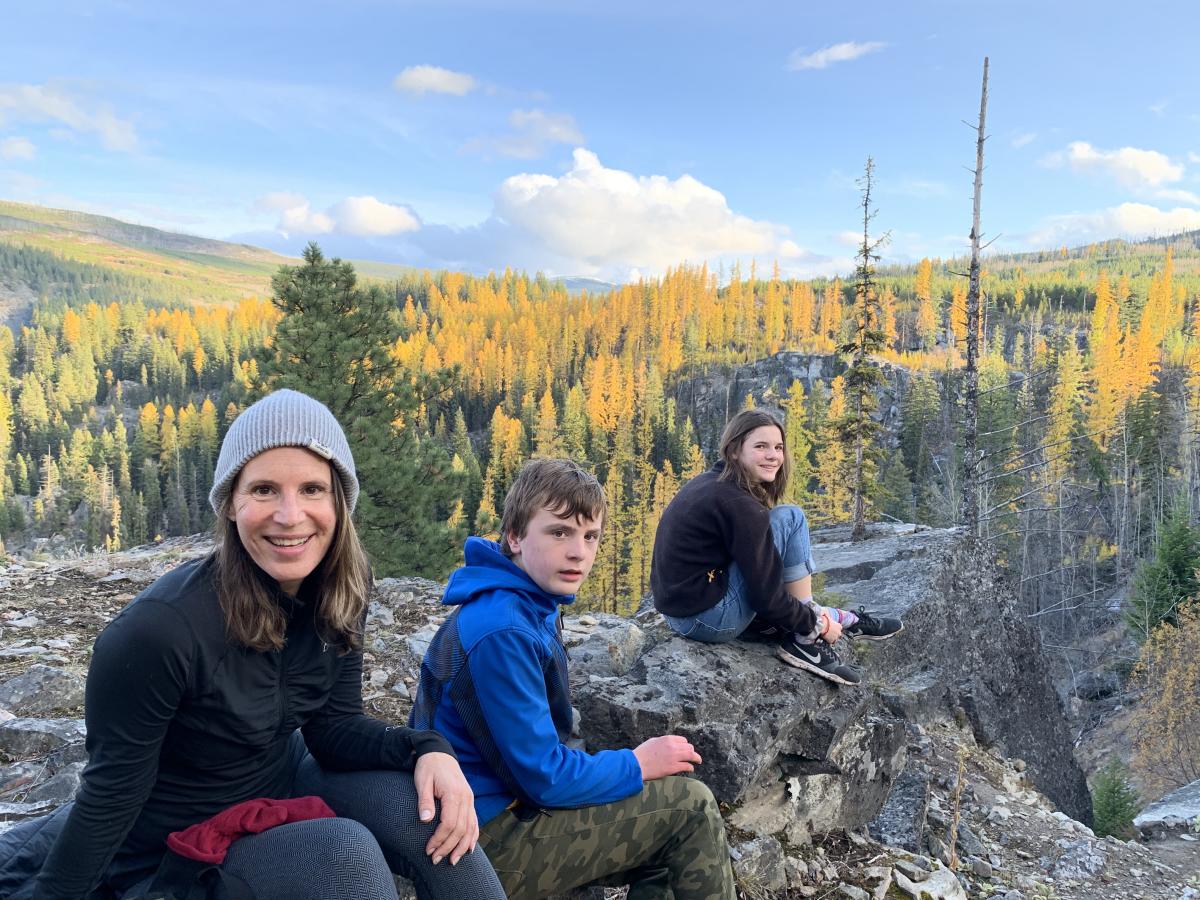 We stumbled upon this gem of an area a couple years ago when we drove up to the KVR via the Gillard Forest Service Road in a quest to see the larch trees. My husband recalled having seen a sign on a previous mountain bike ride for the Kelowna Boulderfields, the site of a huge rockfall on the edge of Myra-Bellevue Provincial Park that's popular among rock climbers and adventurous hikers who like navigating over boulders.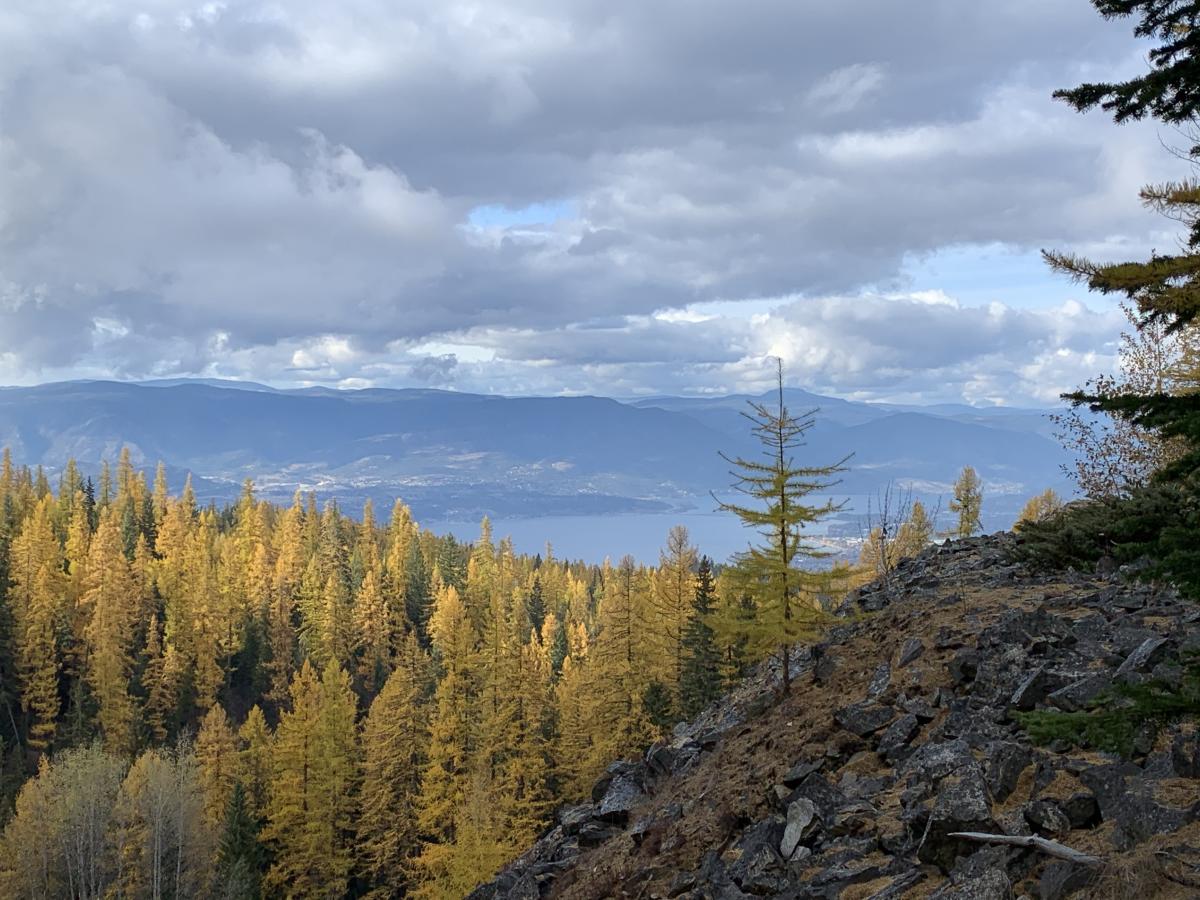 We parked in the lot and followed the marked trail toward the rock fall. Suddenly, the ground ahead appeared to fall away and we came face to face with a sea of golden larch trees in the valley below. It was spectacular. We returned last fall and were greeted with the same magnificent sight.
You can hike down into the Boulderfields, but beware. As you descend into the areas of rocky scree and large boulders it's harder to trail find. We came to a few dead ends at cliff faces and had to shimmy up a ladder at one point. To get back to the car, we backtracked. Last year, we stuck to the main upper trail and just enjoyed the view of the lovely larches.  

Myra Canyon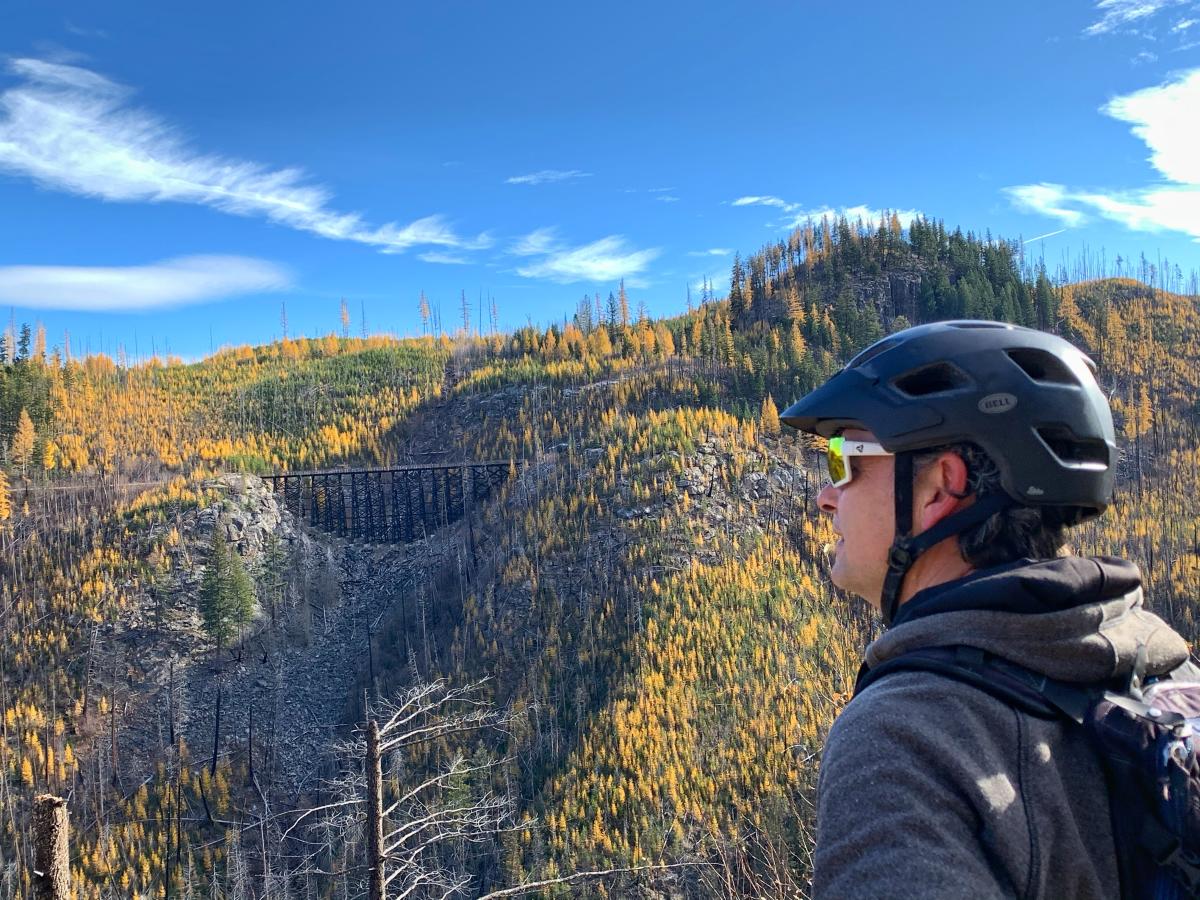 We head up to the Myra Canyon portion of the Kettle Valley Rail Trail every fall to hike or bike over 18 train trestles and through two tunnels on the city's most famous walking and cycling trail. In mid-October, the many larch trees that grow on the hillsides surrounding the steep canyon begin to turn from green to gold. If you time your excursion for peak larch (usually around Oct. 20-ish, give or take), you'll be stopping at every bench—situated for their stellar views of the canyon, Okanagan Lake, and Kelowna far below—to take pictures along the way.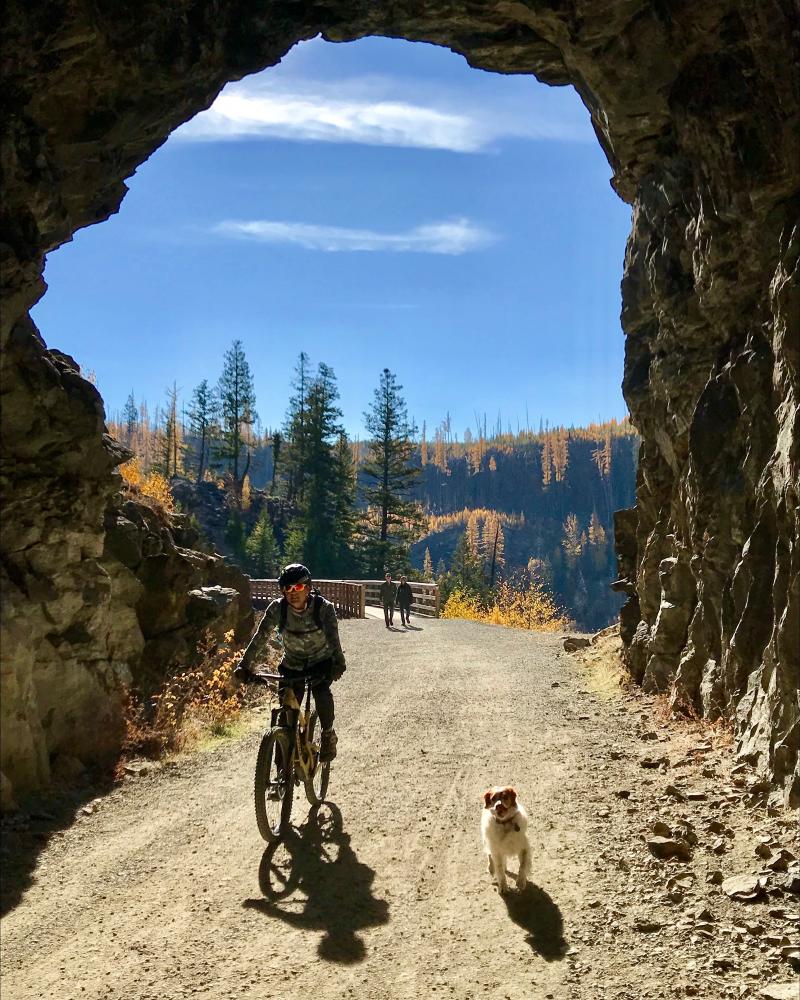 On a bicycle, you'll be able to pedal the flat, 12-km (one way) trail between Myra Station and Ruth Station, and back again, in two or three hours, accounting for photo stops. If you're on foot, you can easily make it through the second tunnel and continue to trestle No. 8 (a distance of about three kms) in an hour or so (one way). No matter whether you choose bipedal or two pedals, you'll be wowed.  

Oyama Lake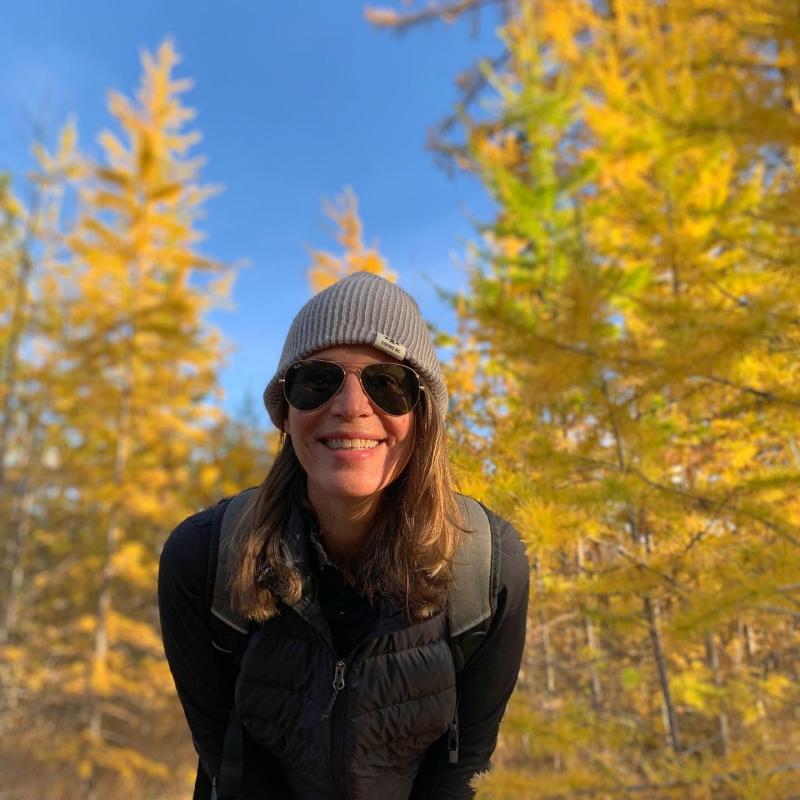 In Lake Country, drive up Oyama Lake Road past the Oyama zipline and carry onwards and upwards until you get to Oyama Lake. This picturesque lake is known for the 27 islands that dot its surface, as well as the thousands of trout swimming beneath it. It's also located at just the right altitude where larch trees flourish. 
What's more, the High Rim Trail, which stretches 55 kms between Kalamalka Lake in Vernon and Mission Creek in Kelowna, passes by Oyama Lake, making this spot a great jumping off point to hike part of the trail during larch season. You can access the trail at km 40.5, where Oyama Lake Road meets the Oyama Lake Forest Service Road, and then hike north to the Chatterton Lake Lookout or Damer Lake Lookout, a one-way distance of about three or four kms. 
Alternatively, head south on the trail and you'll pass Hayhurst Lake and Dave's Viewpoint before reaching The Monolith, a glacial erratic that makes a popular day hike because of its uniqueness and the great views of the Okanagan Valley and Oyama Lake below (plus, it's only a three-km hike to get there). Or, just stroll the short trails around the lake from the Oyama Lake Eco Lodge.