With the ever-present climate crisis, sustainable, responsible tourism remains at the forefront of leisure and business travel. As in-person meetings, conferences, and business events continue to scale back up to pre-pandemic levels, considerations must be made to incorporate sustainability during the planning and execution of events. As part of our ongoing series, Discovering Kelowna's Sustainable Side, we've rounded up some suggestions of venues, suppliers, amenities, and attractions that can support your desire to keep sustainability top of mind when planning your future events.

Meeting and Staying Green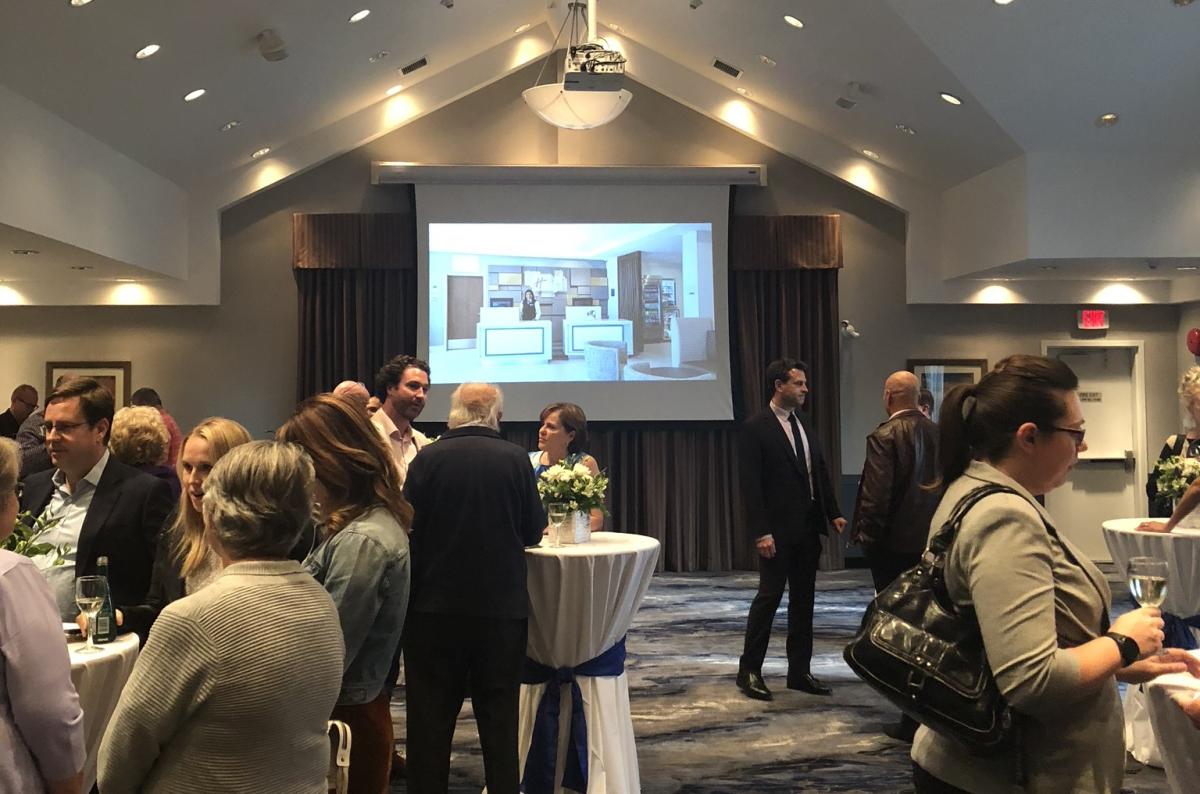 Fairfield Inn & Suites Meeting Room
The Best Western PLUS Kelowna Hotel & Suites describes itself as the 'Okanagan's Green Hotel' for good reason—the hotel focuses on all the pillars of sustainability in its operations and participates in several green programs. Twenty years ago, the hotel installed one of the largest solar hybrid water-heating systems in Canada, which heats up to 90% of the water for the hotel's pool, hot tubs, and guest rooms in the summer months. They have an Environmental Wing in the hotel, which is LEED Certified, as well as numerous electric charging stations for those delegates who are travelling from nearby or renting an electric vehicle while they are here. With just over 5,900 sq. ft. of meeting space, the hotel can accommodate groups of up to 150 for banquet seating or 200 for reception style.
Thanks to various sustainability initiatives, the nearby Fairfield Inn & Suites Kelowna and the Four Points by Sheraton Kelowna are certified through the Green Key Eco-Rating Program, which is recognized by the Global Sustainable Tourism Council. Some sustainability initiatives at both properties include energy-efficient lighting, water efficiency in guest rooms and public restrooms, elimination of single-use plastics, reduction of food waste, and staff training on green practices. Conveniently located across from the Kelowna International Airport (YLW), the Four Points by Sheraton offers a total of 4,664 sq. ft. of meeting space, accommodating banquet seating for up to 220 guests. The Fairfield Inn & Suites is suitable for smaller groups, with 2,962 sq. ft. of meeting space and a maximum capacity of 100 for banquet seating in its main room.
Since 2019, the Best Western PLUS and Four Points by Sheraton, along with several other Kelowna hotels, have been part of the Thompson Okanagan Tourism Association's Biosphere Commitment Program. This program aligns with the UN's 17 Sustainable Development Goals and offers a holistic approach in which all distinctions associated with different aspects of sustainability (corporate social responsibility, service quality, environmental management, etc.) are integrated.
The majority of Kelowna's hotel properties have sustainability at the forefront of their operations, so if you are looking for additional options, be sure to connect with Tourism Kelowna's Business Development team.

Planning Off-Site Activities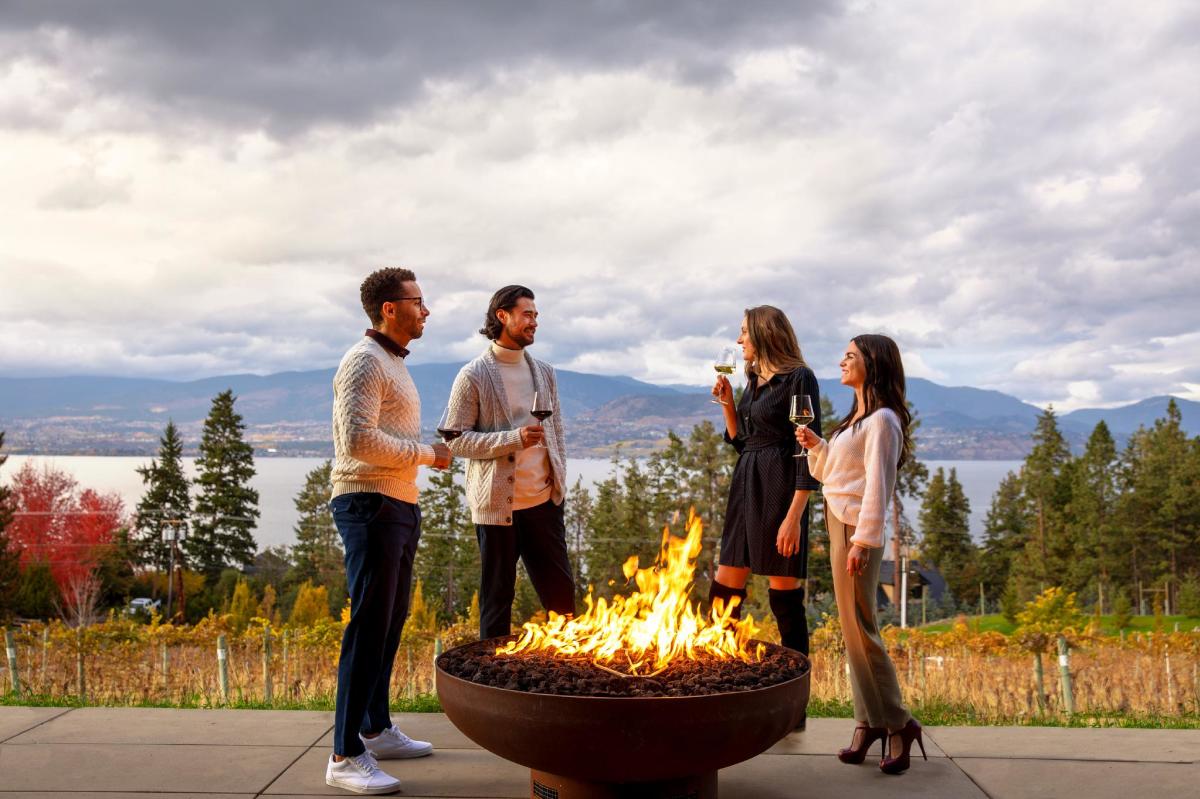 CedarCreek Estate Winery. Credit: Darren Hull Studios
Kelowna is one of the largest organic wine regions in the world, so why not host part of your program or set up an off-site activity, like wine tasting or a behind-the-scenes tour, at one of the area's award-winning wineries? Depending on the size of your group, you can choose from organic wineries like Kalala Organic Estate Winery, Off the Grid Winery, Summerhill Pyramid Winery, which is B Corp Certified, or CedarCreek Estate Winery, which was named Winery of the Year at the 2022 National Wine Awards of Canada.
Since the Okanagan is well-known for its beautiful outdoor spaces and vistas, adding outdoor activities as off-site options when you meet in Kelowna is a breeze. With sustainable options like biking, hiking, kayaking, stand-up paddleboarding, snowshoeing, and so much more, you'll have lots to choose from. During the warmer months, the team at 50th Parallel Estate Winery can host your group for an outdoor wellness session—think yoga or guided meditation—overlooking Okanagan Lake and the winery's vineyards, followed by a reception or dinner at their farm-to-table restaurant, BLOCK ONE. 

Adding Social Value
In a recent article, Northstar Meetings Group noted that event attendees are expected to be "seeking a greater purpose from travelling and meeting" post-pandemic. Integrating a corporate social responsibility component when planning business events in and around Kelowna can help meet this need. Many local non-profit and charitable organizations like the Kelowna Gospel Mission, Central Okanagan Food Bank, Ki-Low-Na Friendship Society, and Friends of the Okanagan Rail Trail often welcome groups to volunteer. While in the area, you could organize a shoreline cleanup of Okanagan Lake to give back to the community and ensure Kelowna remains at its best for the next group travelling to the region. 

Getting Here and There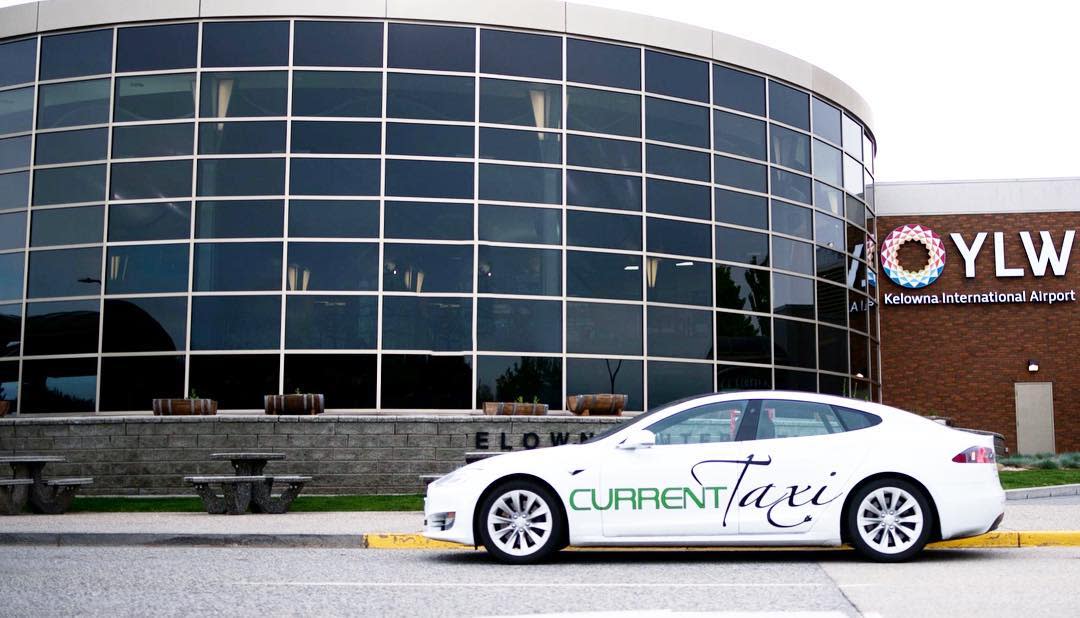 With numerous direct flights from major Canadian centres and Seattle, Washington, getting to Kelowna by air is easy, with short flight times between 1 and 5 hours. While air travel does up your carbon footprint, YLW is committed to reducing its carbon emissions, having been accredited through the Airports Council International (ACI) and its Carbon Accreditation program since 2018. In June 2022, YLW received Level 2 Carbon Accreditation from ACI and continues to adapt and evolve its plans to reduce energy consumption and meet its commitments to achieving carbon neutrality. You can learn more about YLW's environmental initiatives on its website. 
Once your attendees have arrived in Kelowna, you'll have several transportation options to choose from. Local company, Current Taxi, provides quality service from point A to B in its fleet of Teslas, while BlueStar Coachlines offers state-of-the-art motorcoaches and Executive Class Sprinter vans that help minimize the number of vehicles needed to transport everyone to and from YLW or off-site venues.
If delegates are driving to Kelowna with an electric vehicle, they can be easily charged at numerous charging stations in and around the city. Kelowna Dream Car Rentals has Teslas on offer for those that would like to rent an electric vehicle while visiting. 

Sorting out the Extras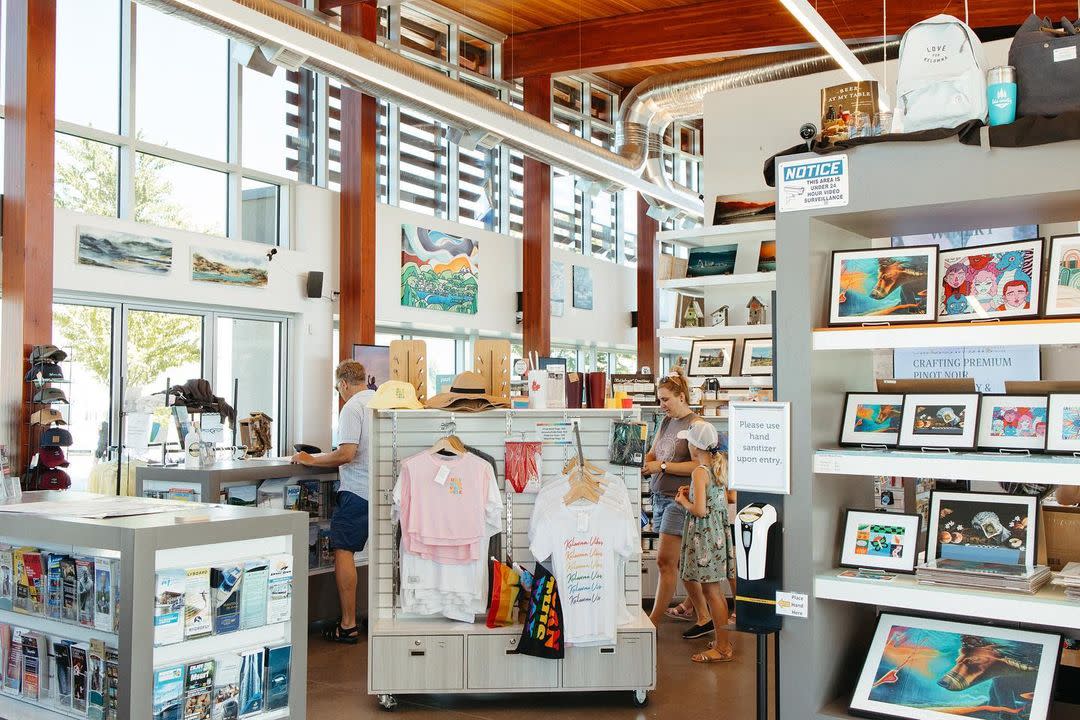 Credit: @loveforkelowna Instagram
When sourcing speaker gifts or items for delegate bags, why not support economic sustainability in the community by purchasing from local businesses, artisans, and artists? The Kelowna Visitor Centre carries more than 1,600 locally-created or inspired products and art pieces from more than 130 vendors.
In 2019, Kelowna proudly hosted the First Canadian Summit on Climate Action in Food Systems. Some key sustainability takeaways from Tourism Kelowna supporting the planning of this event included minimizing paper handouts and freebies that may end up as waste, skipping unnecessary extras that you'd normally have, like tablecloths or centrepieces, and working with venues to support local farmers and suppliers as much as possible when delivering snacks and meals. While all this takes extra work and some getting used to on the part of the delegate, it will make a positive difference to the environment and local economy. 
Tourism Kelowna's Business Development team can help you find the perfect items or organize bulk buys if you are seeking gifts or giveaways and can connect you with local planners and suppliers that can help execute the finer details of a sustainably-minded meeting, conference, or event.