Agriculture is a cornerstone of Okanagan life and tree fruits, including cherries, peaches, and apples, are synonymous with a visit to the region. Some of the most popular varieties of apples we've come to know and love were discovered or bred in the Okanagan Valley—the sweet, crisp Ambrosia for example, which accounts for a third of the apples grown in BC and has a farm gate value of more than $12.5M, was discovered in the 1990s by the Mennell family on their farm in Cawston, in the South Okanagan. Today, the orchardists belonging to the BC Tree Fruits Cooperative grow more than 12 premium apple varieties. BC Tree Fruits, along with other producers throughout the Valley, also blend and process apples for products like juice, cider, and more.

The Evolution of the Apple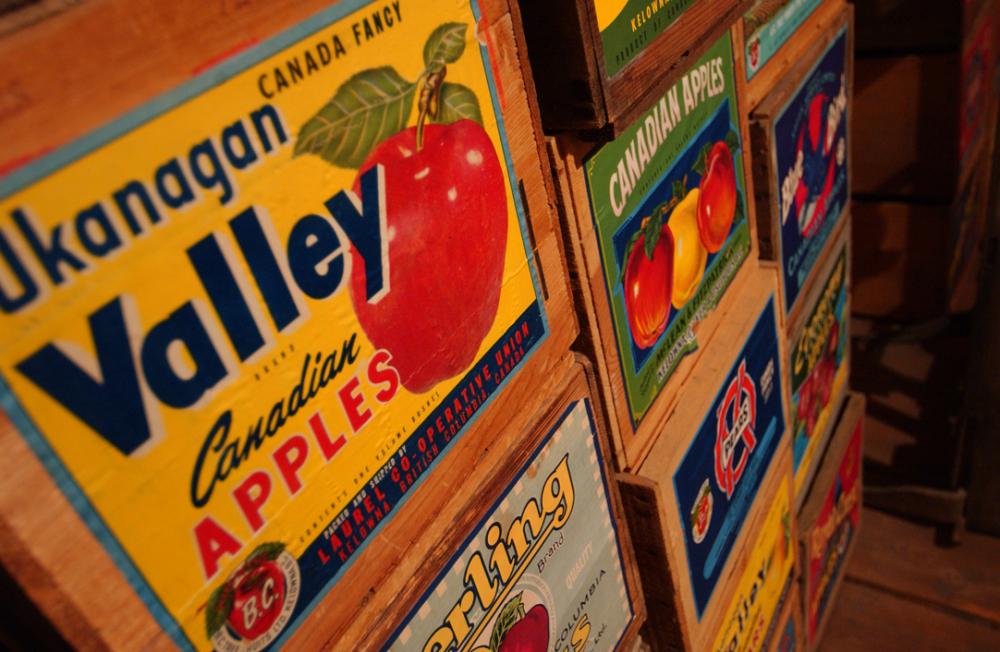 It has been more than 160 years since the first apple trees were planted in Kelowna, but this staple fruit continues to evolve thanks to the work of the team at the Summerland Research and Development Centre, which was established in 1914 and started its apple breeding program in the mid-1920s.
Using traditional breeding methods, researchers have bred several well-known apple varieties including the Spartan, Sunrise, and Salish. Trees are planted and removed from the test orchards each year, ensuring only the best remain—a new variety will take about 20 years to develop.
The centre is one of 20 in Agriculture and Agri-Food Canada's (AAFC) network. Along with apple breeding, scientists working in Summerland pursue research focused on "high-value horticultural crops," like wine grapes and tree fruits, as well as sustainability, biodiversity, and more.
"We are fortunate to have such a wealth of experience and expertise in the Okanagan Valley," says Tourism Kelowna Director of Business & Destination Development, Jennifer Horsnell. "Our team showcases Kelowna's agriculture expertise and highlights industry success stories, like those shown below, through our OKGo campaign to attract meetings and conferences, which contribute positively to the local economy."

Showcasing Simple Ingredients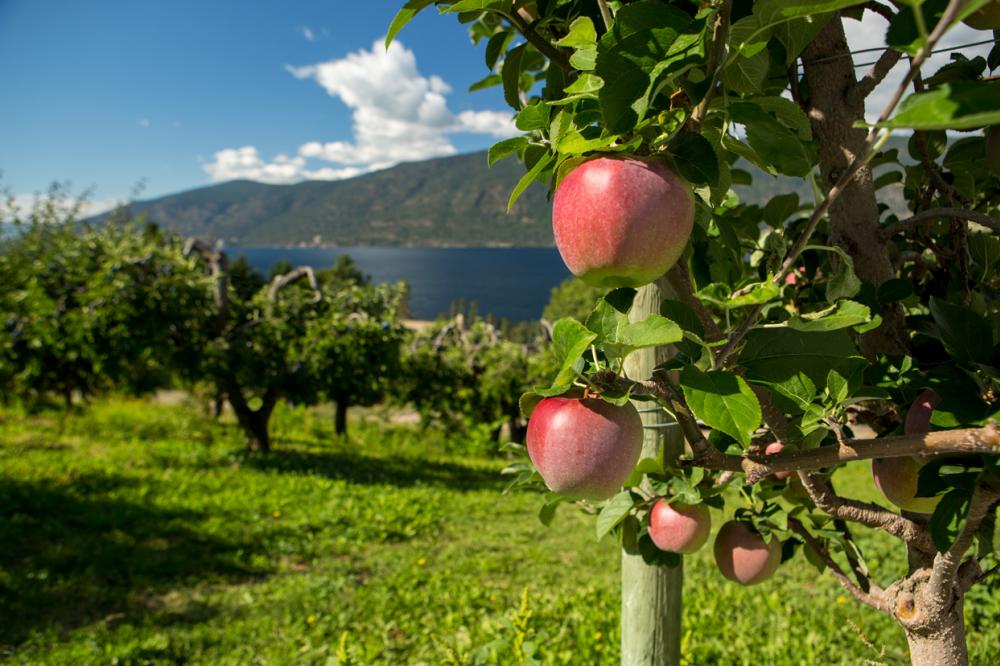 Photo Credit: Shawn Talbot Photography
One of these regional success stories is SunRype, which has been making 100% pure apple juice here in Kelowna since 1946. Today, the company employs more than 300 people at its Kelowna production facility, which is "one of the most efficient, high-tech fruit processing operations in North America."
"We make really great things out of fruit and other simple ingredients, and our mission goes beyond product development to also include supporting community initiatives that help to promote a healthy active lifestyle for families throughout the Okanagan and all across Canada," says SunRype President and CEO, Lesli Bradley.
The simple ingredients include the best quality apples from the Okanagan Valley (and Washington State when demand requires) for SunRype's not-from-concentrate apple juice, as well as 100% fruit juice concentrates and purees sourced from North America and beyond to make its fruit snacks and juice blends. SunRype's commitment to quality, as well as its use of more environmentally friendly packaging, makes it a choice you can feel good about. 

From Orchards to Agri-Tourism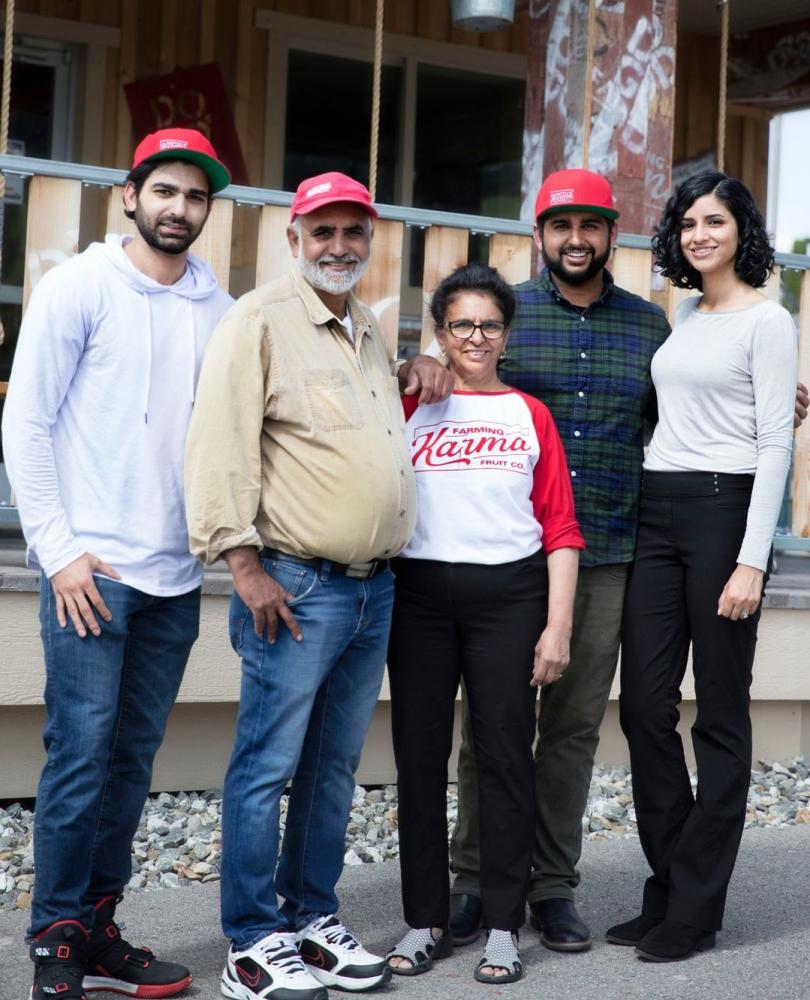 The Gill Family, Farming Karma Fruit Co.
After more than 30 years spent farming apples, Karma and Kuku Gill recruited their kids to launch Farming Karma Fruit Co. at their Kelowna orchard. The Gills have built a successful agri-tourism destination that includes a tasting room, where you can sip on their Farming Karma Sodas while watching the production line, as well as an RV park and dog park.
To create the juice for their original Apple Soda, grown-in-Kelowna apples are harvested, washed, crushed, and pasteurized. From there, the juice is carbonated, and their bright red cans are filled, sealed, and shipped to more than 1,300 stores across BC, as well as to select stores in Alberta, Saskatchewan, and the Yukon. Like SunRype, Farming Karma is committed to simple ingredients—each can of Apple Soda contains one single apple, and is free of added concentrates, preservatives, and sugars.
In addition to being derived from the name of one of its founders, Farming Karma also speaks to the company's commitment to doing good and giving back. Through the company's 'Do Good' initiative, the Gills recognize locals who are making a difference in the community and showcase those who are giving back through their on-site media centre. The karma is definitely good here!
Explore our blog to learn more about the farms, orchards, and markets in and around Kelowna. For more information on the Central Okanagan agriculture sector, including sector success stories, visit the OKGo website.