About Kelowna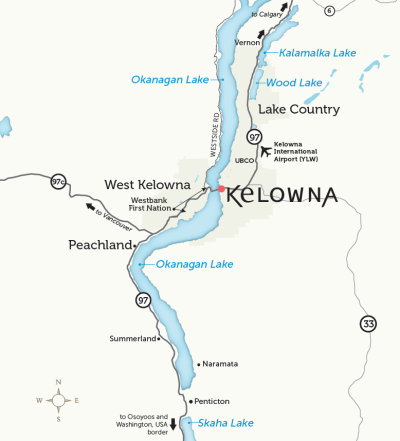 Kelowna is interior BC's largest city and home to the British Columbia wine industry.  Nestled between two mountain ranges and along the shores of the 135km Okanagan Lake, the temperate climate of Kelowna makes it an ideal year-round destination with an abundance of outdoor recreation and food and drink options.
Quick Facts:
Population (2021 census data)​
City of Kelowna: 144,576 
Kelowna Metropolitan area: 222,162
Size
City: 211.82 square km (81.78 sq miles)
Metropolitan area: 2904.86 sq km (1121.57 sq miles)
The syilx (Okanagan) people were the first inhabitants of the area
Kelowna means female grizzly bear in the local syilx language
Father Pandosy was the first European settler in 1859
Kelowna was officially incorporated in 1905
Arrowleaf balsamroot is the official flower of Kelowna
William R. Bennett Bridge is a floating bridge and is the only crossing over Okanagan Lake. It was completed in 2008.
Okanagan Lake is 135km (84 miles) long, with an average depth of 76 m (249 ft) and maximum depth of 232 m (761 ft).  The water flows south to Skaha Lake and other south Okanagan Lakes eventually meeting the Columbia River in north central Washington.