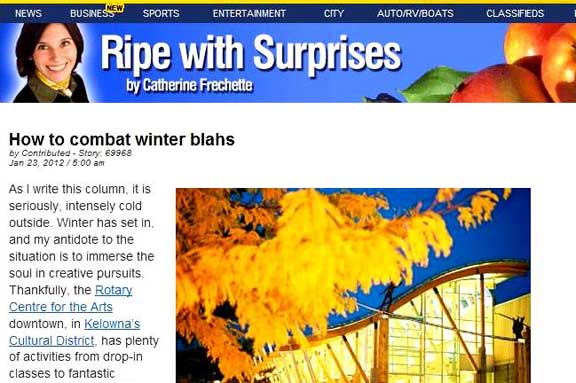 In an effort to encourage our local residents to become ambassadors for Kelowna's varied and vibrant tourism businesses, Tourism Kelowna undertakes 2 outreach initiatives aimed at informing locals about the many great activities, events, and attractions available in Kelowna year-round. One such initiative is our Tourism Kelowna 
"Ripe With Surprises" column
 that runs every second Monday on Castanet.net.
In this column, I write about all kinds of attractions, events, and activities that locals can enjoy with their visiting friends and relatives, or to simply be a tourist in their own town. Castanet sees 255,799 unique visitors to the website, largely from the Okanagan, but also from other markets. Look for the column under the Columnists section, or on the homepage every second Monday.
We also maintain a consumer blog at www.kelownasjuicytips.com which offers travel tips and activities around Kelowna. New posts are added every few days, so I'm always looking for fresh material to showcase Kelowna's unique or fun attractions, off-the-beaten track places, under-the-radar experiences, or exciting industry news. If you've got news, I'm all ears! Send me a quick email atcatherine@tourismkelowna.com or call me at  
(250) 861-1515 ext 203.