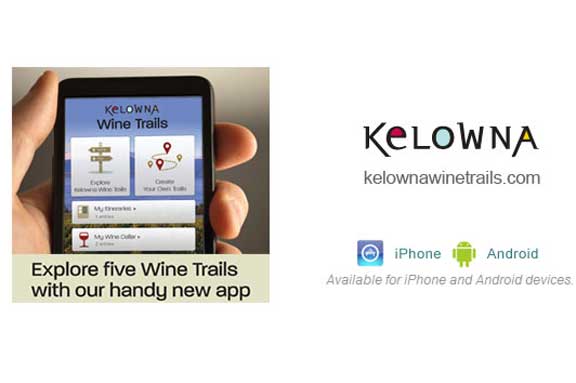 Have you explored all of the Wine Trails of Kelowna? Well now you can with the help of your Smart Phone!
We've just launched the final versions of Kelowna Wine Trails App for iPhone and Android.
This app can be used while in Kelowna or while planning a trip to Kelowna. It allows you to explore the wineries, follow a existing wine trail or customize and map out your own. When you're done, share your selections with friends on Facebook & Twitter.
Taste a wine you want to remember? Snap a photo of the label and stash it (with tasting notes) to your virtual wine cellar!  Use this cellar to track your purchases (and consumption) so that you can pour through them later, at home or when selecting wines in a store.
We'd love to see you download the app, explore the 5 wine trails, and leave a review.
App is available for the following SmartPhones:
More information can be found at: Kelowna Wine Trails App