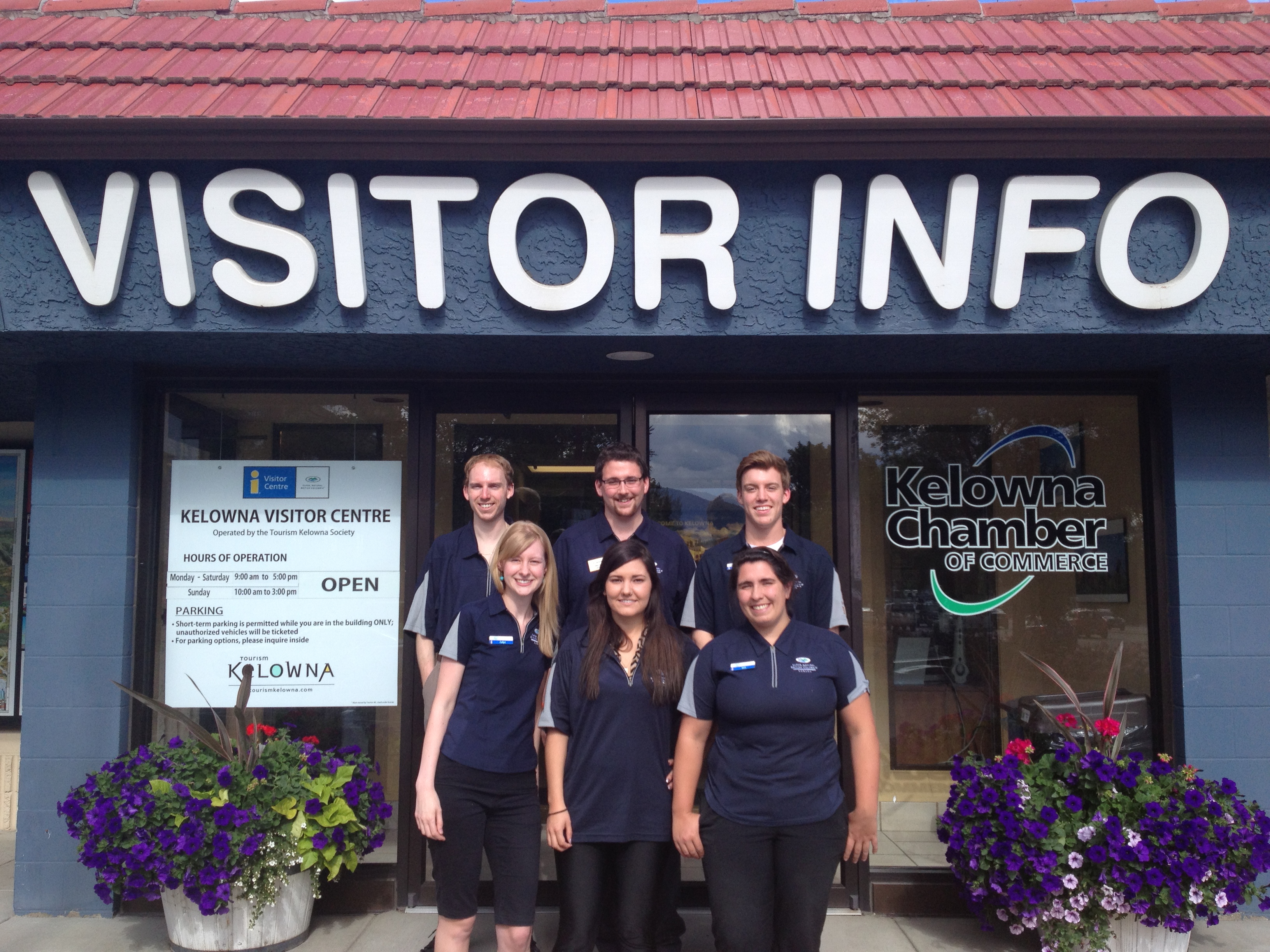 Back (L-R): Blake Johnson, Chris Lewis, Douglas Canning
Front (L-R): Cailyn Hepburn, Kristen Blades, Sara Lambert
Absent: Annelies Vos
Tourism Kelowna would like to introduce to you the hardworking Visitor Centre staff team for the 2013 summer season! There are 3 new staff members this summer and 3 returning staff members in the Visitor Centre . Details:
Blake Johnson was born and raised in Kelowna, and began working with Tourism Kelowna in 2006 while studying history at UBC-Okanagan. A few days a week, you will find him at the Visitor Centre helping to better visitors' stays in the area. During the remaining weekdays, you will find him on the road, looking after Tourism Kelowna's inventory and distribution needs. If you would like any of Tourism Kelowna's printed materials, just holler! In his spare time, Blake enjoys golfing, exploring BC's back-country, and working towards obtaining an accounting designation.
Douglas Canning is in his second summer at the Visitor Centre as a Visitor Sales & Services Counselor. He has lived in Kelowna his whole life, and has recently completed his first year of Business Management at UBC's Okanagan Campus. Doug also currently coordinates the Tourism Kelowna Calendar of Events, so feel free to ask him what's happening!
Cailyn Hepburn is originally from Prince George but has lived in Kelowna for the past two years. She has volunteered with Tourism Kelowna for the past year at the airport kiosk. She has a degree in International Studies and Political Science with a minor in Outdoor Recreation and Tourism Management.
Kristen Blades moved to Kelowna 3 years ago from Welland Ontario to attend UBC's Okanagan Campus. She is entering her fourth year of studies with a major in psychology and minor in sociology.  It is Kristen's first summer working for Tourism Kelowna.
Sara Lambert is a fourth year student at UBC Okanagan studying Elementary Education.  She is from Golden, British-Columbia.  With Sara's active lifestyle, she is very excited to be working with Tourism Kelowna and sharing tips on these passions with inquiring visitors.
Annelies Vos emigrated with her family from the Netherlands to Kelowna in 2005.  She has been with Tourism Kelowna since 2006.  She has a background in administration and the  travel industry. She is looking forward to the busy season and to have the opportunity to meet with people from all over the world and welcome them to Kelowna in several languages.  She also volunteers as an Ambassador at the Kelowna International Airport.