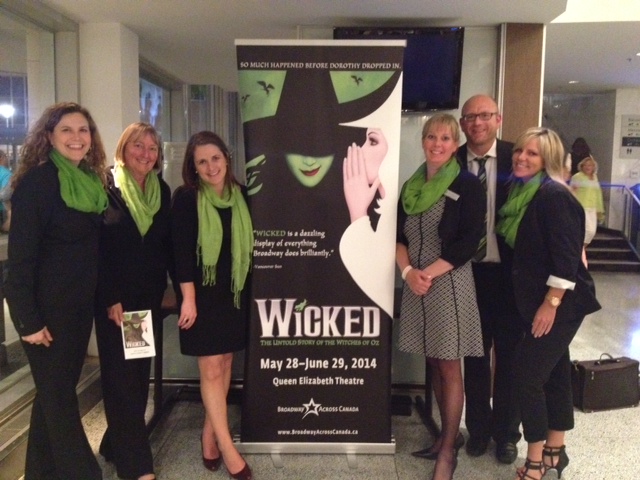 Tourism Kelowna's Sales Team hosted three spring client events over the last few weeks and gleaned valuable insight from each event into the market where it was held.  Two events were planned in Alberta and were co-hosted by Mission Hill Family Estate and the Delta Grand Okanagan Resort & Conference Centre. Additionally, a Kelowna delegation comprising of Mission Hill Family Estate, Delta Grand Okanagan Resort & Conference Centre, Holiday Inn Express Kelowna Conference Centre, Four Points by Sheraton, and the Coast Capri Hotel hosted a Wicked Wines of Kelowna evening in Vancouver.
The Vancouver event welcomed 22 corporate clients from the Lower Mainland for a wine reception followed by the Broadway Across Canada production of Wicked.   Our focus was on those corporations that have not had an event in Kelowna for at least five years.  We allocated five tickets to members of the Vancouver Board of Trade and held a contest through their database to continue the Kelowna momentum from our previous event.  The evening was very successful, with great comments and feedback from clients. To date we are following up on two leads and will continue to measure what events are a result of this evening.  In the Vancouver market, unique events are clearly the way to generate buzz and ensure attendance so we have an opportunity to talk about meetings and events in Kelowna.
In Alberta, our team utilized events in both Calgary and Edmonton to increase Kelowna's prospective client lists. The first event ran concurrent with the Edmonton MPI Chapter luncheon, where Nicolle Gomez de Sousa was able to make some great contacts and keep Kelowna top of mind to this chapter base of meeting planners. The Edmonton event itself represented a decent start to building the Edmonton database, and provided insights we can build on for future missions. The next evening, our sales delegation also hosted a reception in Calgary with 18 corporate clients where they were able to network and chat with contacts about potential meetings and events in Kelowna.  This event has been successful two years in a row now so Calgary corporate planners certainly like this format and continue to respond.
We will continue to evaluate our events and ensure that they are offering opportunities to keep Kelowna top of mind for meeting and event planners.  If you have any questions about these or other sales events, please contact me at jennifer@tourismkelowna.com .