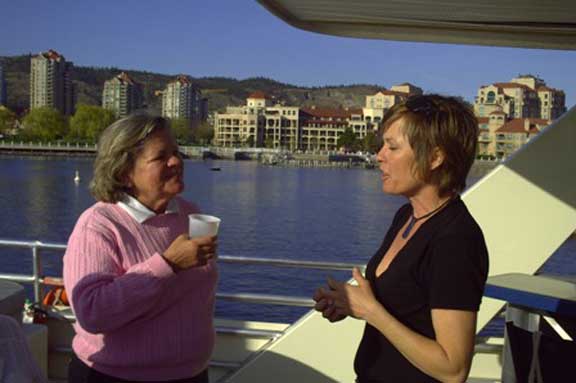 Local Kelowna businesses got a promotional boost recently with a variety of 
destination editorial pieces 
that ran on television, online, and in magazines. Earlier this year, Tourism Kelowna conducted a number of press trips involving numerous local tourism businesses , and this coverage is the result of those press trips. Thanks goes to the many local businesses who participated in hosting the media represented in these stories. Please visit our 
Articles Page 
of the Tourism Kelowna website to see the recent coverage. Here is a brief synopsis of what ran:
December 15 2011 – Restless Josie Visits Kelowna and the Center of Gravity Festival, estimated audience: 71,750
December 2011 – Tastes Much Sweeter Than Wine
Online article by: Bill Nestor for GoGolfAndTravel.com, unique visitors: 46,800
December 12, 2011 – Unique merchants in Kelowna
Online article by: Catherine Frechette for Castanet.net, unique visitors: 255,799
December 5, 2011 – Ma Caravane Au Canada: Kelowna
Television Clip by: Ma Caravane Au Canada on TV5, estimated audience: 30,300
November 25 2011 – Ode to Kelowna
Television Clip Courtesy of: The Ron James Show on CBC Television estimated audience: 199,800
Fall 2011 – Top 5 Reasons to Visit Kelowna, BC
Print article by Brent Long for Herald Magazine, circulation: 2000
In total, these recent articles represent an estimated advertising value of $25,908, meaning that this is what it would have cost to place advertising in these outlets for the equivalent amount of page space or air time. Topics ranged from golf travel to festival experiences, culinary and wine experiences, culture, and Okanagan lake. Should you have questions about our media relations program, please contact me at catherine@tourismkelowna.com or by calling  
250-861-1515 ext 203.