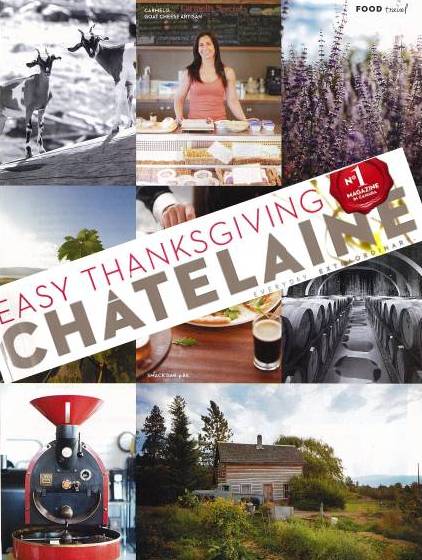 Kelowna's recognition in the Georgia Straight (see my earlier post) comes hot on the heels of a major Food and Travel feature on Kelowna in Chatelaine magazine, Canada's top paid circulation magazine, with an audited circulation of over 536,000.
The story is in the current issue (October 2013) on magazine shelves until mid-next month and was penned by Chatelaine Food Editor Amy Rosen, whose visit to Kelowna was sponsored by Tourism Kelowna earlier this year, and photographed by Chatelaine photographer Roberto Caruso on a subsequent visit also coordinated and sponsored by Tourism Kelowna. We'd like to thank all the stakeholders who extended their hospitality to Amy and Roberto when they visited.
The story highlights Kelowna's many food and wine attractions and producers, and calls Kelowna "the best-ever farmers' market come to life on a massive scale." Pick up your copy of the October 2013 issue to read this amazing coverage of our destination. Numerous businesses were included in the coverage and each added to the overall appeal of Kelowna as a travel destination. I will list the businesses featured at the bottom of this blogpost.
Next month's Chatelaine will also contain destination coverage for Kelowna (so be sure to pick up the November issue also) shining the spotlight on Kelowna in back-to-back issues of this popular magazine. Other travel features on Kelowna received throughout the year can be seen on our website's Recent Articles page.
Featured businesses: Okanagan Lavender & Herb Farm, Carmelis Goat Cheese Artisan, Kelowna Farmers' and Crafters' Market, Mission Hill Family Estate, Quails' Gate Winery, Summerhill Pyramid Winery, Distinctly Kelowna Tours, RauDZ Regional Table, Smack Dab, Bean Scene Coffee Works, Okanagan Grocery Artisan Breads, Delta Grand Okanagan and Chef Stuart Klassen, the Cove Lakeside Resort and Chef Grant de Montreuil, Bottega Farm Inn and Studio, and last but not least, our http://www.tourismkelowna.com website, giving readers access to more information about all our other fantastic tourism attractions and operators.