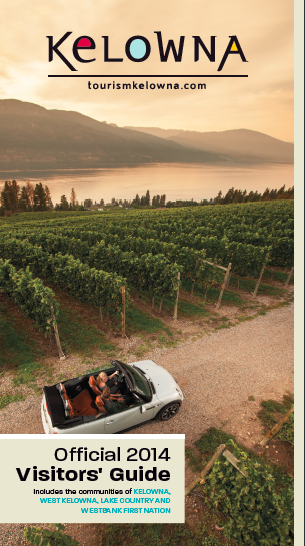 We hear a lot of complements on the beauty of Kelowna, but this sentiment  was a first.  Dad shared his 4 yr old son's quote with us on Twitter and suggested we use it in our marketing materials – so we used it in our 2014 Visitors Guide!  Thanks for the idea @matlockjon.
While we are all busy with Christmas and the holidays,  the Official 2014 Kelowna and area Visitors' Guide was being delivered and stocked on shelves across the city, the valley, the province, and western Canada. Read on to find out what you can learn in its pages and how to get your own Visitors' Guides.The 2014 issue has been updated with beautiful new photography, new tourism stakeholders, dedicated pages for the communities of West Kelowna, Lake Country and Westbank First Nation, and other useful visitor content.  The 2014 pull-out map now includes Lake Country and increased detail on parks and public spaces throughout the Central Okanagan. We are also excited to be able to include dedicated pages for the communities of West Kelowna, Lake Country and Westbank First Nation.
The guide is published online and 185,000 copies are printed every year to be utilized as the primary visitor information piece given out by staff & volunteers at the Kelowna Visitor Centres.
Special thanks to Valery from Mind's Eye Studio and Laura from Vista Marketing for their roles in the production and sales of this guide.  If you've yet to see it, stop into the Visitors' Centre at 544 Harvey Avenue and pick a few up, or you can view it online by clicking here. For bulk orders, please call Taylor Jones at 861-1515, ext. 208, or e-mail taylor@tourismkelowna.com.
Locals can benefit from this guide as well as our local tourism businesses. Check out this morning's Castanet column by Catherine Frechette on how it can be used in local homes this year.
We strive to improve this publication every year and really appreciate your feedback. If you have questions, comments or suggestions we'd love to hear from you.  Please contact me at shauna@tourismkelowna.com or call me at (250) 861-1515 ext. 206.