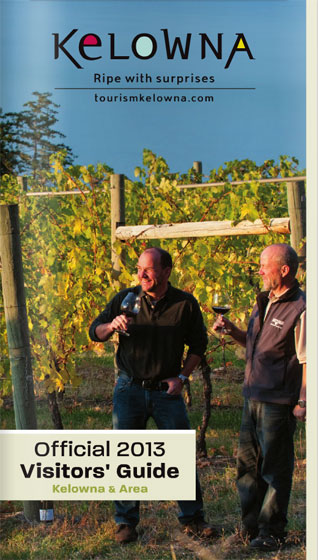 It's here!  The 2013 Kelowna and area Visitors' Guide is hot off the press and has already started filling racks across the city, the valley, the province and the country!
It's bright, colourful and jam-packed with reams of new information and more helpful planning tips then it has ever had before.  Once you get your hands on a copy, look for increased details on wineries, accommodations, restaurants, parks, beaches and more. The big pullout map in the center even has some key spots to visit for the bird-nerds among us.
You can view the digital version of the guide here or if it is hard-copies of the publication you're looking for, a skid of guides was be delivered to the Visitors Centre early in the new year.  If you normally stop by to get your stock of guides, contact Laura Appleby to make those arrangements and ensure she has inventory on hand via email: laura@tourismkelowna.com or call:250-8691-1515 ext 208.
We strive to improve this publication year after year so we really appreciate your valuable feedback.  After you've had a chance to thumb through a copy, please send your comments, suggestions and/ or questions to me via email at: shauna@tourismkelowna.com or call: 250-8691-1515 ext 206.