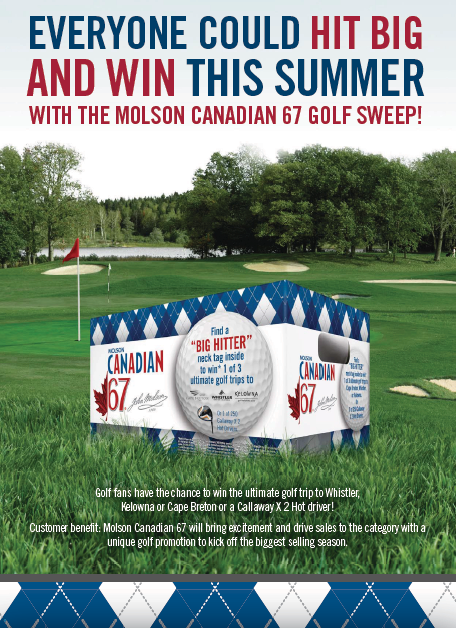 Tourism Kelowna is thrilled to be involved in Molson Canadian's Find a "Big Hitter" contest with the likes of Callaway, Whistler and Golf Cape Breton!  
The promotion hits the stores this weekend and runs until mid August.  Millions of people will see this national campaign that includes a strong retail presence with fun, blue and white argyle packaging of Molson Canadian's 67 beer.  This promotion is running throughout Canada with eye-catching in-store displays in select markets.   The Find a "Big Hitter" contest will be further amplified with television and web advertising on TSN, ScoreGolf, PGATour and electronic e-blasts.
Not including the digital and television impressions, the retail displays alone are expected to generate 1.6 – 3.0 million shopper impressions.  Consumers will find a winning can or neck tag inside specially marked  cases.  One of the three Grand Prizes is a golf trip to Kelowna.
We would like to thank the Delta Grand Okanagan Resort and Conference Centre, Budget Car & Truck Rentals, Black Mountain Golf Club, Okanagan Golf Club, The Harvest Golf Club, Sunset Ranch Golf & Country Club and ScoreGolf for their partnership.
If you have any questions about this, or any other marketing activities please contact me by email: shauna@tourismkelowna.com or phone: 250-861-1515 ext. 206