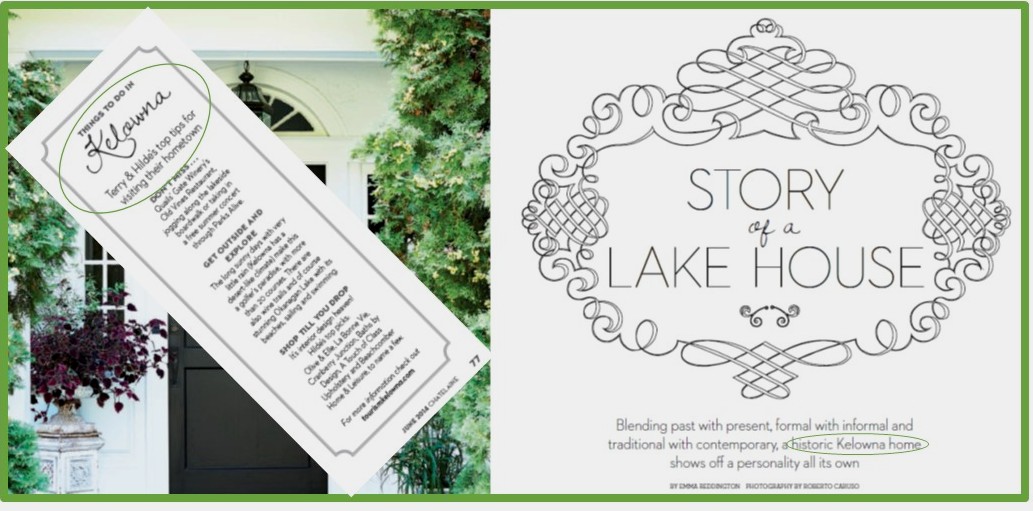 Chatelaine readers in Kelowna will be thrilled to open their June 2014 magazine and see a beautiful Kelowna home showcased in the Home Decor section this month. The elegant lake house is home to Terry and Hilde Schneider, and Tourism Kelowna would like to thank the Schneiders for making our Chatelaine guests feel welcome when we came knocking last August. This editorial draws in the reader who learns about the special touches in the home and how to emulate the look in their own homes; then also shares the uncanny story of the Chatelaine editor for whom this address was home in the summer so many years ago, and who couldn't resist scouting the home when Tourism Kelowna listed it as one possible option for the magazine's pages. The magic for Kelowna was also in how our destination was presented in the article, with our vibrant downtown, lake activities, wineries, shops, restaurants, golf, and entertainment all playing a big role in the layout.
The editorial is also very valuable in reinforcing our destination message and creating intrigue in our destination alongside this stately home. Chatelaine is the largest paid circulation magazine in Canada, with a monthly circulation of 536,447 and readership in the millions due to the number of people who typically read a single issue. There have been other fantastic editorials on Kelowna, including a food and travel feature by Amy Rosen in the October issue, a 12-page fashion feature in the November issue, and several smaller pieces on our food and drink community.
Editor Emma Reddington and photographer Roberto Caruso were in town during the week that Chatelaine's fashion team were here. Tourism Kelowna's Jenny Rutherfurd acted as point person for the home decor team. If you have questions about Tourism Kelowna's media relations program, please contact me at catherin@tourismkelowna.com or by phone at 250-861-1515 ext. 203.