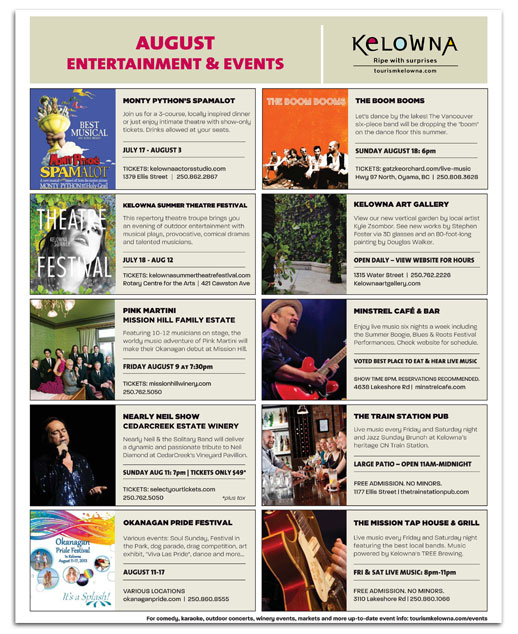 Last summer, the  July and August 2013 Entertainment & Events flat-sheets that were distributed at local hotels and Visitor Centres were so popular that we've added a June and September edition this year! 
In 2013 several hotels and motels included these flat-sheets with each guest check-in package, utilized them as part of their in-room displays or distributed them by request at their front desks or concierge.
These handy one-pagers fulfill a few goals.  They showcase how lively Kelowna is by providing visitors with information on where they can go for live music, theatre, sporting events or festivals, and they provide entertainment and event stakeholders with an inexpensive and easy way to promote to this in-town audience. Last year, a handful of event owners told us they tracked their ticket sales and saw a fantastic ROI for participating in this program.
2014 program details:
10,000 pieces printed each month
Distributed at participating accommodations and Kelowna Visitor Centres
Cost to advertise is $125/issue for current Necessities Advertising Package (NAP) holders and $155/issue for non NAP holders
Deadlines:
June: sign up and artwork by May 16
July: sign up and artwork by June 2
August: sign up and artwork by July 2
September: sign up and artwork by July 31
Please complete and return this booking form to reserve your spot.
If you have questions, or need more information, please email me at shauna@tourismkelowna.com or call 250-861-1515 ext 206.