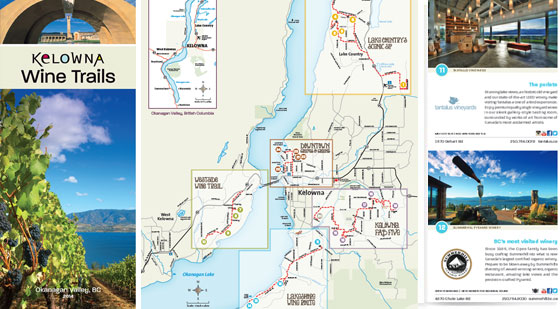 The 2014 Kelowna Wine Trails Guides are in!  Local distribution to Kelowna hotels, attractions, wineries and hundreds of other businesses began today and in the coming weeks the guides will make their way to shelves throughout the Valley, British Columbia and Alberta through our distribution agreement with Certified Folders.
The 2014 distribution plan includes the insertion of 10,300 pieces into the Maclean's Magazine, Wine In Canada special edition. This strategic placement is for Maclean's newsstand sales throughout their networks in British Columbia and Alberta and begins in May.  To continue to strengthen the local awareness of  the many incredible wine-experiences available in our own backyards, the guide will be again be delivered to the homes of residents in Kelowna, West Kelowna, and Lake Country. This delivery is being done in tandem with the Kelowna Capital News so watch for a copy in your mailbox Tuesday, April 29th – just in time for Spring Wine Festival!
The guides will be delivered to more local tourism businesses in the coming weeks but if you're able to pick up your own supply and expedite stocking your business, please contact the Visitors' Centre at 250-861-1515 to make arrangements.   You can download the guide online by clicking here.
We strive to improve all of our publications every year and really appreciate your feedback. If you have comments, questions or suggestions please contact me at shauna@tourismkelowna.com or call  (250) 861-1515 ext. 206