Tourism Kelowna is pleased to welcome several new members to our Visitor Experience team!
Michelle Dupuis has joined the team in the position of Visitor Experience Coordinator. Michelle is involved with the community, loves volunteering, and is excited to start this position at Tourism Kelowna. She has been in different forms of retail management for about 20 years and is looking forward to being even more active in the community through her new role with our team. She is very passionate about helping animals—so much so that she founded a non-profit canine rehabilitation organization! In her role, Michelle will be helping to coordinate the Kelowna Visitor Centre retail program, as well as general visitor experience operations and administration duties. Michelle can be reached at michelle@tourismkelowna.com or (250) 861-1515 ext. 208.
We are also excited to welcome Azaria Anderson and Clair Littlefair to our team as Visitor Experience Specialists. They join Gaby, Jaclyn, Kristin, and Robyn in welcoming guests into the Kelowna Visitor Centre, fielding telephone and digital inquiries, attending mobile visitor servicing events, and more. Contact information for our Visitor Experiences Specialists is available on our website.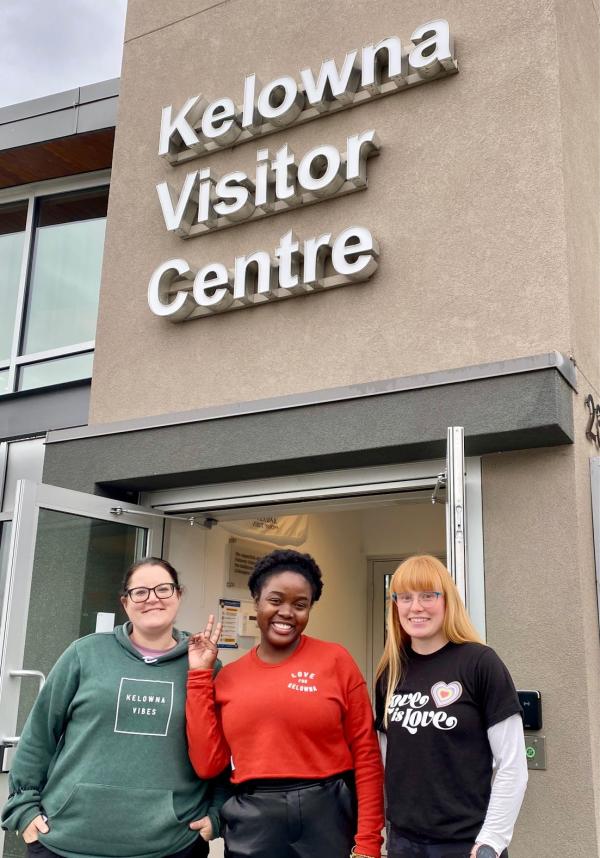 L-R: Michelle Dupuis, Azaria Anderson, Clair Littlefair
Finally, Tourism Kelowna has welcomed many new Visitor Experience Volunteers to our team over the last several months and we would like to thank each and every one of them for their time and dedication to assisting local residents and visitors in our community. To see a full list of our volunteer team, click here.
For questions about our Visitor Experience team members, please reach out to me at sydney@tourismkelowna.com or (250) 861-1515 ext. 220. Please join me in welcoming each of our new staff and volunteers to the Tourism Kelowna team and the Central Okanagan tourism industry!