Tourism Kelowna launched its newly designed website on May 14, 2019. The website underwent a major overhaul to make it a mobile-first design with stronger visual and design elements, incorporating Tourism Kelowna's brand colours and fonts.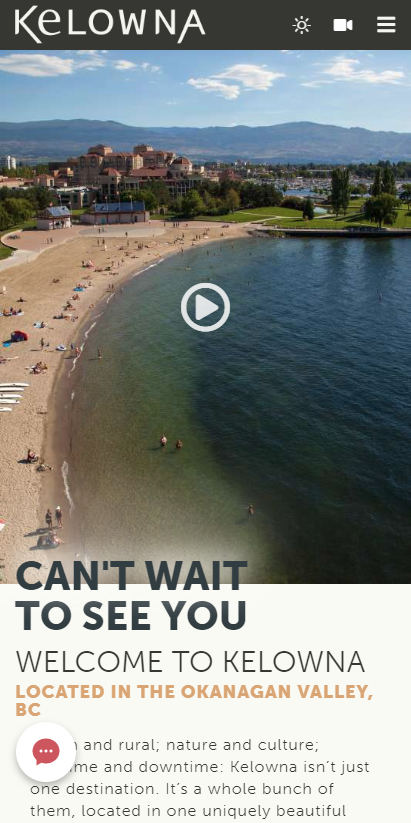 Mobile version of tourismkelowna.com's homepage
Over the past few weeks, we have been keeping a close eye on the website's analytics and all of the performance metrics we monitor are moving in a positive direction. After two full calendar months (June and July) with the new website, we have seen an increase of 20% in pageviews, an increase of 9% in pages/session, an increase of 8% for average session duration, and have improved the bounce rate by 20%. 
These metrics are directly correlated with the website redesign; the site is not only visually appealing, but it is easier to use, it loads at a faster rate, content is more accessible, and visitors are staying on the site for a longer period of time. 
Search Engine Optimation (SEO) is also strong. In June and July, Tourism Kelowna's website had over 255,000 sessions (visitors), an increase of 10% from the previous year. The website continues to rank well on search engines garnering over 5.3 million impressions on Google in June and July and is well above the tourism industry average for pages/session, bounce rate, and average session duration.
We are continuously improving our digital marketing initiatives to better serve Kelowna's tourism industry, showcasing Kelowna as Canada's four-season playground, and making Kelowna a first-choice travel destination.
If you have any further questions, please contact Steve Small, Digital Marketing, at steve@tourismkelowna.com or by phone (250) 861-1515 ext. 216.