Our Visitor Experience Team recently participated in their first familiarization (FAM) tour since March 2020. Elevation Outdoors and CRIS Adaptive Adventures hosted the team last week at their Kelowna Bike Rentals location at the base of Knox Mountain near the overflow parking lot.
The two organizations have partnered to create a biking experience that is accessible for all. Our team members were able to try out many kinds of bikes including e-bikes, mountain bikes, tandem recumbents, regular tandems, and trikes, allowing us to fully experience their offerings, which also include options for hiking. Helmets and bike locks are also provided when renting from Kelowna Bike Rentals.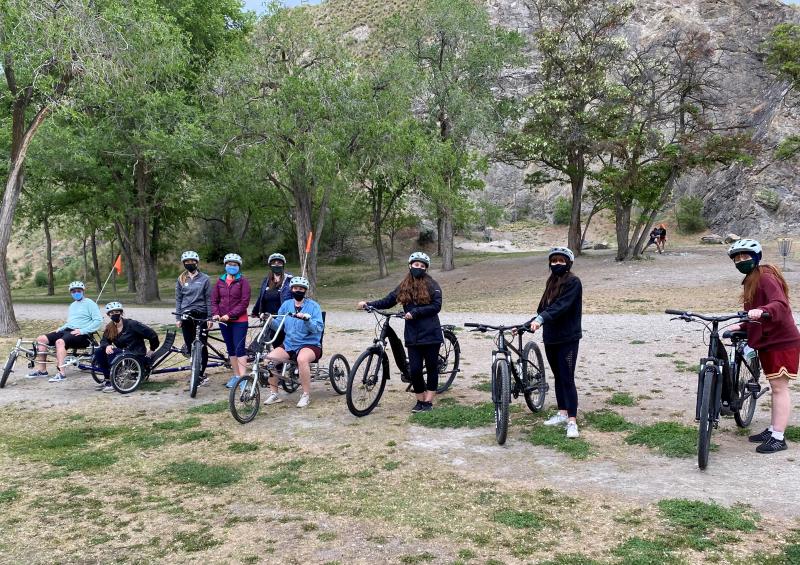 We rode around for approximately two hours and had a great time getting fresh air and exercise while learning more about another one of our fabulous local businesses. Four new Visitor Experience Specialists recently joined our team at the Kelowna Visitor Centre and this FAM tour was a fun and safe way for them to gain knowledge and form bonds with our existing staff. It was also perfect timing to learn more about these accessible options since National AccessAbility Week runs from May 30 to June 5.
FAM tours are extremely beneficial to our team, as they allow both our staff and volunteers to gain first-hand knowledge about business offerings, which they can then pass on to visitors and locals who are looking to explore Kelowna. As COVID-19 restrictions have started to ease, we are excited to be able to resume FAM tours and want to organize as many tours as possible before the busy summer season kicks off. 
If you are interested in hosting our team for a FAM tour with your business or organization, please contact me at sydney@tourismkelowna.com or 250-861-1515 ext. 220.