On Tuesday, March 3, Tourism Kelowna hosted a Stakeholder Plug-In Session to provide information and updates on the Biosphere Commitment Program. The session took place at the Delta Hotels by Marriott Grand Okanagan Resort, which was one of the first hotels to embrace the program.  Members of the hotel team kicked off the session by sharing their inspiring programs, which demonstrated how Marriott's commitment to sustainability and regeneration is being implemented at the local level through staff training and human resource practices, redirecting excess food to those in need, and finding more energy-efficient ways to operate.    
Director of Sustainability at the Thompson Okanagan Tourism Association (TOTA), Mike Overend, then addressed the over 40 attendees and shared the journey that led to the region receiving Biosphere Certification. Mike explained how TOTA worked to implement the Biosphere Commitment Program—formerly known as the Biosphere Adhesion Program—so that businesses and destinations within the region could benefit from the region's certification. They realized that the certification process was significant and that most businesses wouldn't have the time or resources to take that step; however, businesses were looking for a way they could make a change and improve their sustainability practices. The Biosphere Commitment Program takes the United Nation's 17 Sustainable Development Goals and breaks them into manageable chunks of 3 to 4 goals per year. Businesses submit evidence of the work they are doing in each goal area and how they are working towards alignment. After working through several years of the Commitment Program, businesses would feel more prepared and able to proceed with certification of their own.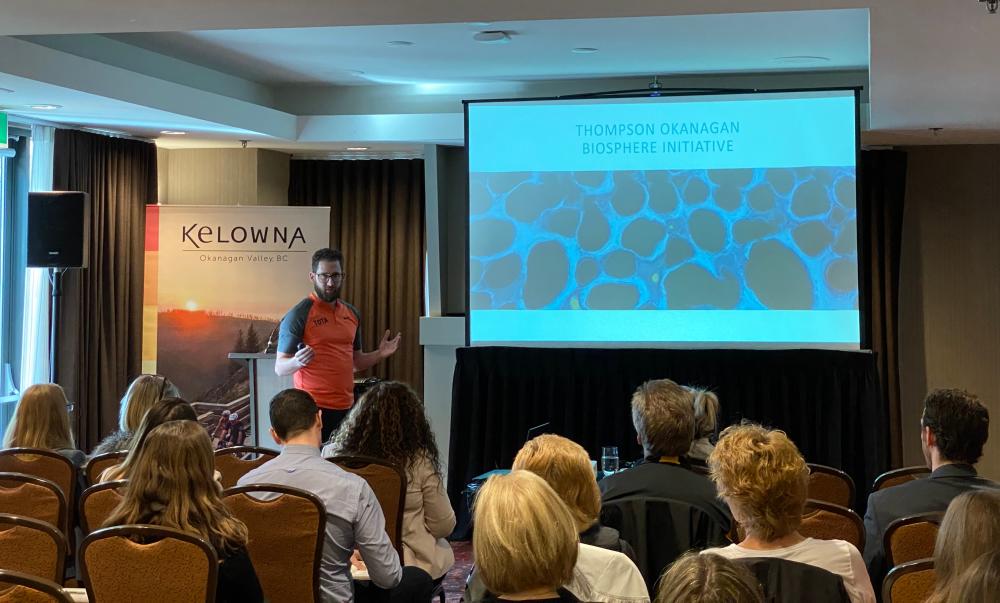 Through a variety of grants, TOTA has been able to keep participation costs low ($250/year) with even further reductions if your business works with Sustainable Tourism 2030, a program from GreenStep Solutions.  As well, strategic partnerships with Go2HR and GreenStep Solutions have enabled TOTA to offer training workshops on sustainability and occupational health and safety, free of charge, for Biosphere Committed Entities.  
As we move into year two of the program, the focus is on three new goals:
Goal 3: Good Health & Well-Being
Goal 6: Clean Water & Sanitation
Goal 8: Decent Work and Economic Growth. 
Businesses can receive complimentary energy, water, and waste audits to provide them with a usage baseline and allow them to create a plan and targets for reducing their consumption of water and energy, and their production of waste. As well, they can attend the occupational health and safety workshops and learn more about how they can qualify for reductions of their WCB premiums. 
We're thrilled with the success of the Biosphere Commitment Program. We've heard stories of employees embracing the concept, forming sustainability committees, creating new initiatives led by staff, and incorporating those practices into everyday operations.  We've also seen the great recognition that the region and city are receiving for this work, setting them apart from other destinations and providing them with a competitive edge for independent travel or group business.  
For more information on the Biosphere Commitment Program or how you can participate, please contact me at jennifer@tourismkelowna.com.