This upcoming Sunday, May 24, marks the start of Tourism Week in Canada, which is organized nationally by the Tourism Industry Association of Canada (TIAC) and provincially by the Tourism Industry Association of British Columbia (TIABC), in conjunction with Destination BC (DBC). This year, particularly considering COVID-19, Tourism Kelowna's focus will be on conveying the importance of the industry, whose numerous contributions strengthen the local economy and enrich the quality of life for residents.
We encourage you to showcase your business' contributions alongside our efforts. Here are a few ideas for you to consider for Tourism Week:
Highlight the work of a long-standing team member, or welcome new faces to the team, through a blog or social media post.
Share a quote or testimonial from a customer or supplier.
Showcase uplifting stories or interesting tidbits about your business throughout the week, to further connect with locals and with visitors who are planning for future travel.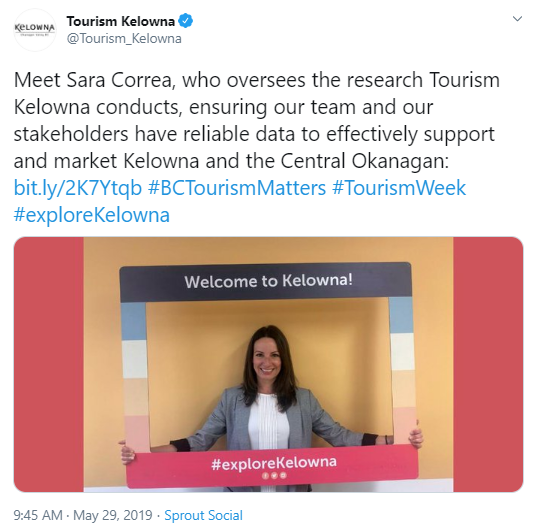 Example: 2019 Tourism Week social media post highlighting one of our team members.
Our team will be creating content for our website, industry and consumer newsletters, and social media, some of which will focus on highlighting good news stories from our stakeholders—help us tell your story (or stories about other local tourism businesses) by emailing marketing@tourismkelowna.com. If you haven't yet done so, we would also encourage you to share these stories with local media outlets.
When sharing content on social media, be sure to include the hashtags #BCTourismMatters, #TourismWeek, and #exploreKelownalocal. You can also follow TIABC, go2HR, and DBC on social media:
Share, like, and retweet content from these channels, and from Tourism Kelowna's channels, to help spread the word about Tourism Week.
To cap off Tourism Week 2020, Tourism Kelowna will launch our first Show Your Love for Kelowna Day on May 30. Click here to learn more.