Today marks the kick-off of Tourism Week 2023, which is hosted annually by the Tourism Industry Association of Canada (TIAC) and tourism associations across the country, including the Tourism Industry Association of BC (TIABC) and Destination BC (DBC), and offers communities across the country the opportunity to recognize and celebrate the value of tourism, including the economic impact and increased quality of life it creates.
This year's theme, CANADA: Powered by Tourism!, was chosen to recognize the tourism sector's fundamental economic and socio-cultural importance in communities across the country. In 2022, more than 1.8 million unique overnight visitors travelled to Kelowna and the Central Okanagan. Prior to the pandemic, Kelowna's $2 billion visitor economy was a major economic driver, generating 13,000 jobs, $204 million in tax revenue, and $443 million in direct spending at local businesses. Visit our website to learn more about the value of tourism from the perspective of area residents and local businesses.  
As part of Tourism Week, TIAC is challenging destinations, landmarks, attractions, venues, and hotels to light up in green (colour hex code #8BC53F) as part of their #GreenMeansGo campaign to raise awareness of the tourism industry's economic, social, and cultural importance in Canada.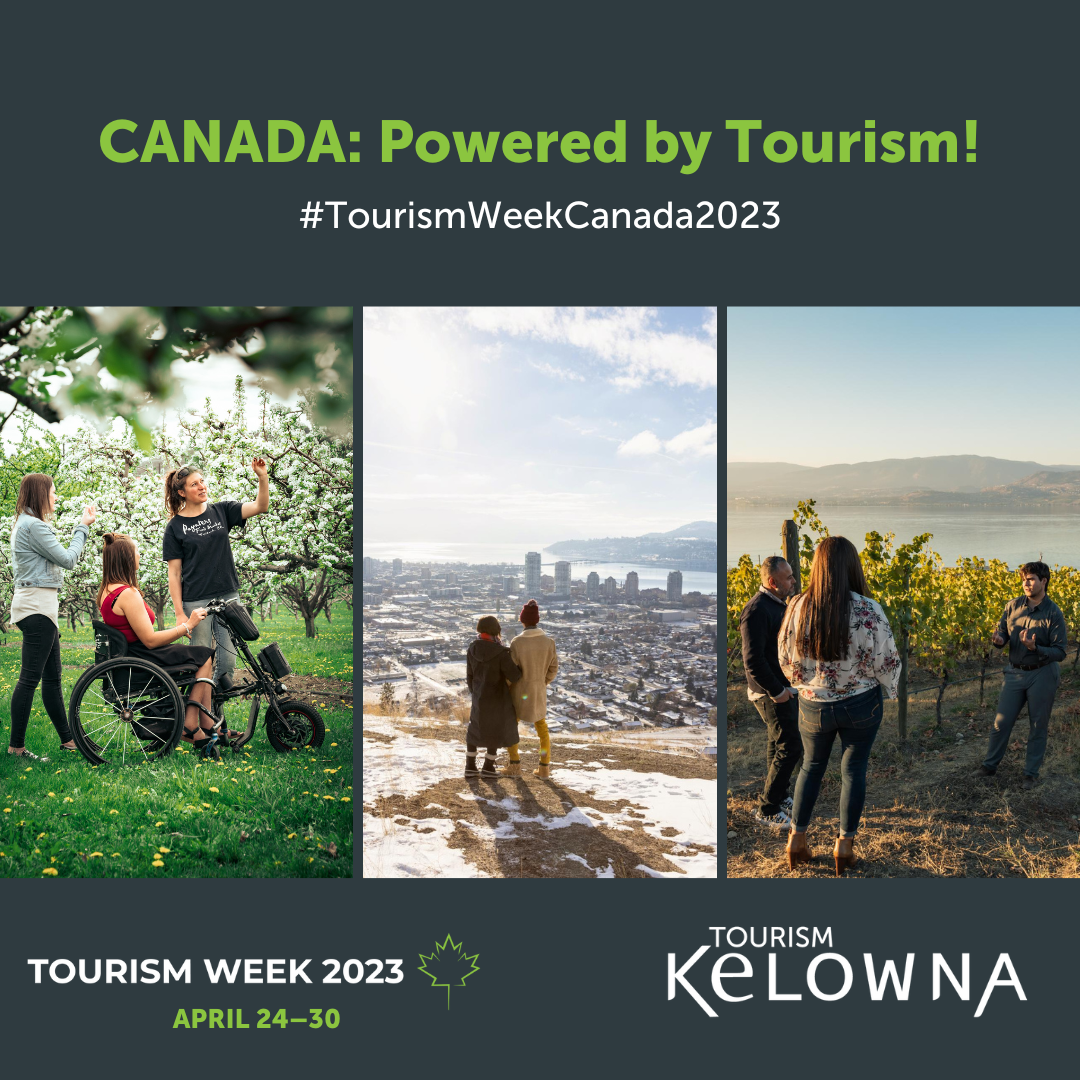 Join us in showcasing the value of tourism in Kelowna and the Central Okanagan by using the key messages, fast facts, assets, and suggested social media captions we've assembled in our Industry Toolkit, which can be accessed via DropBox here. We also encourage you to share posts from our Value of Tourism webpage, which includes content pieces highlighting the perspectives of area businesses and residents. 
Additional information and resources for Tourism Week are available at the following links:
We also encourage you to showcase your business' contributions through your channels throughout the week. Here are a few ideas for you to consider:
Highlight the work of a long-standing team member, welcome new faces, or give a shout-out to those who have made a difference over the past year.
Share a quote or testimonial from a customer or supplier.
Showcase uplifting stories or interesting tidbits about your business, to further connect with visitors and locals.
Share photos on social media of your staff and volunteers travelling throughout the province and participating in Tourism Week activities.
Take photos of other tourism activities in the region that you can share (attractions, tourism employees, visitor centre, welcome signage, etc.)
When sharing content on social media, be sure to tag Tourism Kelowna and include the following hashtags:
#TourismWeekCanada2023
#GreenMeansGo
#BCTourismCounts
#TourismCounts
#TourismKelowna
You can also follow TIAC, TIABC, and Destination BC on social media:
Share, like, and retweet content from these channels and Tourism Kelowna's channels to help spread the word about Tourism Week.