If you have landed on tourismkelowna.com at any time after Tuesday, May 14, you are experiencing the new Tourism Kelowna website. Go, start exploring you can always come back to this post. We recommend starting on the Home Page and going from there. 
So What's New? 
We mentioned a few items previously but didn't want to spoil the big reveal, so here's a run-down of what's new: 
Mobile-first design with stronger visual and design elements, incorporating Tourism Kelowna's brand colours and fonts. 
Interactive elements, providing additional opportunities for users to explore further.
Edge-to-edge page content that uses as much of the screen as possible.
Auto-play videos within page headers in desktop view; a play button will appear in the mobile view so the user can choose to watch or not (respecting the user's data usage). 
Fully-incorporated Accelerated Mobile Pages (AMP), allowing pages to load as fast as possible, thereby increasing the mobile user experience and enhancing Tourism Kelowna's SEO efforts.
Sticky top navigation on desktop, meaning the navigation follows you down the page.
Completely overhauled menu so users can find and get to each page more quickly. 
A more intuitive search feature, where users can select multiple categories, amenities, and even search for multiple terms at the same time. When viewing listings, a user can now search by Distance to see all of the nearby businesses or events in a map view.
Content, content and more content. On the home page alone, there is one video, two interactive elements with 15 pieces of content, 3 of the latest blog posts, 29 images, and a place to sign up for our newsletters.
There are so many changes that it is hard to list them all, but the biggest and most noticeable change is the visual design of the website. We hope that as you explore the pages of the website you are able to get a sense of Kelowna and what makes it so great. From the seasonal activity pages showcasing the best of Canada's four-season playground to trip ideas and itineraries to help travellers plan the best trip to Kelowna. 
OnceThere - Online Bookable Activities & Tours
Along with the new website, Tourism Kelowna also launched a quick and easy way for travellers or locals to purchase activities and tours right on tourismkelowna.com. With the OnceThere system, you are able to see ticket availability in real-time. By providing a single in-market, online destination where visitors or locals can find and book local experiences, Tourism Kelowna can help increase your bookings, making it faster for visitors to book experiences and activities, thereby leaving them with more time for wonderful experiences while in the Central Okanagan area.
You can find all of the bookable activities and tours, here. A call to action link, as seen below, will appear on participating listings. As well, within the listing details page for stakeholders, an Activities tab has been added where users are able to see and book any available activity. 
Listings: 
Listing Detail Page: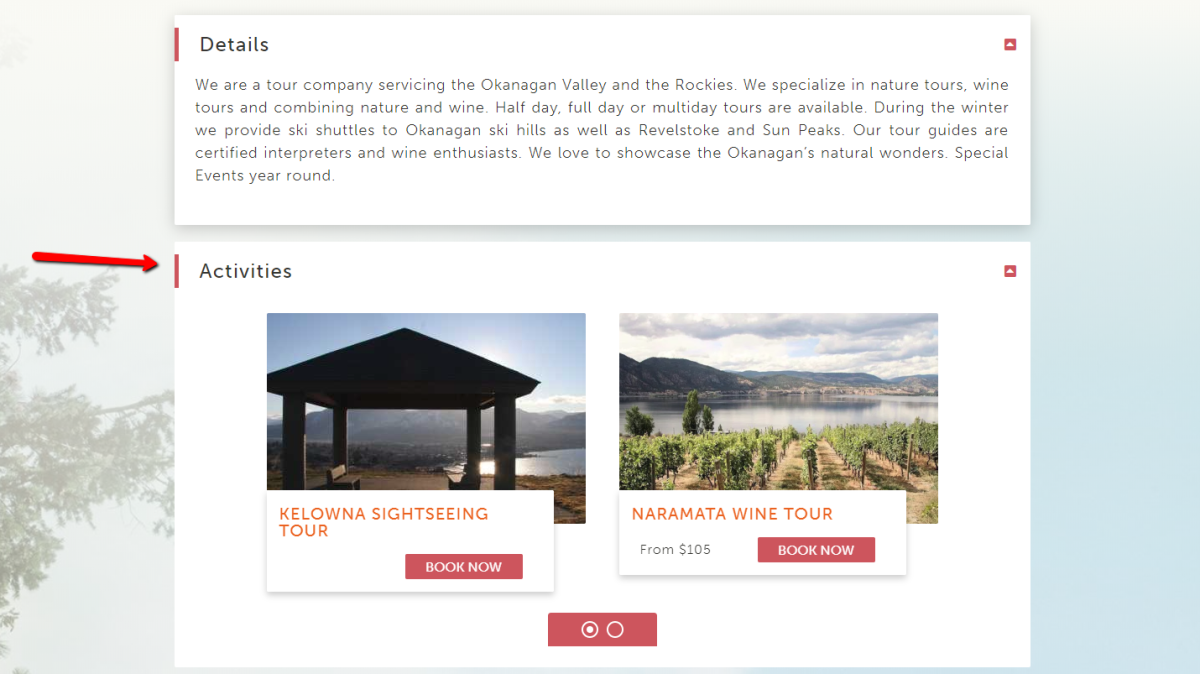 If you are interested in learning more about OnceThere, please contact Chris Lewis at chris@tourismkelowna.com or (250) 861-1515 ext. 207. If you have feedback or questions about the new website, please contact Steve Small at steve@tourismkelowna.com or (250) 861-1515 ext. 216.