After having one of the best performing years ever for Tourism Kelowna's website, our team had to make significant changes to the site in response to COVID-19 to provide valuable information, to support our local tourism-related businesses and promote them to consumers, and to inspire future travel. Moving forward, we will need to continue working together to ensure travellers have all the information they need to feel comfortable and safe when booking their next trip to Kelowna. 

What We've Done
Here are some of the changes we made to the website to assist travellers, locals, and industry:
The special alert bar was turned on and a webpage was created to provide up-to-date information and additional resources concerning COVID-19. Messaging and information was updated regularly, as more and more restrictions were put in place.
The team pivoted our marketing tactics to focus on preserving the local economy. An #exploreKelownafromhome section was created, focused on things consumers could enjoy from home, and on businesses they could continue to support. This including listings of restaurants offering takeout/delivery, wineries that were offering shipping, virtual events, local offers and promotions, and virtual Zoom backgrounds.  
As the province entered its restart and restrictions started to ease, we focused our efforts on Kelowna and area locals, encouraging them to support local businesses. We adopted #exploreKelownalocal and an entirely new section of the website was created, providing information on how those in the community could get out and enjoy our destination's offerings. 
Along with these new sections of the website, our blog content shifted and changed, and our team took on the additional task of sourcing, creating, and publishing blog posts highlighting businesses that were open, showing ways businesses had adapted, and sharing stories of the great things local businesses were doing during challenging times. 
Destination marketing websites saw dramatic decreases to website traffic in the past few months—Tourism Kelowna's website traffic was down over 60% at one point, year-over-year. However, over the past few weeks, as summer approaches and everyone gears up for Phase 3 of BC's Restart Plan to start, we have noted continuous increases to website traffic and are now nearing the same levels of organic traffic that we saw last year during the same time period on the website, as you can see in the graph below.  


What You Can Do
For many, perceptions about travel have changed, meaning consumers will be seeking out different information than before. They will want reassurance that if and when they travel, they will be safe and their health will be protected. 
With the new COVID-19 health and safety measures businesses have been implementing, we have added an additional amenity category to all Tourism Kelowna online listings titled COVID-19 Measures. Within this category, there are many amenities to choose from such as No Contact Services, Reduced Occupancy/ Occupancy Limits, and Hand Wash/Sanitizer Stations. Businesses can even upload their own Health & Safety Policies, so visitors can read them directly from the online listing. 
It will be more important than ever to keep your listing up to date so consumers have the most reliable information and can make informed decisions when booking their travel.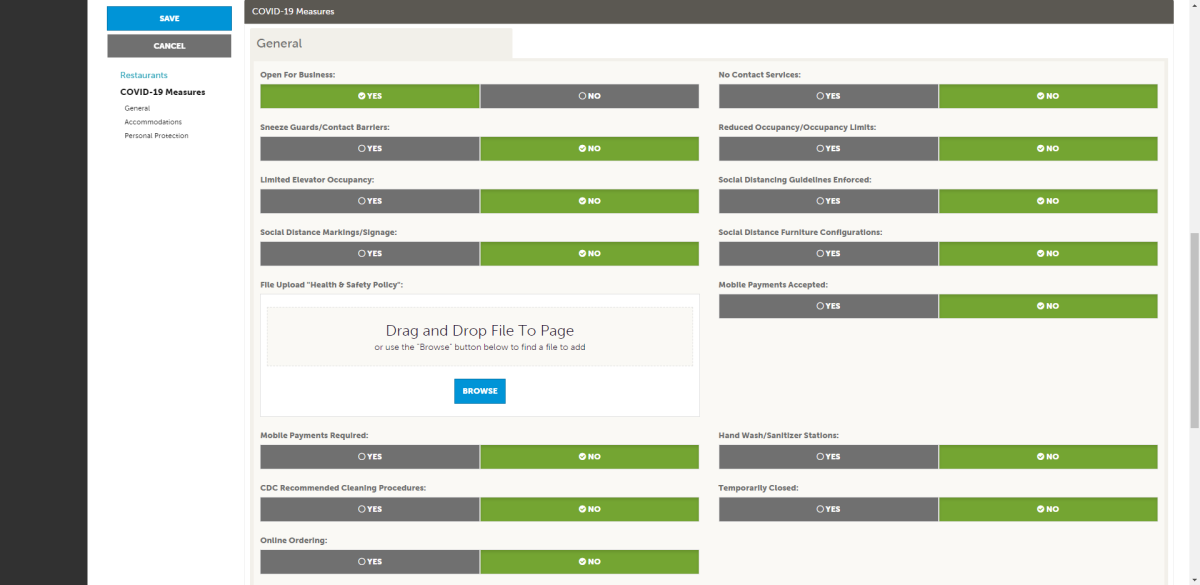 Some of the COVID-19 Measures available for all online listings via Tourism Kelowna's Extranet 
All of the COVID-19 Measures amenities can be updated through Tourism Kelowna's Extranet. Click here for a handy guide on updating listings in the Extranet or please reach out to me (steve@tourismkelowna.com), or to my colleague Sara (sara@tourismkelowna.com), directly so we can help you update your listing information.