Sustainability is at the forefront of Tourism Kelowna's operations at the Kelowna Visitor Centre (KVC) where new initiatives and exciting changes are frequently happening. Aligned with our pledge to foster the preservation and continual restoration of our land, resources, and communities, we are thrilled to announce that as of April 1, we are partnering with One Tree Planted to plant a tree for every purchase made in the Kelowna Visitor Centre or through the Love for Kelowna online store.
Since we try to stay local as much as possible with all our efforts in the KVC, we are delighted that we can select where the trees are planted, ensuring this initiative will see trees planted here in British Columbia. We will keep you updated each month on our Love for Kelowna Facebook and Instagram pages with how many trees you have helped us plant.
For more information about this new partnership, contact me at sydney@tourismkelowna.com or (250) 861-1515 ext. 220.
About Tourism Kelowna's Retail Program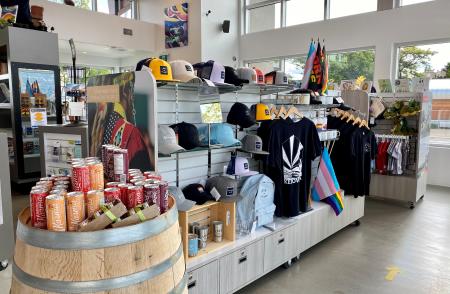 We have curated a collection of apparel, accessories, and souvenirs, along with locally-made gifts and art, to give visitors and locals an opportunity to share their love for Kelowna and the Okanagan. The Tourism Kelowna online store represents only a sample of the incredible selection of consignment items, local art, and locally-created merchandise that is available in the Kelowna Visitor Centre. For a full selection of products and some exclusively available items, visit us at 238 Queensway Avenue in downtown Kelowna.
To view our sustainable collection, including products from local vendors, click here. To help support local, click here.
About One Tree Planted
One Tree Planted is a 501(c)(3) nonprofit on a mission to make it simple for anyone to help the environment by planting trees. Their projects span the globe and are done in partnership with local communities and knowledgeable experts to create an impact for nature, people, and wildlife. Organizations such as TD Bank, Facebook, and the BC Ministry of Forests, Lands, Natural Resource Operations and Rural Development all partner with One Tree Planted. Reforestation helps to rebuild forests after fires and floods, provide jobs for social impact, and restore biodiversity.