Tourism Kelowna has launched the Industry Insiders Passport, an exclusive savings passport aimed at the tourism industry's front-line staff. 
The main objective of this passport is to encourage front-line staff members to go out and explore some of the amazing tourism experiences that make up our destination. The front-line staff of all tourism businesses regularly get asked for suggestions and recommendations of things to see and do in our area—this passport will give them first-hand knowledge, which they will be able to share thereby providing great customer service and driving traffic directly to local tourism businesses. 
There are some great savings and offers on over 30 different experiences, which include wineries, breweries, restaurants, attractions, hikes, bike rentals, and more.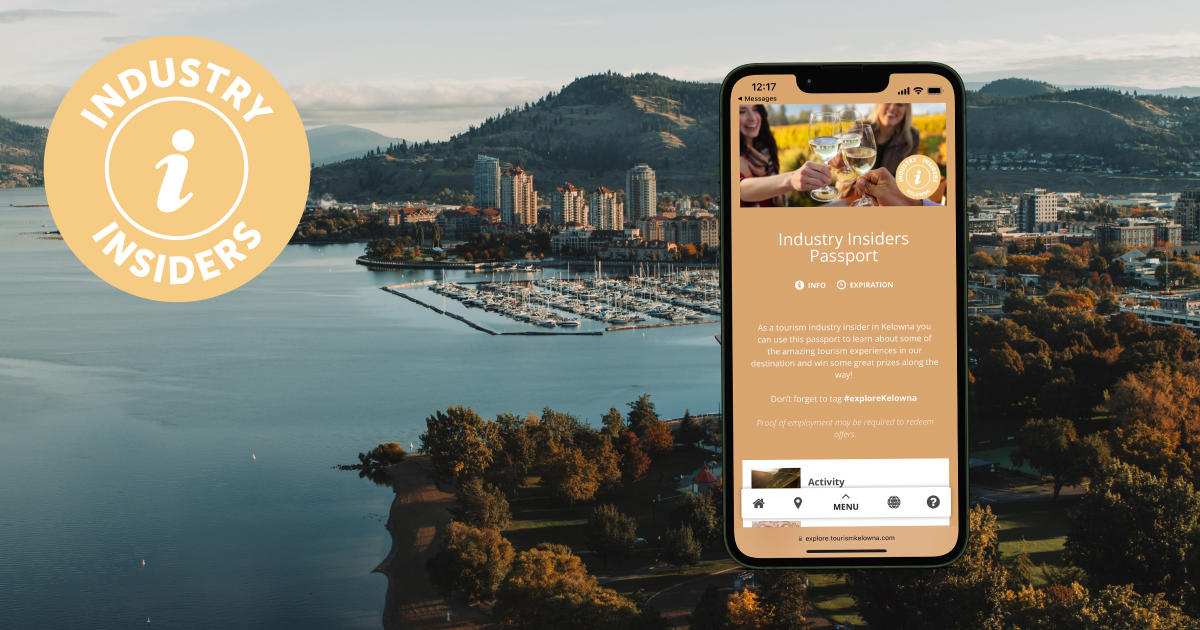 The passport will be available until June 19 to give front-line staff ample opportunity to get out and explore Kelowna and the Central Okanagan. To further encourage the use of the passport, users will be able to win some great prizes as they redeem offers: 
Redemptions at six locations gets them a free Love for Kelowna t-shirt*
Redemptions at 10 locations automatically enters the person to win the grand prize of $500 worth of gift cards 
For more information about the Industry Insiders Passport or Tourism Kelowna's passport program, connect with me at sara@tourismkelowna.com or (250) 861-1515 ext. 218.
ABOUT TOURISM KELOWNA'S MOBILE PASSPORT PROGRAM
Our team launched the passport program at the beginning of 2021 to help support local businesses during the pandemic. The program aims to appeal to different visitor types and locals by developing creative experiences, all accessible through the convenience of their mobile phones. The passport offers and itineraries are designed to drive traffic directly to our stakeholders in a trackable and measurable way while creating new and engaging experiences for visitors and residents. To date, close to 2,500 people have signed up for passes, which has resulted in over 1,000 redemptions at local businesses. For more information on previous passes, click the links below: