On a beautiful, sunny Saturday in early May, 10 Vancouver-based meeting and event planners joined Tourism Kelowna, along with representatives from Argus Properties, Cantrav Services, Kelowna Ramada Hotel and Conference Centre, Mission Hill Family Estate, The Coast Capri, The Cove Lakeside Resort, and Summerhill Pyramid Winery, for a wellness mini-retreat at Suite Genius, a unique event space in the Mt. Pleasant area of Vancouver.
Before settling in for a light breakfast, guests were presented with thoughtfully curated Kelowna gift bags. Our retreat facilitator, Trisha Miltimore of Contagious Leadership Training, welcomed guests and introduced Tracy Steen, from Kelowna's Move Daily Fitness, who got the group warmed up with some light exercise.
After the exercise session, Chef Michael Buffett and Sarah Martin of Start Fresh Kitchen showcased the best of the Okanagan with delicious and nutritious snacks, which were savoured while everyone soaked in a bit of sunshine. 
Once nourished, guests listened to Catherine Roscoe Barr, founder of The Life Delicious, speak about the 5 pillars of wellness, after which they enjoyed a cooking demo from Chef Buffett, followed by a tasty lunch.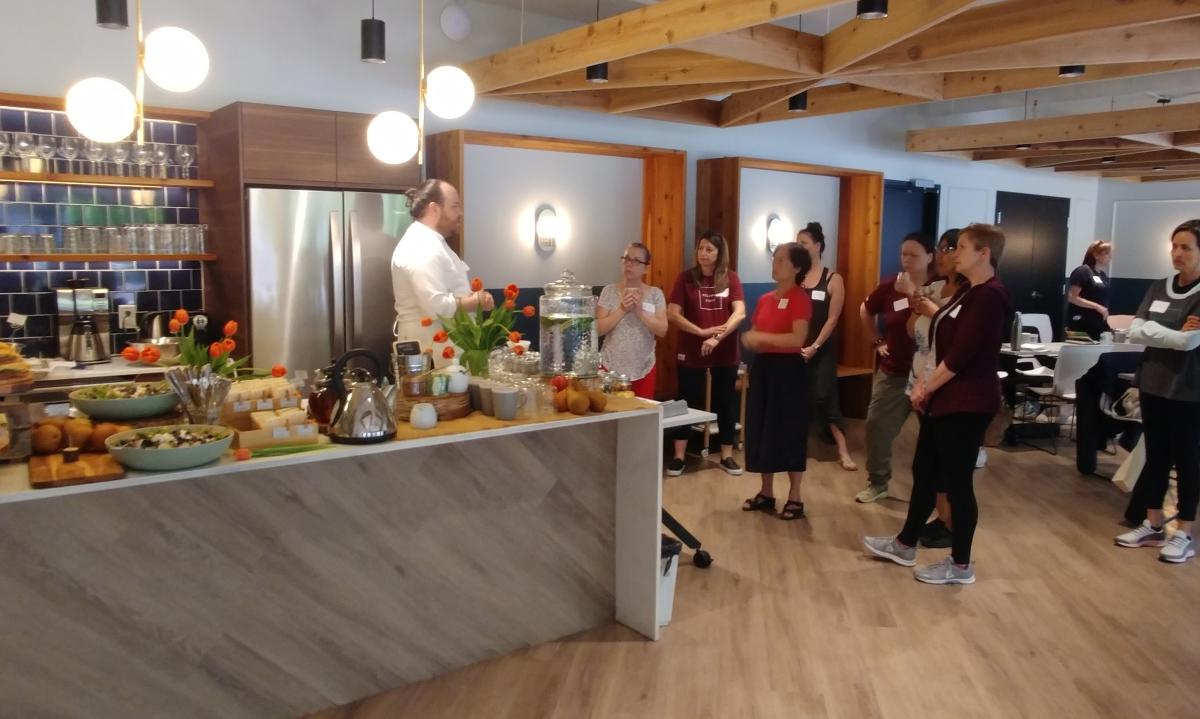 Guests were pleasantly surprised to learn that we were able to bring a little bit of Okanagan with us in the form of an Okanagan Lavender & Herb Farm (OLHF) pop-up shop! Tourism Kelowna worked with OLHF to display a selection of their beautiful products, from which guests could sample and then choose a few items to add to their swag bags.
Trisha wrapped up the day for us all, providing attendees with tools they could use day-to-day to reduce stress and enjoy highly-fulfilling lives.
Our goal was to provide planners with a day of wellness, where they could move, learn, and take time for themselves, while also getting to know more about what Kelowna can offer for their next meeting or event. With smiles all around, it was certainly a positive day for all those involved. 
For more information on this wellness session, or on Tourism Kelowna's business development activities in Vancouver and the lower mainland, please contact Julia Garner at julia@tourismkelowna.com or at (250) 861-1515 ext. 217.