May 28 – June 3 is National Tourism Week in Canada. Organized nationally by the Tourism Industry Association of Canada (TIAC) and provincially by the Tourism Industry Association of British Columbia (TIABC), National Tourism Week shines a light on the major economic impact from the tourism industry.
Local Economic Impact
Here in Kelowna and the Central Okanagan, tourism is an essential part of our industry. In fact, it's a billion-dollar industry.  A 2016 report The Economic Impact of Tourism in Kelowna and the Greater Kelowna Area, B.C., found that:
Number of visitors annually: 1.93 million
Annual visitor spending: $337 million
Total number of jobs: 11,890
Total Gross Domestic Product (GDP) from tourism: $620 million
Total tax revenues: $142 million
Total economic output: $1.25 billion
"Tourism is one of the Central Okanagan's leading industries providing jobs for residents, spending that strengthens our economy and taxation that funds programs and contributes to our quality of life," said Nancy Cameron, President and CEO of Tourism Kelowna.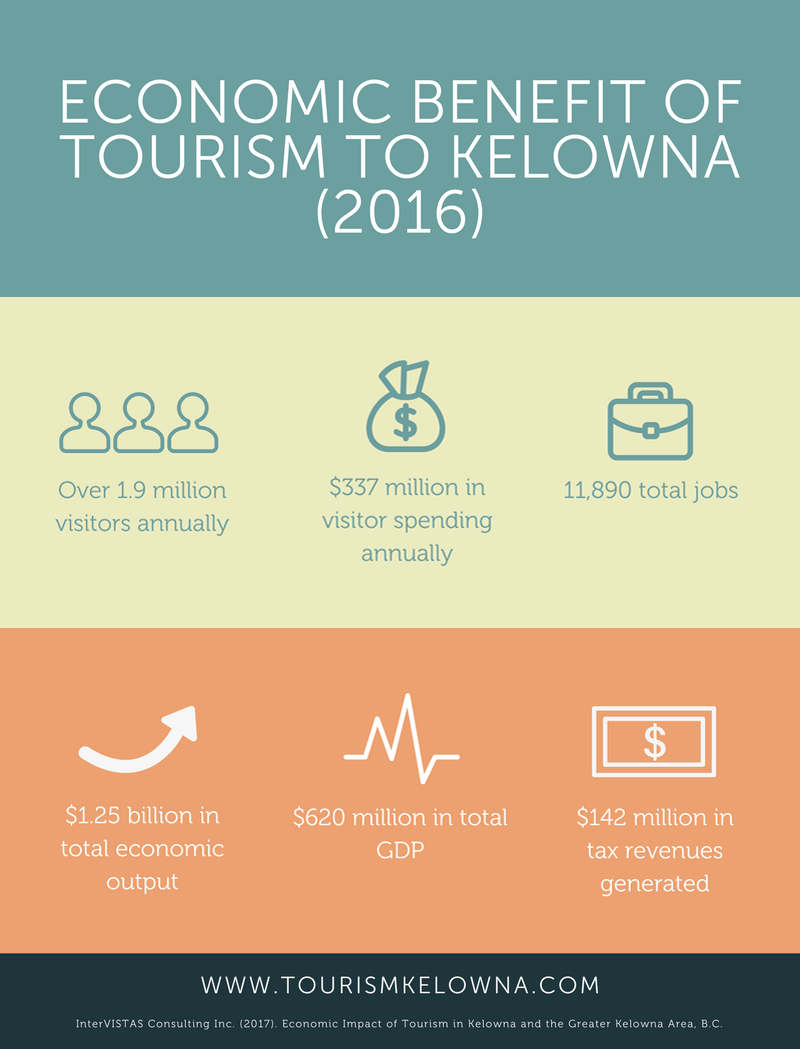 You can find the report by visiting Tourism Kelowna's website:
Provincial Economic Impact 
Tourism is a key economic driver in our province. In 2015, tourism contributed more to our provincial GDP than any other primary resource in British Columbia, and continues to grow.
In 2015, British Columbia's tourism industry generated, contributed or supported:
Total revenue: $15.7 billion
Value-added or GDP contribution: $7.4 billion
Export revenue: $4.1 billion
Total number of jobs: 127,700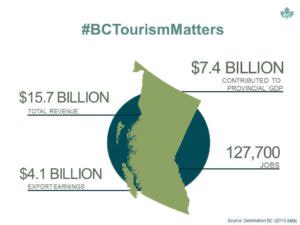 For information on how you can participate in National Tourism Week (#BCTourismMatters), visit TIABC's website.
For research and industry performance on tourism in British Columbia, visit Destination British Columbia's website.