Last week was an exciting and busy time in the Toronto marketplace. Five partners, representing Cantrav Services, Inc., Delta Hotels by Marriott Grand Okanagan Resort, Four Points by Sheraton Kelowna, Mission Hill Family Estate, and The Coast Capri, flew in from Kelowna to be part of various networking and tradeshow events taking place in the city.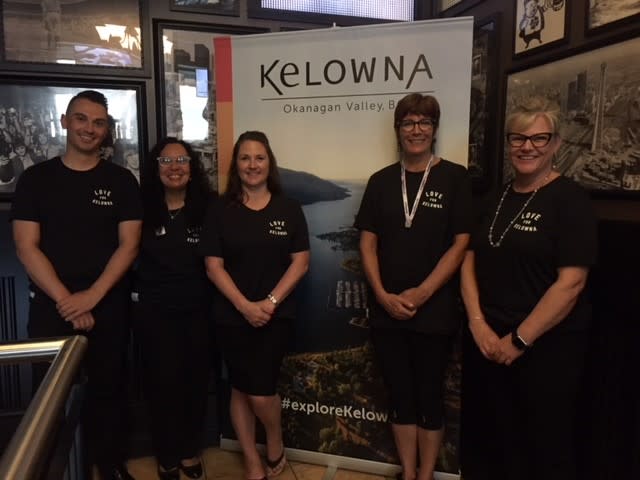 To start the week, Tourism Kelowna sponsored the PCMA Canada East August social event, which took place on Monday, August 13.  Mission Hill Family Estate wine was served at the event for a 'Taste of Kelowna in Toronto.' A planner grand prize, worth $2,500, included gift certificates, courtesy of Tourism Kelowna and our five partners, for accommodations, meals, wine tasting, and tour experiences, along with airfare to Kelowna. Following the PCMA event, another two networking events took place in order to mingle with clients at MPI Rendezvous and the Wynford Group event.
The next morning, the Tourism Kelowna team was in full force as our new booth was unveiled for the first time in Toronto, kicking off the two-day, IncentiveWorks tradeshow. The buzz around the tradeshow floor was met by the announcement that this was the last IncentiveWorks, as the show is changing its name to the "Canadian Meeting and Events Expo."  A new format was used this year, with planners on the tradeshow floor attending education sessions, thus the show proved to be a little quieter than in the past.  As we move forward towards the future, we are excited to announce that we are looking at launching new opportunities to network and keep Kelowna top of mind for the group meeting planners in Toronto.  
For more information, please call Pat Gappmayr, Business Development Consultant, at (416) 265-3464 or email pat@touismkelowna.com.