Winter is upon us and with snow-dusted mountains, mild temperatures, and a range of activities to enjoy, visitors to Kelowna and area can fully embrace the season.  
The Ski, Stay, & Play Winter Guide highlights great accommodations and experiences, as well as winter events, to help visitors make the most of their stay in Kelowna. From enjoying great skiing less than an hour away from downtown Kelowna, to sampling award-winning wines, or discovering fun activities, Kelowna is a true four-season playground. 
For the first time, the Ski, Stay, & Play Winter Guide also includes a Discovery Pass, which encourages visitors to explore our winter attraction partners. Those who get a stamp at five of the listed businesses will be entered into a draw for $250 worth of Love for Kelowna merchandise.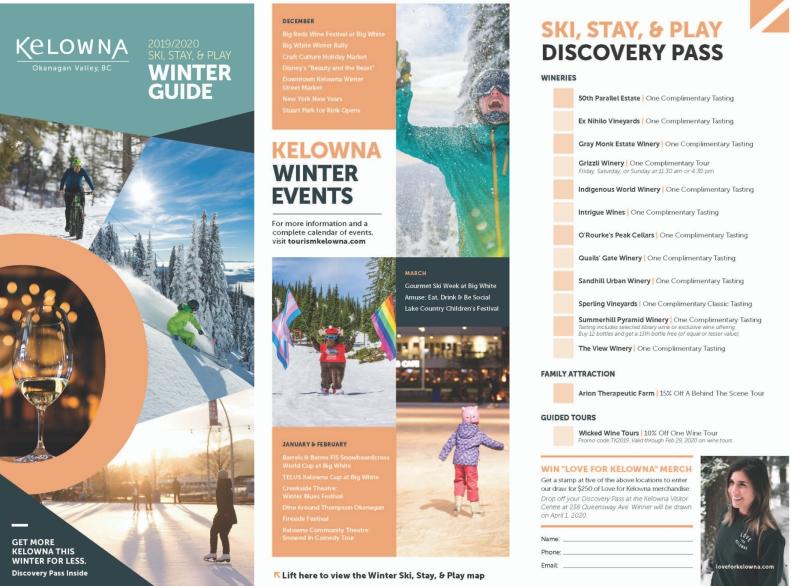 These guides are available at the Kelowna Visitor Centre, at our YLW information kiosk, and at all our winter partner locations. If you would like copies for your business, they are available for pick up from the Kelowna Visitor Centre or you can request them directly through the Tourism Kelowna Extranet. 
The guide can also be found online: Ski, Stay, & Play Winter Guide
For more information on the Ski, Stay, & Play Winter Program, please contact me at sara@tourismkelowna.com.