Last week, our business development team hosted its first virtual destination showcase. With all familiarization (FAM) tours and site inspections on hold for now, our team wanted to find a way to connect with potential clients, share destination resources, and introduce them to some virtual Kelowna experiences.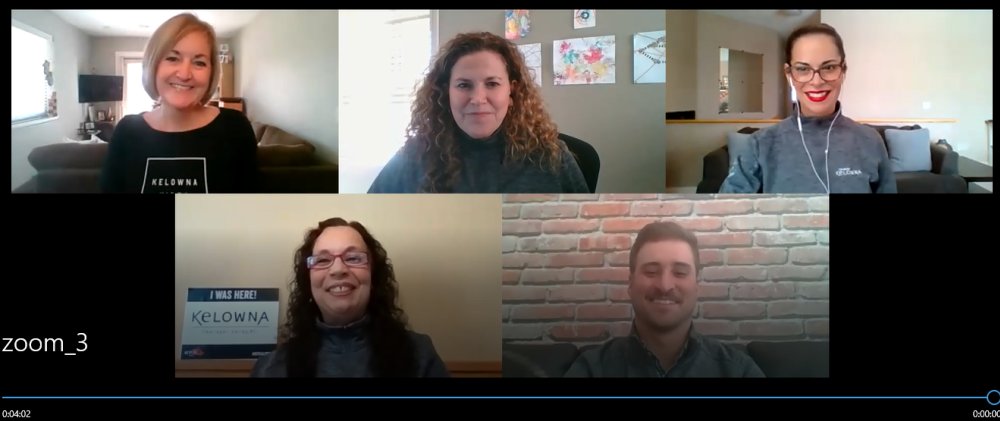 We welcomed 23 meeting planners from across Canada for the two-day event where we connected online twice a day for virtual experiences including:
A welcome and introduction, guided wine tasting with Mission Hill Family Estate winemaker, Corrie Krehbiel
A wellness presentation and workout from Tracy Steen of Move Daily Fitness
A virtual kitchen party with Chef Michael Buffet and Chef Blake Bjornson from Start Fresh Kitchen
In between the virtual components, we invited participants to get to know Kelowna by learning about our history and some of the people and places that have shaped our community. Gord Hotchkiss from Giro Okanagan was our local storyteller, with pre-recorded videos that shared stories he generally reserves for participants on his cycling tours. 
While we knew this was a departure from a traditional site inspection or FAM tour, our goal was to develop an understanding of what Kelowna is all about and to share our DNA, as opposed to simply sharing videos of venues and attractions. We closed the event by hosting a fun trivia game and then shared our new meetings and conferences video, highlighting all the work our community has done to ensure the health and safety of all our visitors.    
The showcase was very successful, garnering rave reviews about the approach and two days overall. The event was also a test for our team to determine if we can deliver these types of events in 2021, should travel continue to be not recommended and we are now confident we can host memorable virtual visits to Kelowna. We know that our clients need to keep researching destinations for future programs so it's important that we continue to remind them that Kelowna is ready to host their event in the future in order to spur a quicker recovery for our community.  
The virtual destination showcase is now available online for all those that wish to learn more about meetings, conferences, and events in Kelowna. If you have any questions about our business development team or initiatives, please contact me at jennifer@tourismkelowna.com.