For some time, Tourism Kelowna has had requests from visitors to allow them to book local experiences in our visitor centre, as well as online at tourismkelowna.com. The requests prompted us to think of ways we can help your business or organization to grow while making it easier for visitors to experience everything the Central Okanagan area offers.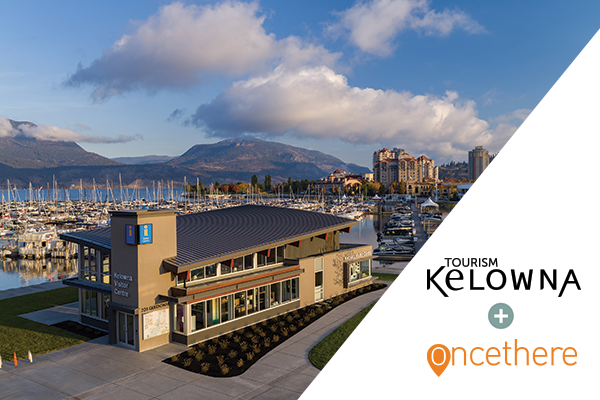 Last year we began researching many options and decided it was in the best interest of stakeholders like you and our visitors to partner with OnceThere.com. With the launch of an updated Tourism Kelowna Website in May and in anticipation of the upcoming spring/summer season, the timing could not be better to offer this service to you. Here, we will answer some of the questions you may be asking. 
What does this mean for my business?
Your tours and activities could be booked through devices in our Visitor Centre without requiring calls or email inquiries. In addition, Tourism Kelowna will change the functionality of the 'Book Now' button on your tourismkelowna.com listing, at no cost to you. This will allow visitors to book anytime on their PC or mobile device. Since everything is online, both visitors and locals can take advantage of this feature.
The OnceThere system can present your ticket availability in real-time. The system integrates with many Reservation Management Software ("RMS") systems, and may already be connected to your software provider. If it is not integrated with your RMS, OnceThere offers a portal at no additional cost through which you can manage ticket availability.
What benefits will this offer my business?
Tourism Kelowna's new capability will free up some of your time spent managing reservations so you have more time to devote to your customers and fantastic experiences. Rather than receiving more phone calls and emails, participants will receive automated reservations with instant notifications from OnceThere. You will retain just as much control over your reservations - by setting cut-off times, reservation conditions, etc. - but you'll spend less time managing reservation.
By providing a single, in-market and online destination where visitors can find and book local experiences, Tourism Kelowna can help increase your bookings, make it faster for visitors to book plans and leaving them with more time for wonderful experiences while in the Central Okanagan area. Other key program benefits include:
Opportunities to resell your services through additional online channels
Immediate payment processing and remittance
Real-time sales and booking reconciliation reports
Please note, there are no set-up costs or recurring fees. OnceThere collects only a credit card processing fee on tickets purchased through Tourism Kelowna.
What are my next steps?
If this opportunity is of interest to you, please schedule a brief call with OnceThere by clicking here. A representative from OnceThere may also reach out to you to follow-up with more information. Once the program is up and running, we will market this new feature through our marketing channels to help drive reservations to your business.
For more information on this initiative, please contact Chris Lewis, Director of Visitor Experience, at chris@tourismkelowna.com or (250) 861-1515 ext. 207.