National Volunteer Week 2020 took place last week, offering the opportunity to celebrate volunteers and to recognize their contributions to organizations across the country, including here at Tourism Kelowna. 
Historically, we have celebrated volunteer week with many different events and in-person celebrations; however, this year we were not able to connect with our volunteers in person due to COVID-19 restrictions. So, our team adapted and celebrated virtually to acknowledge our volunteers during this important week.
We kicked off the week on Sunday with a "Welcome to Volunteer Week" email, outlining what the week was going to look like and thanking them for all their hard work. For the rest of the week, we sent an email per day with a different story, blog post, social media post, or thank you note. We also extended our thanks virtually throughout the week with posts on our social media channels.
On Thursday, we invited our Visitor Experience volunteers and staff to get together over Zoom. We had a great turn out with almost half of our volunteers attending the call. During the call, everyone took turns talking about why they volunteer and sharing why they love volunteering with Tourism Kelowna. This was an inspiring and cheerful call and we were so happy to connect digitally with everyone.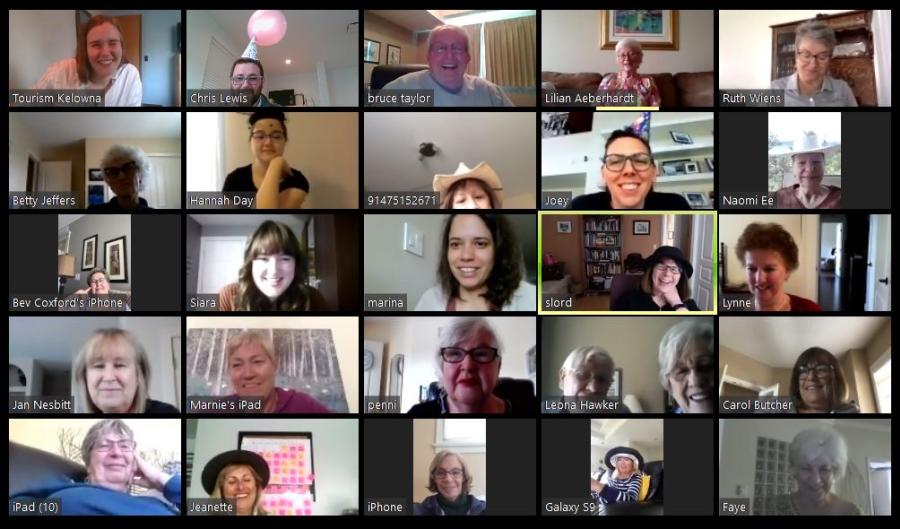 As a surprise, we also sent out a small token of our appreciation to each volunteer; the packages were delivered during volunteer week and contained a Love for Kelowna notebook, a Karat chocolate bar, and a handwritten postcard.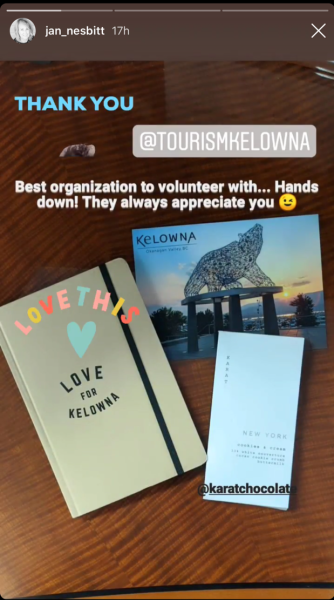 "Our organization would not be able to have the impact that it does without the help of our incredible volunteers, both on our organization's Board of Directors and with our Visitor Experience team. Without their assistance we would not be able to uphold the visitor experience that people expect when living in and visiting the Okanagan Valley," says Director of Visitor Experience, Chris Lewis.
At Tourism Kelowna, we are so thankful for the amazing group of volunteers we work with on a daily basis. We are excited to see what the year ahead brings!
Here is a small sampling of the feedback we received from our volunteers during the week:
Thank you for the surprise parcel and touching card that Canada Post just delivered to my house. I appreciate the thoughts and the recognition. I love working at the airport and look forward to going back. Sincere thank you.
Thank you Sydney and team. For me it's a great pleasure to volunteer at the Tourism Centre, I really enjoy it and look forward to when it will be okay to return again! Thank you to the team again and hopefully see you soon! 
Hi Sydney, just received my package today. Thank you so much for the journal, chocolate, and kind words. These are much appreciated. Thanks also for the lovely daily emails. I miss you folks and of course our visitors which make the experience fun and rewarding. Hope to see all of you soon. 
If you are interested in becoming a volunteer with Tourism Kelowna, please contact me by email at sydney@tourismkelowna.com or by phone at (250) 861-1515 ext. 220.