The construction of Kelowna's new visitor centre remains on budget and on schedule for a mid-2018 opening as the project team works hard to carry on through the colder and snowy days in February.  
The building's foundation has been poured successfully and the backfill work around the foundation has started. The pre-fabricated walls are starting to go up as the building starts to further take shape.  
Soon a City of Kelowna contractor will begin landscape planning to complete the work around the visitor centre, linking Kerry and Stuart Parks and completing the continuation of the waterfront walkway. This contractor is expected to begin landscaping work in mid-April. To prepare the site for these enhancements, the construction zone will be extended out to Mill Street until the project is complete and the parking lot will no longer be available.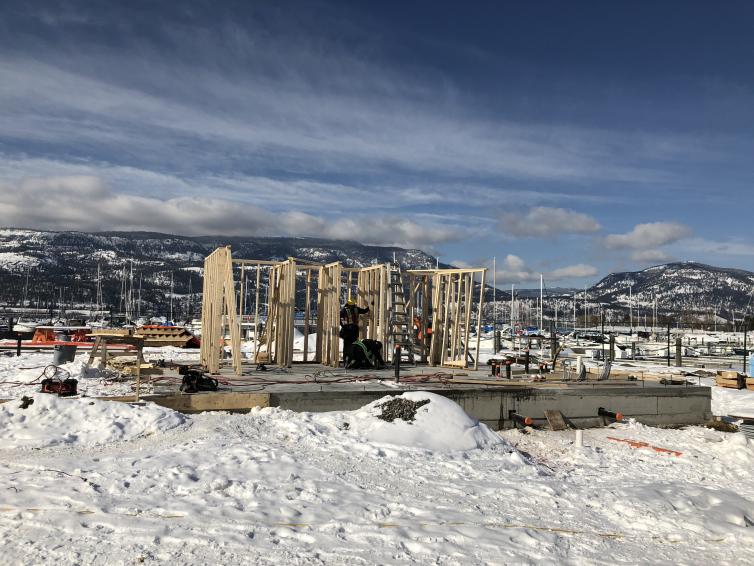 When complete, the Kelowna Visitor Centre will be a high-traffic pedestrian area that sees over 420,000 people walk by each year. We anticipate that over 100,000 visitors will come into the new visitor centre each year. Every interaction provides Tourism Kelowna's visitor services team with the opportunity to create further economic impact for local businesses as they refer travellers to accommodations and experiences, thereby generating desire for a return trip. Visitors will be able to buy tickets to events and attractions and pick up local merchandise and souvenirs, too. 
"The progress that has been made to Stuart and Kerry Park and the waterfront walkway has been tremendous. More than ever, these two areas are a focal point for visitors and locals alike and remain the anchor of our historic community," says Stuart Lang, owner of Smile Cycle Tours. "I look forward to seeing how the visitor centre will unite the waterfront in a modern and innovative way, by welcoming visiting guests and locals. Meaningful face-to-face referrals and recommendations will provide a boost to so many and I look forward to seeing the impact it will have on local businesses, including my own."
To inquire about custom sponsorship opportunities to showcase your business at the new visitor centre, please contact Jennifer Horsnell at 250-861-1515 ext. 205 or jennifer@tourismkelowna.com.
Locally, tourism is a $1.25 billion-dollar industry for Kelowna and is the third-largest employer providing nearly 12,000 jobs in the area. Each year 1.9 million visitors come to Kelowna and spend money at local businesses generating $142 million in tax revenues.
If you have questions about the new visitor centre, please contact Chris Shauf at 250-861-1515 ext. 203 or chris.shauf@tourismkelowna.com.