Born and raised in Kelowna, Sydney Solland knows a thing or two about the region. This intimate knowledge of the Central Okanagan has served Sydney well in her four years working as part of Tourism Kelowna's team, where she has transitioned through several roles, building on her education, skills, and experience in each new position.
"I started at Tourism Kelowna as a part-time hourly Visitor Experience Specialist [in 2018]," says Sydney, who first connected with Tourism Kelowna's team at a tourism industry job fair hosted by TOTA and go2HR. At the time, Sydney was attending Okanagan College where she was pursuing her Bachelor of Business Administration in Tourism and Hospitality, which she obtained in 2020.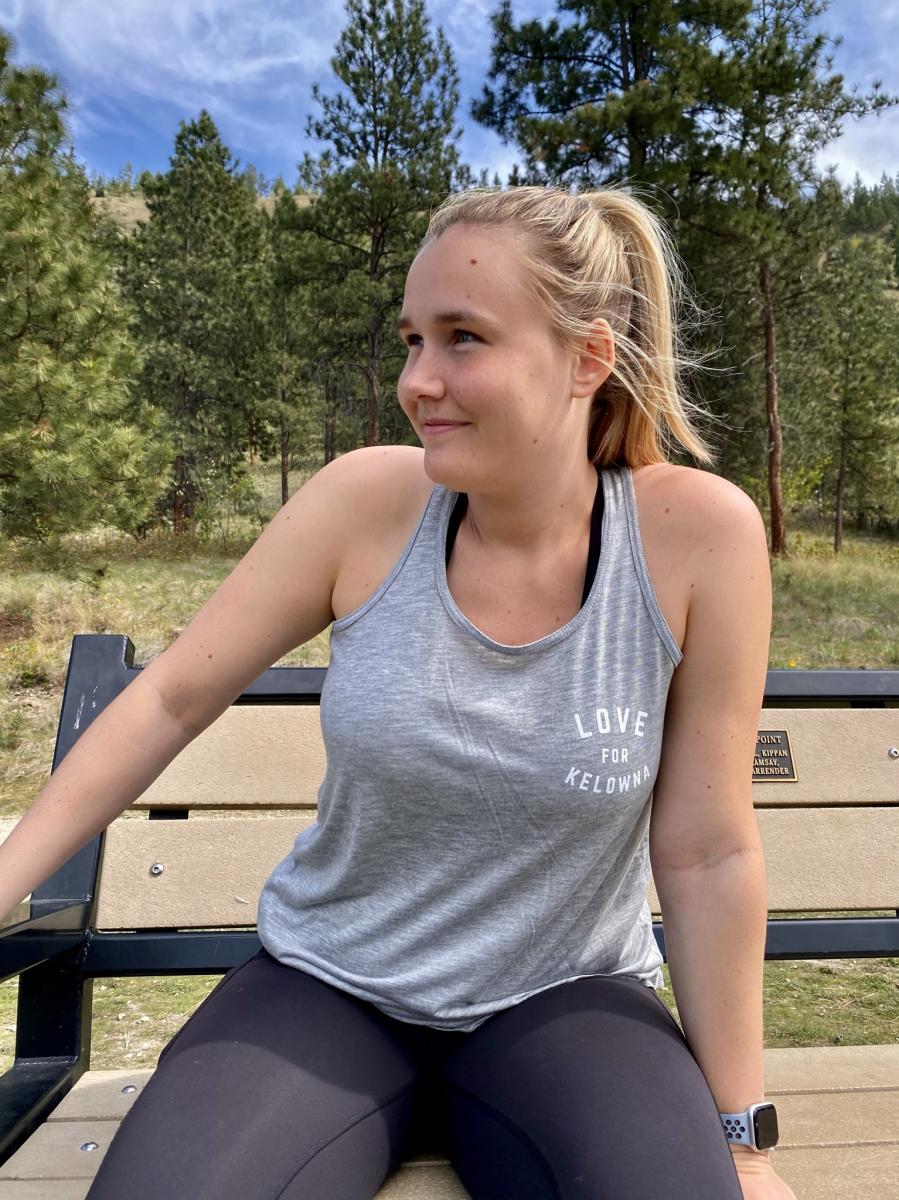 Taken at Knox Mountain Park
From her first part-time role with Tourism Kelowna, Sydney transitioned to a contract role in 2019. From there, she moved into a permanent position at the end of 2019, then moved into the Manager of Visitor Experience in the fall of 2021, which evolved to her current role of Manager of Community & Visitor Engagement, where she oversees the operation of the Kelowna Visitor Centre. 
Community members and Tourism Kelowna stakeholders can contact Sydney to:
Discuss Tourism Kelowna's volunteer program, as well as its mobile and satellite visitor centres.
Coordinate collateral distribution.
Arrange familiarization tours of their business.
Discuss events and activations within the Kelowna Visitor Centre, at the Airport Information Kiosk, or in the community at large.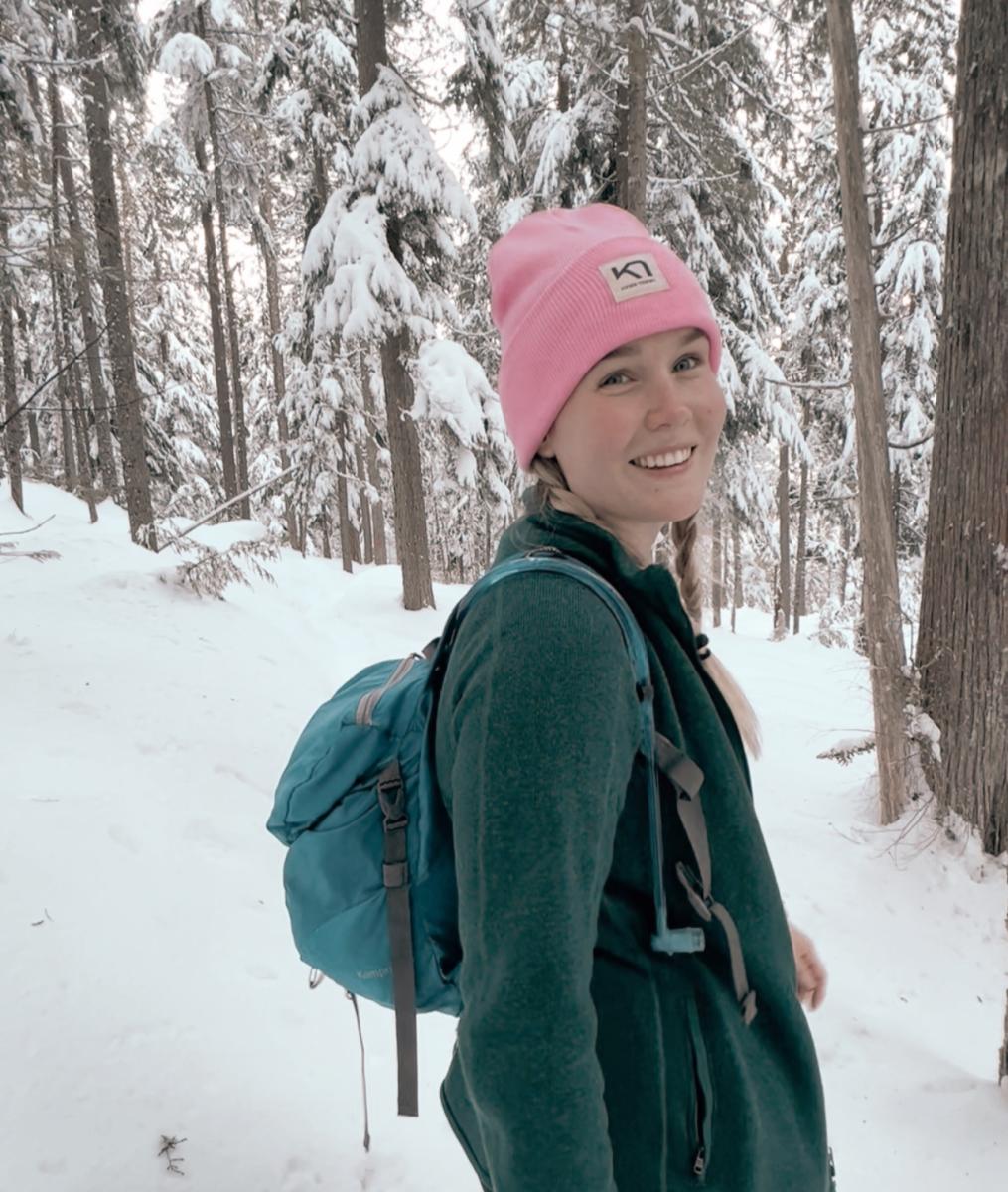 Taken at Revelstoke Nordic Club
When she's not expertly juggling the many pieces of her role, you'll be sure to find Sydney heading on some sort of outdoor adventure with friends and family. 
"As long as I am outside in the sunshine, I will be happy," says Sydney when asked what her perfect day in the Okanagan would entail. As an avid rock climber, she would spend that time outside in the sunshine at Skaha Bluffs Provincial Park (pictured in the header image) or the Lonely Crags, then refuel with some of her favourite Kelowna eats, which include the Buffalo Chickpea Caesar from Naked Cafe or the BLTT (with avocado) from Sunny's – A Modern Diner.

Read on to learn more about Sydney and for some of her Kelowna recommendations!
What's the most exciting/rewarding/important part of your job?
Working with the people. I love working with our staff, volunteers, residents, and visitors who we get to engage at the Kelowna Visitor Centre and in the community. I love hearing the success stories of our staff and volunteers and helping them grow professionally.
What's something that has surprised you about working in tourism?
How fun it is! I never really understood what the industry was all about before I got into it. We are very lucky that we get to work in such a fun, positive environment. It has also surprised me how supportive and kind the tourism community is here in the Okanagan. Everyone is always willing to help, provide advice, and share ideas whenever they can.
What are your top 3 recommendations for things to do/see/eat while exploring Kelowna and its surrounding communities?
Eat at Naked Cafe, a local vegan restaurant. All their food is amazing!
Climb at one of Kelowna's three climbing gyms: Gneiss – OG Banks, Gneiss – Hill Security, or Beyond the Crux.
Visit the Kelowna Farmers' & Crafters' Market for fresh local veggies and fruit.
What's your favourite travel memory?
Going to Hawaii with my mom for my uncle's wedding. I love Hawaii, and I can't wait to go back. I am a sun baby.
What's one fun fact about yourself that people may not know?
I sport and lead climb. Also, I have two cats (Fumiko & Frankie) who are treated like my children.

Taken at Beyond the Crux Climbing Gym