While visiting family in Oliver during spring 9 years ago, Steve Small stayed in Kelowna for one night during the trip and from there, decided it was the place to call home. 
"We were living in Calgary at the time and were amazed what spring was like in Kelowna—the weather was great and it was just beautiful—as it was still quite cold in Calgary. Three months after visiting, we moved to Kelowna and have not looked back," says Steve. 
After living in Kelowna for a couple of years, Steve started volunteering with Tourism Kelowna and within a few months, was hired as a Visitor Services Counsellor. At the time, he was pursuing a business degree specializing in marketing, so when an opening came up on Tourism Kelowna's Marketing & Communications team, Steve applied and has been putting his skills to good use ever since.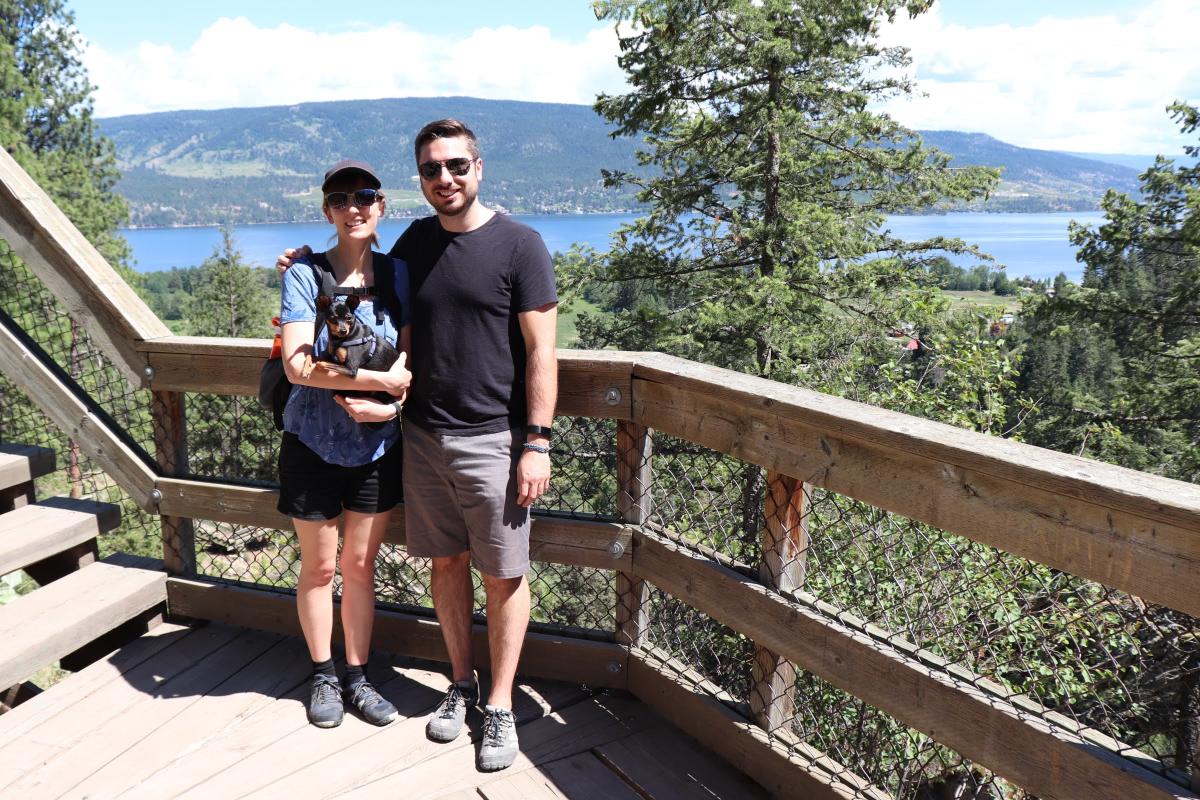 As part of the Marketing & Communications team, Steve oversees Digital Marketing & Content, producing and managing content for Tourism Kelowna's website and other marketing platforms, all with the goal of positioning Kelowna as a first-choice travel destination. 
Tourism Kelowna members can contact Steve to discuss digital marketing initiatives and content opportunities, get access to Tourism Kelowna photography and video asset libraries, and for anything related to the organization's website.
When he's not wearing his marketing guru hat, you'll often find Steve exploring Kelowna's four-season outdoor playground or enjoying craft beers at one Kelowna's numerous breweries. A perfect day for Steve changes depending on the season:
"During the winter, a perfect day means skiing at Big White, enjoying lunch on the hill and then après at a brewery in Kelowna. For spring, we start the day exploring downtown and grabbing breakfast. From there, we hop on the mountain bikes and explore the trails, finishing off the day with dinner and a view of Okanagan Lake," says Steve.
"A morning hike, afternoon at the beach, dinner downtown, and then taking in the sights and sounds is a must in the summer. Come fall, we'll head to the farmers' market to pick up come delicious goods and produce, then hop on a wine tour for the afternoon. Before the sun goes, we'll explore on of the parks with a creek (parks with a water source often have the best foliage) and take in the fall colours."
The quickest way to sum up a perfect day in Steve's mind? Food, drinks, and being outdoors.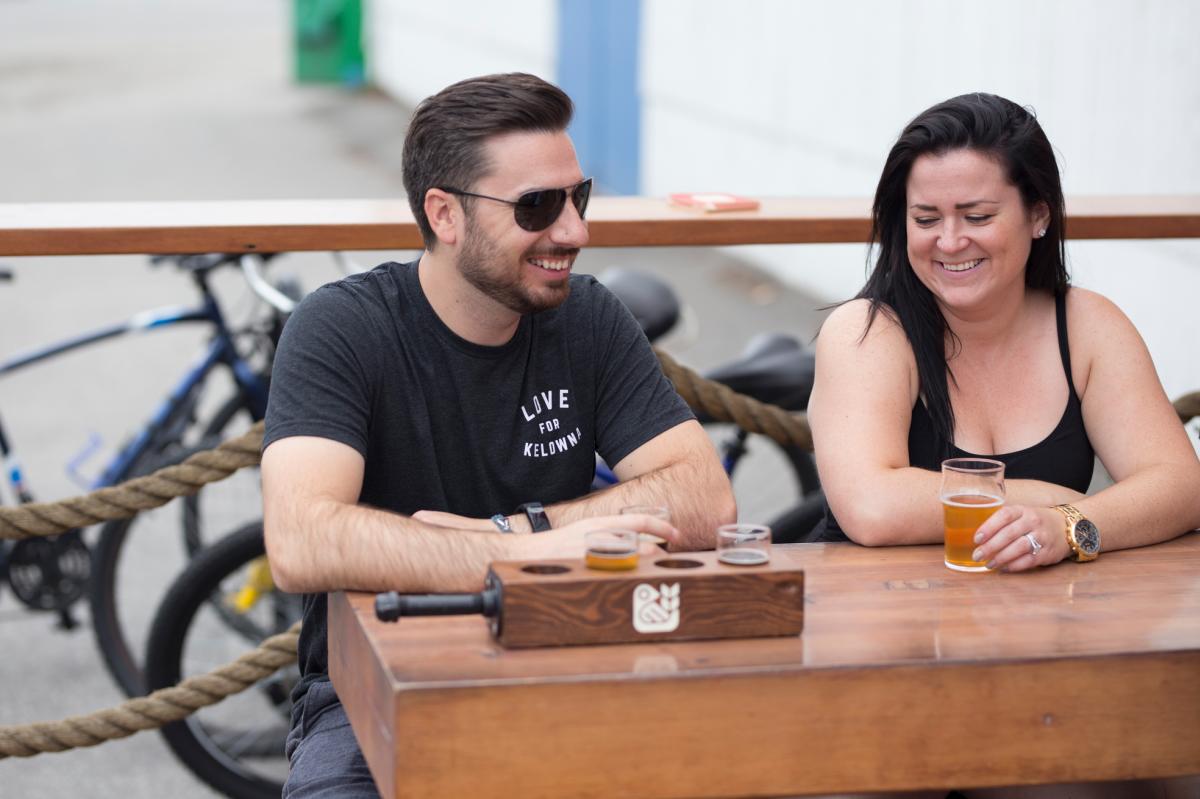 Read on to learn more about Steve and for some of his Kelowna recommendations!
WHAT'S THE MOST EXCITING/REWARDING/IMPORTANT PART OF YOUR JOB?
Taking an idea and crafting it to become reality. I often do this through content, working with talented content creators who help bring ideas to life. As well as being out in the community and learning. I can be on a location shooting for a video or exploring different areas on a familiarization tour with the TK team and there always seems to be more to learn about—there are so many amazing things happening in Kelowna.
WHAT'S SOMETHING THAT HAS SURPRISED YOU ABOUT WORKING IN TOURISM?
Throughout my entire working life, I have been involved in tourism in some shape or form, but the thing that is always the most surprising is how tourism impacts and touches everybody and all parts of the community.
WHAT ARE YOUR TOP RECOMMENDATIONS FOR THINGS TO DO/SEE/EAT WHILE EXPLORING KELOWNA AND ITS SURROUNDING COMMUNITIES?
Kelowna easily has one of the most beautiful and walkable downtowns, so walk around, stop in shops, check out the parks and waterfront, and enjoy tasty treats.
If you're coming to Kelowna and not visiting the wineries, did you even come to Kelowna? Joking aside, take your pick of one of the area's 5 wine trails, you can't go wrong with any of them. On my must-visit wineries list I would put Tantalus, Mt. Boucherie, Arrowleaf, CedarCreek, and Quails' Gate (the view never gets old). And if you have not been to Kelowna before, Mission Hill is a must.
What's the best thing you've ever eaten in Kelowna?
A pasta dish at HomeBlock at CedarCreek—it was full of fresh pops of flavour, yet also had a rich creaminess that hugged your mouth, combined together with perfect fresh pasta. It was just delicious. The menu changes regularly though, so it's not always the same.
And, the pizza at Jackknife, specifically the Persuader, a menu staple, paired with one of their hazy IPAs and eaten on their patio, while metal is blaring from the speakers. There is a magic to it all that must be experienced!
WHAT'S YOUR FAVOURITE TRAVEL MEMORY?
One that comes to mind is camping in the Kootenays with my partner, Chelsea. Seeing the most stars I've probably ever seen, cooking outdoors in nature, floating on a mountain lake, and enjoying natural hot springs.
WHAT'S ONE FUN FACT ABOUT YOURSELF THAT PEOPLE MAY NOT KNOW?
In what seems like a past life, I went to culinary school and cooked in restaurants for years.