After spending more than 20 years in the hospitality and tourism industry, including 15 years in hotel sales for the Vancouver market, Nikki Robinson relocated to Kelowna in October 2022 after joining the Tourism Kelowna team in August 2022. 
"The most exciting and rewarding part of my role has been getting to know the community and seeing everything through the eyes of a visitor and now a new resident," says Nikki.
As Tourism Kelowna's Director of Business Development, Nikki oversees our Business Development team, using a collaborative team approach to achieve targets and meet client needs through exceptional service. Tourism Kelowna members and industry partners in and around Kelowna can connect with Nikki to participate in co-op marketing programs for meetings and conferences, discuss your new business or product for the meetings, conferences, and events market, participate in familiarization tours for meeting and event planners, and receive bid preparation and hosting consultation.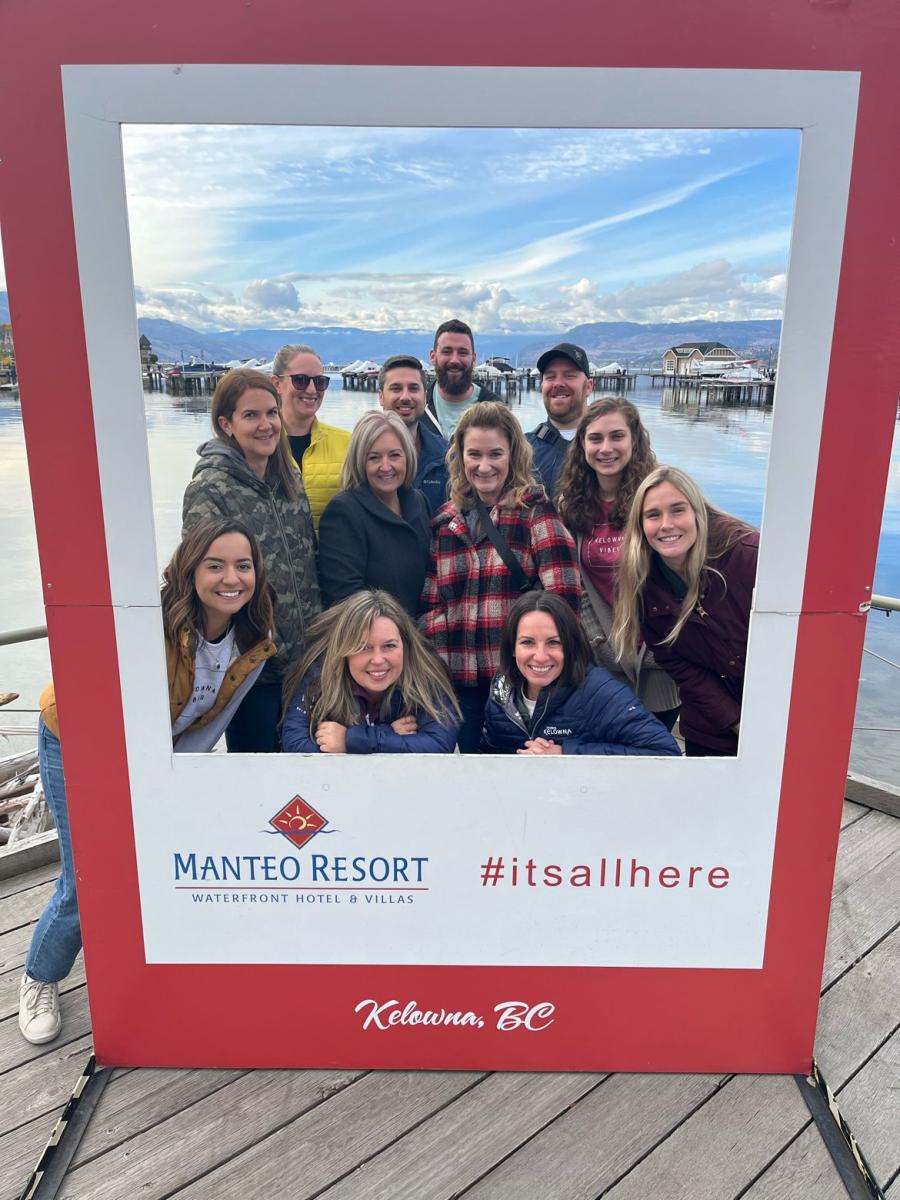 Tourism Kelowna team photo - Nikki is second from the right in the middle row. 
While working in Kelowna's tourism industry, Nikki has been surprised by all the hidden gems the region has to offer. 
"We are so much more than a beautiful city with wineries," she says. "In addition to viticulture, we have so many success stories from amazing industries, including agriculture, aerospace, manufacturing, and tech."
Tourism Kelowna team at the Pink Shirt Breakfast; Nikki is on the far right. 
Since relocating to the area, the community's friendliness and the many independent companies that make everyone feel at home have been what Nikki has enjoyed the most. For anyone thinking of making a move to Kelowna, Nikki says, "Don't hesitate!"
Read on to learn more about Nikki!
WHAT'S YOUR FAVOURITE TRAVEL MEMORY?
Taking a six-month sabbatical in 2019 and visiting over 12 countries by myself!
What were the top 3 things you're most excited to do/see/explore in and around Kelowna?
Discover the area wineries.
Hiking the many trails in the area. 
Exploring the surrounding communities. 
WHAT'S ONE FUN FACT ABOUT YOURSELF THAT PEOPLE MAY NOT KNOW?
My happy place is either travelling or being at a concert.